NBA Draft 2012: 10 Players Who Will Be All-Stars by 2015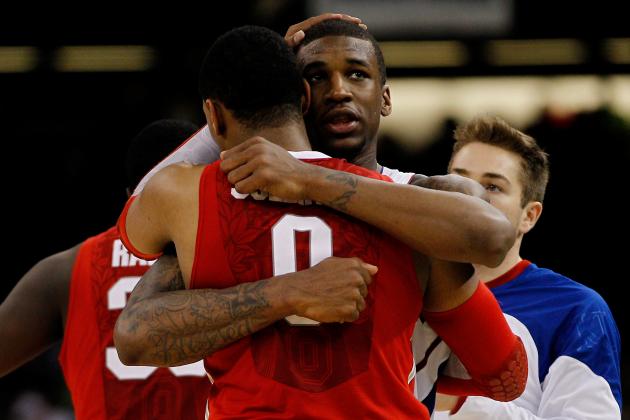 Chris Graythen/Getty Images

The average time between a future star entering the league and making their first NBA All-Star Game is four years. LeBron James did it in two, although his name value alone played a role in such a feat, but stars such as Ray Allen and Carmelo Anthony give us evidence to the four-year rule.
This time around, however, the NBA will produce a new batch of generational achievements. With six current All-Stars over the age of 30, the league will expand it's horizons and welcome a new generation of players to the most elite individual stage of all.
The question is, who will enter the realm of greatness? Most importantly, who will do it quickest? With such a deep draft class, it won't be difficult to find those names.
Here are ten of them.
Begin Slideshow

»
Chris Graythen/Getty Images

Position: Shooting Guard
Age: 18
Height, Weight and Wingspan: 6'5", 195 pounds, 6'8" wingspan
Bradley Beal is a lights-out shooter, creates for himself off of the dribble and moves well without the ball. Beal also plays a position that's become quite weak, with very little behind Dwyane Wade in the East and even less behind Kobe Bryant in the West.
In 2015, Bryant will be 37 and Wade will be 33. In other words, Bradley Beal has an open door to sneak into the All-Star Game and overtake the undeserving Joe Johnson.
Season Averages: 21.17 PER, 14.8 PPG, 6.7 RPG, 2.2 APG, 1.4 SPG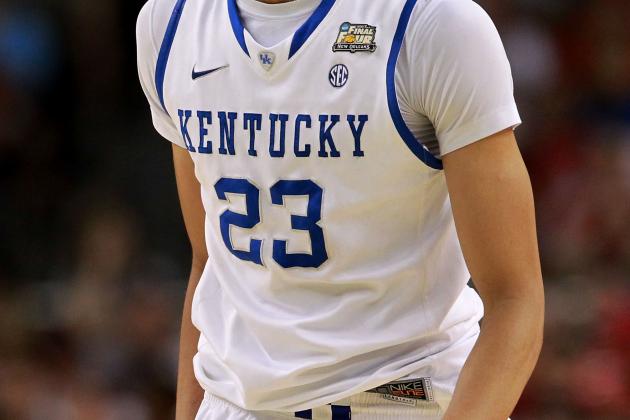 Ronald Martinez/Getty Images

Position: Power Forward
Age: 19
Height, Weight and Wingspan: 6'10", 220 pounds, 7'4" wingspan
First and foremost, Anthony Davis will have the hype of being the first overall draft choice. Second of all, he'll have the most marketable unibrow since Frida Kahlo. Then there's the fact that he's an indescribable athlete with unbelievable length and a sky-high basketball IQ.
From his potential double-digit rebounding to skill set that would enable him to lead the NBA in blocks per game, Davis will be at the top of many lists for Defensive Player of the Year. While some have criticized his offensive game and labeled it "raw," the reasoning behind such a claim is flawed.
Davis has a solid mid-range game and handles the ball like a guard. What he lacks, however, is a polished low-post game. With his size and length, as well as an undeniable work ethic as he transitioned from guard to forward due to a massive growth spurt, it's hard to imagine those struggles will last very long.
Anthony Davis is worth the pick.
Season Averages: 35.71 PER, 14.2 PPG, 10.2 RPG, 4.7 BPG, 1.4 SPG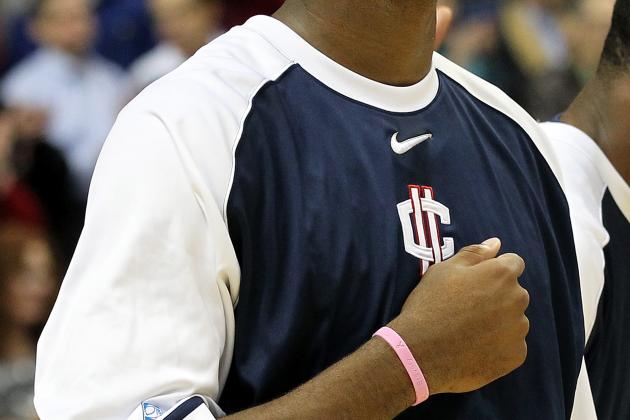 Jim Rogash/Getty Images

Position: Center
Age: 18
Height, Weight and Wingspan: 6'11", 275 pounds, 7'5" wingspan
Andre Drummond may not be selected to very many All-Star teams, but he will make at least one. His shot-blocking and offensive rebounding prowess will enable him to do so early on, as Andrew Bynum and Dwight Howard lead a very thin group of centers at the NBA level.
Drummond is a potential two to three block per game player with double-digit rebounding ability. He's also an excellent athlete who can finish well above the rim, opening the door for Drummond to become a fan favorite early on.
And that will be enough.
Season Averages: 22.15 PER, 10.0 PPG, 7.6 RPG, 2.7 BPG, 53.8 FG%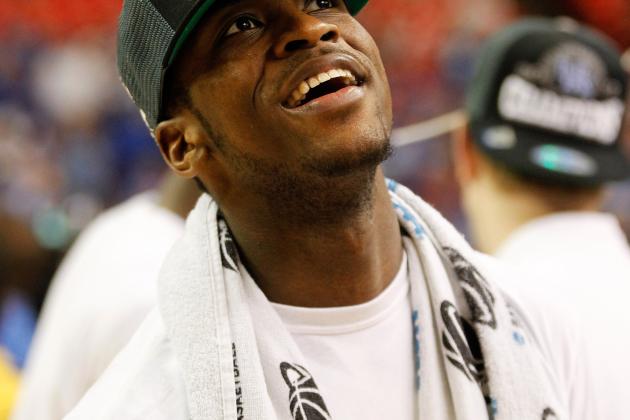 Streeter Lecka/Getty Images

Position: Small Forward
Age: 18
Height, Weight and Wingspan: 6'7", 210 pounds, 6'11" wingspan
Let's be honest for a second, folks. The NBA All-Star Game is more of a popularity contest than it is an acknowledgement of deserved talent. As Blake Griffin has displayed, all you need to start on the All-Star team is an ability to make the highlight reels on a consistent basis.
This is not to discredit Griffin's other contributions, but instead to open the door for Michael Kidd-Gilchrist. He's one of the best in this draft class in terms of creating off of the dribble and finishes around the rim as well as anyone. He's a true Andre Iguodala type of player with much better half-court offensive ability.
In other words, he's what voters have always been waiting for as they evaluate the secondary A.I. Kidd-Gilchrist will be something special and it will happen fast.
Season Averages: 21.94 PER, 11.9 PPG, 7.4 RPG, 1.9 APG, 1.0 SPG, 0.9 BPG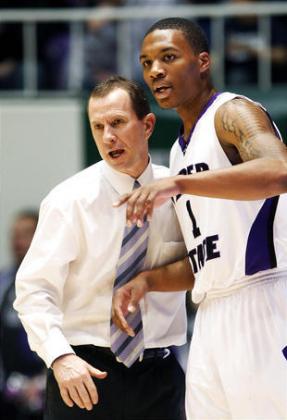 Position: Point Guard
Age: 21
Height and Weight: 6'2", 185 pounds
This is an interesting one, as I actually have Damian Lillard as a player who will struggle to find a defined position in the NBA early on. What is inevitable to occur, however, is a heightened level of popularity due to Lillard's uncanny ability to fill up a stat sheet with point after point.
Think of him as Monta Ellis but a little more polished.
This will lead to calls for his placement in the All-Star Game, as will his potential landing on a not so far off contender. Rightfully so, as he will rival Russell Westbrook as the best point guard scorer in the NBA. For the time he's playing point.
Season Averages: 33.58 PER, 24.5 PPG, 5.0 RPG, 4.0 APG, 1.5 SPG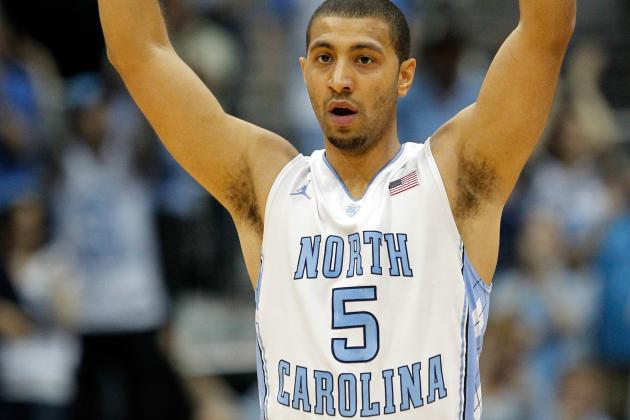 Streeter Lecka/Getty Images
You haven't done it yet, Mr. Marshall.
Position: Point Guard
Age: 20
Height and Weight: 6'4 and 188 pounds
Kendall Marshall has the ability and potential to rival Rajon Rondo for the league lead in assists. He also has the size and improving shooting ability to play a role similar to that of Jason Kidd on the Phoenix Suns or New Jersey Nets.
All-Star material indeed.
Much like the 2, the point guard position has very few mainstays. After Chris Paul, Deron Williams, Rajon Rondo and Russell Westbrook, there are very few star point guards who are not aging. There's also a drastic change coming Rondo's way, as he loses the Big Three, and Westbrook's, as people continue to question his potential status as a 2.
Marshall will be there in no time.
Season Averages: 16.50 PER, 8.1 PPG, 9.8 APG, 2.6 RPG, 1.2 SPG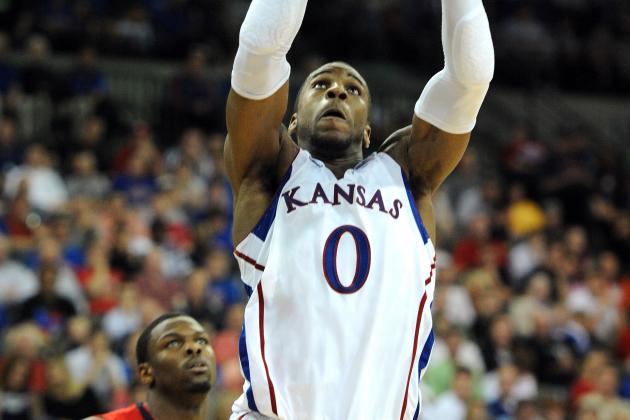 Eric Francis/Getty Images

Position: Power Forward
Age: 21
Height, Weight and Wingspan: 6'9", 237 pounds, 7'1" wingspan
Thomas Robinson has an NBA-ready body, non-stop motor and a tremendous work ethic. He's also a dominant low-post scorer, can shoot from the perimeter and is excellent off the dribble. Tack on the fact that he can dominate the boards and it's hard to imagine it taking very long for the former Jayhawk to make an All-Star Game.
Robinson's skills and body open up the opportunity for him to put up 15 and 10 as a rookie. Those numbers would likely improve as his career progressed, enabling Robinson to establish himself as one of the game's elite power forwards.
Season Averages: 28.53 PER, 17.7 PPG, 11.9 RPG, 1.1 SPG, 0.9 BPG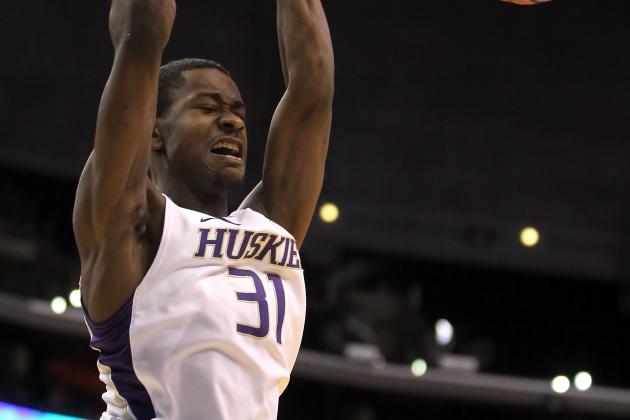 Jeff Gross/Getty Images

Position: Shooting Guard
Age: 21
Height and Weight: 6'6" and 195 pounds
Terrence Ross is the type of player who could make the All-Star Game sooner than any other player on this list. He is an elite shooter, has the best size of any prospect at his position and lacks any truly significant weakness.
Although Ross could improve his shot selection, the flaw is a coachable one. It's also one that is rather overstated, as his 46 percent shooting percentage is one of the better statistics of any player at his position.
Season Averages: 20.86 PER, 16.4 PPG, 6.4 RPG, 1.3 SPG, 45.7 FG%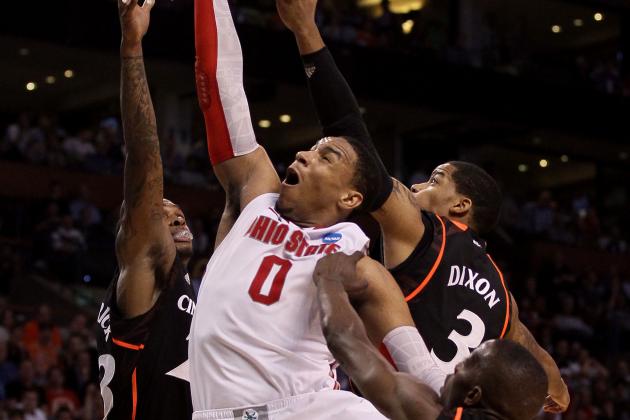 Elsa/Getty Images

Position: Power Forward
Age: 20
Height, Weight and Wingspan: 6'9", 280 pounds, 7'2" wingspan
We live in a day and age where skill is lost and physical dominance is depended upon. In the case of Jared Sullinger, there's a whole lot of both and he's ready to put it on full display.
Sullinger has a massive lower body, unparalleled upper body strength and a wide-array of low-post moves. He'll finish off his interior dominance with one of the most beautiful baby hooks you'll ever see, or simply go at a defender and finish in traffic.
And you're worried about playing above the rim?
With Dirk Nowitzki, Kevin Garnett and Tim Duncan aging, there's a major void needing to be filled at the 4. Paired with LaMarcus Aldridge's history of injuries and the fact that this year had quite a few first-time or potentially last-time All-Stars, Sullinger is in prime position to make the team by 2015.
Season Averages: 30.39 PER, 17.5 PPG, 9.2 RPG, 1.2 SPG, 1.1 BPG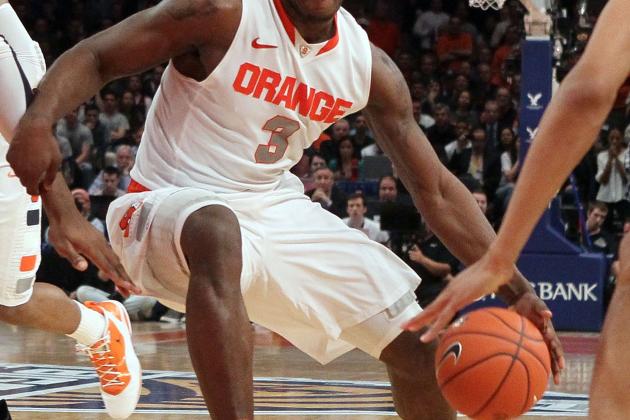 Jim McIsaac/Getty Images

Position: Shooting Guard
Age: 20
Height, Weight and Wingspan: 6'4" and 215 pounds
As previously stated, the shooting guard position is one of the weakest in the NBA. While James Harden is fast on the rise, Monta Ellis has yet to make an All-Star Game and the remaining All-Star 2's are either aging or seeing a serious decline in production already. This opens the door for who scouts refer to as one of "only two potential superstars" in this draft class.
Dion Waiters is much like Michael Kidd-Gilchrist: excellent off of the dribble and impossible to impede from finishing around the rim. While his jump shooting certainly needs improvement, Waiters is an excellent ball-handler who can dominate both in transition and the half court. He also has the potential to play both guard positions.
Waiters will make more All-Star teams than just one, but his first will come sooner rather than later.
Season Averages: 26.29 PER, 12.6 PPG, 2.5 APG, 2.3 RPG, 1.8 SPG