Anthony Davis: Why Big Man Is a Lock to Rejuvenate Bobcats' Troubled Franchise
May 30, 2012

Ronald Martinez/Getty Images
When looking at the final NBA Divisional standings, it's difficult to avoid locking your eyes onto the Charlotte Bobcats' abysmal 7-59 record.
Michael Jordan, one of the most recognizable NBA figures in existence, was the epitome of greatness during his time on the court. Now he's struggling to keep his Bobcats afloat after turning in one of the most embarrassing single-season performances in recent memory. 
Jordan will be asked to resurrect his sorry Bobcats franchise. It's a task seemingly more difficult than winning six NBA Championships.
Although, with a bit of luck from the NBA Draft Lottery, the Bobcats will obtain the No. 1 overall pick in the draft and have a shot at solidifying a roster spot for Anthony Davis.
Davis, the 6'10" forward out of Kentucky, is all but guaranteed to become the top pick of the 2012 draft.
Other than winning the NCAA Championship, Davis was selected as the 2012 National Player of the Year and won the 2012 NCAA Tournament Most Outstanding Player award.
He helped the Wildcats achieve a 38-2 overall record with his stellar defensive play. 
Where Does Davis Fit In? 
After Gerald Henderson led Charlotte in scoring with a mere 15.1 points per game, the Bobcats are in need of a star player capable of scoring over 20 points a game on average.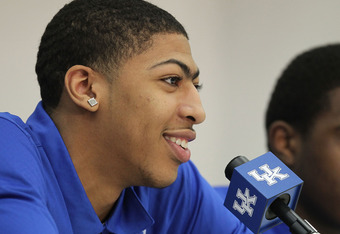 Andy Lyons/Getty Images
The offense was truly terrible, but Charlotte's defense was also among the worst in the NBA with just 38.96 rebounds per game (29th overall). And if anyone can instantly improve the defense, it's Davis. 
Davis was the 2012 Defensive Player of the Year and his towering height will immediately improve the team's ability to create more possessions by snagging more rebounds. 
And while offense is a problem, Davis' presence will allow Henderson and Corey Maggette to raise their point production. 
What to Expect During Rookie Year? 
While Davis' presence will certainly be a step in the right direction, it's obvious that a seven-win team should not be expecting any miracle turnarounds next season. 
Dwight Howard was a No. 1 overall pick and defensive star coming out of college, but Orlando finished with a modest 36-46 record during his rookie season. 
A realistic scenario calls for incremental improvements and a solid year for Davis. An improved defense and a .500 season would be a step in the right direction for the struggling Bobcats.