Cincinnati Bengals: 10 Best/Worst Case Scenarios for 2012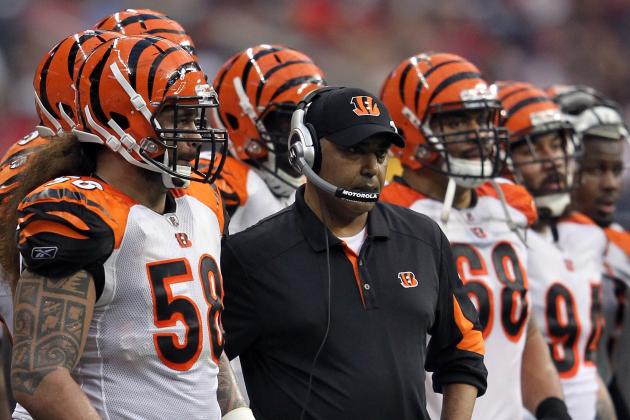 Jamie Squire/Getty Images

As Organized Team Activities (OTAs) began in NFL cities around the country last week, it would be hard to find a fanbase that is quite as geeked up as Cincinnati's.

Sure, the Giants are coming off an improbable Super Bowl run, the Packers have the pieces to be a veritable juggernaut and the Redskins added a slew of marginal wide receivers. Bengals fans, though, have as much of a right to celebrate the unofficial beginning of this 2012 offseason as anyone.

Maybe more.

Fresh off a rebuilding-turned-surprise playoff season (and like 200 years of sloppy ineptitude before that), the Bengals faithful is riding a high into the 2012 season.
As division bullies in Baltimore and Pittsburgh age (Ray Lewis, Ed Reed, Troy Polamalu) and/or get injured (Terrell Suggs, Phil Taylor), the Bengals welcome the first full offseason for their young, dynamic core. A team that won a surprising nine games and had what most media outlets considered to be the best draft in the league, Cincy just seems poised to unseat fools.

However, key positions look to be manned by youngsters, from quarterback (Andy Dalton) and wide receiver (A.J. Green), to strong safety (Taylor Mays) and middle linebacker (Rey Maualuga). Consistency has to be a question.

Just like every other playoff hopeful, the Bengals have questions to answer and holes to fill. And while the pads don't come on until later in the summer, it's not too early to speculate on how things will shake out at Paul Brown Stadium in 2012.

Here are the best/worst case scenarios for some of the Bengals' most important issues.
Begin Slideshow

»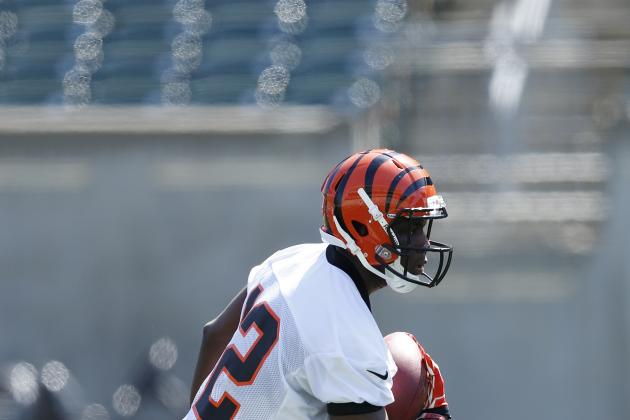 Joe Robbins/Getty Images

The Bengals were already young at wide receiver in 2011, starting a rookie (Green) and another guy who had played about seven NFL snaps in Jerome Simpson. This year, as Simpson takes his marijuana farm to Minnesota and team geriatric Andre Caldwell (27) heads to Denver, the Bengals are looking to get major contributions from a litter of kittens.

Of the candidates to start opposite Green, it would be most encouraging if either Sanu or Jones won a job. Mainly because both guys were drafted this year and reportedly have great upside (therefore strengthening the growing belief that after 46 years, the franchise has finally learned how to draft).
However, sliding Jones/Sanu into the No. 2 slot would also mean not resigning to less attractive options. While University of Cincinnati product Armon Binns may be a fan favorite (and a practice squad stud), I'm not sure our fanciest plan should be to start a guy who couldn't even make a 53-man roster last year.


WORST Case: Sanu/Jones/Binns all prove to be green, forcing the Bengals brass to sign someone like University of Michigan product Braylan Edwards—who, coincidentally, can't catch a G-D cold.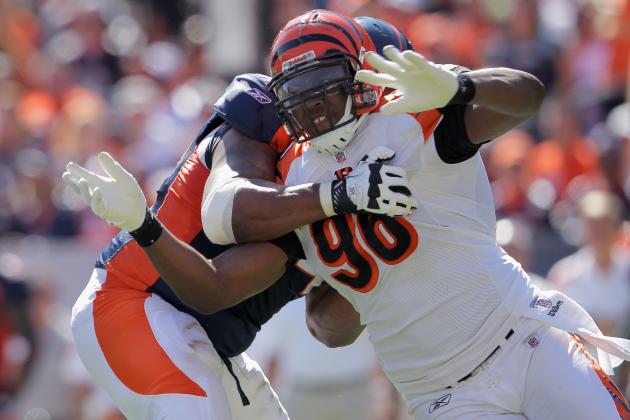 Doug Pensinger/Getty Images

For most Bengals fans, 2010 was a learning experience. We learned that losing 10 games in a row can feel like a fist to the grundle. We learned that Carson Palmer's game had deteriorated to hobo-status. And, we learned that Carlos Dunlap is an absolute man-child.

As a rookie, the defensive end out of Florida had 9.5 sacks, while only getting significant PT in six games. And while last year he only managed 4.5, his season was shortened by a hamstring injury in Week 12.
Assuming Dunlap is all the way back, and assuming he's not overused (shouldn't be a necessity...the Bengals have a FLEET of D-linemen), Dunlap could register 15 sacks easily.


WORST Case: While a "re-injured hammie" might be the true worst case scenario here, I think a more likely issue could be over-use, which leads to fatigue, which leads to ineffectiveness. Dunlap is at his best on third down, when he can bulldoze through left tackles and chomp on QBs.
Here's hoping D-Coordinator Mike Zimmer can resist the temptation of running his best pass-rusher out of gas.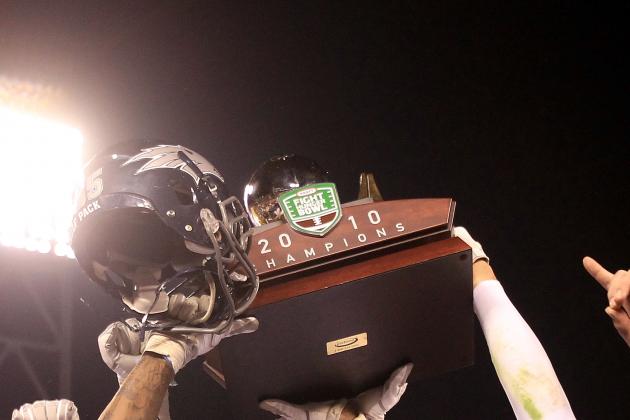 Ezra Shaw/Getty Images

Bengals fans in the know may be raising their eyebrows at this one, but there's a case to be made here. Moch was the team's third selection in last year's draft, a linebacker rumored to be a fast, fearless pass-rusher who could contribute immediately on third down.
Unfortunately, he battled injuries and migraines all season and never got a sniff of action. If he can stay healthy, Moch's size/speed blend could be a great addition to this year's class of newcomers.
This one is all about not wasting an investment.
Worst Case: Rumors of a Moch four-game suspension for PED use hold true, he falls even further behind, and a high 2011 pick is squandered.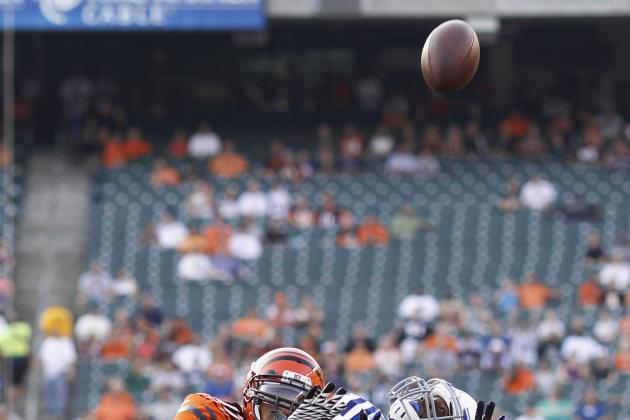 Joe Robbins/Getty Images

Prior to the 2010 draft, I was crossing all my appendages in hopes that the Bengals would get a chance to select Mays—not because I had seen many USC games, and not because I'm really that fit to evaluate future NFL talent.
I basically just knew he was one of the best college safeties in the country. I knew the Bengals needed a safety more than anything, and I knew Taylor Mays looked like this (no, not the sore thumb in the plaid pajama pants).
As it turned out, Mays dropped to the second round (49th overall), spent one year in San Fran and ended up coming over to the Bengals before last season for a seventh-round draft choice.

The knock on Mays is simple. He can't cover. And with only 60-odd snaps last season, I'm not that confident yet in us handing the secondary keys to a guy whose stock plummeted so precipitously. Even if he does look like he invented the Bow-Flex.

All signs point to Mays starting at strong safety on Day 1. If he's serviceable in coverage ( I mean how much worse can he be than Chris Crocker?), I'll be satisfied. If he's serviceable in coverage AND uses his freakish athletic ability to somehow break Big Ben's jaw, I'll be happy.
WORST Case: Taylor Mays does, in fact, get torched. A lot.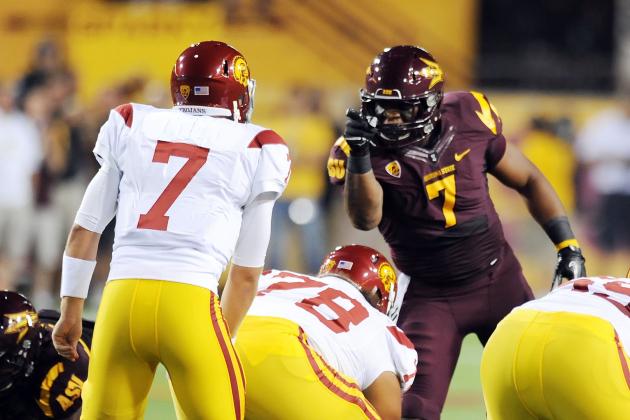 Norm Hall/Getty Images

One could make the case that Burfict (more than Dre Kirkpatrick, Kevin Zeitler, or Devon Still) was the most tantalizing Bengals offseason pickup. Even as an undrafted free agent.

Most of us know the Burfict story. Projected last season to be a mid-first-round pick. Fierce hitter. Heir apparent to Ray Lewis, if the Ravens could trade up to get him. Then some personal fouls happened (like, 16 of them). Then out of shape happened. Then a positive drug test happened.

Still, by the time Burfict signed with the Bengals (prompting anyone who knows anything about the Bengals and/or tired jokes to chuckle), he was saying and doing the right things, he was slimming down (relatively speaking), and head coach Marvin Lewis was singing his praises.

I'm pretty sure the hope of 95 percent of Bengals fans is this: Somewhere, deep in the recesses of Burfict's being, there HAS to be some first-round talent, right?? If so, Burfict making the team would seem to indicate that the Bengals feel they can tap into that talent. A future Maualuga/Burfict tandem at linebacker could be downright scary in the AFC North.
WORST Case: Burfict keeps smoking reefers, keeps acting entitled, doesn't make the team, gets picked up by the Steelers and goes on to break Andy Dalton's sternum. None of these things would surprise me at all.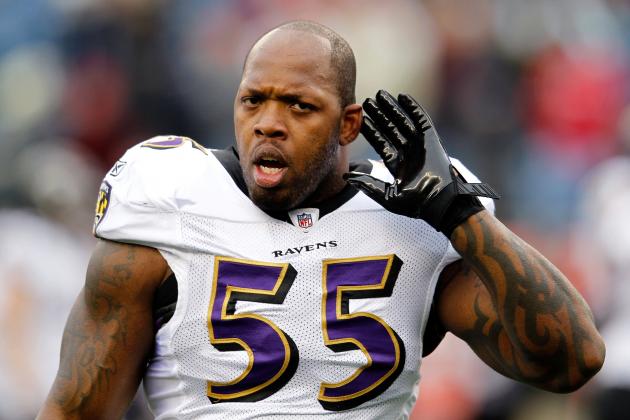 Rob Carr/Getty Images

As mentioned earlier, each AFC North squad has had to endure some significant losses this offseason.
Except the Bengals, that is.
The Ravens lost their best defensive player to injury in Terrell Suggs (sorry Baltimore, Reed/Lewis are finally getting old...deal with it). The Browns lost their nose tackle (Phil Taylor), and the Steelers were forced to shed some of their backbone (Aaron Smith, Hines Ward, James Farrior) due to cap concerns.
Meanwhile, the Bengals biggest losses were Jerome "disappear for games at a time" Simpson at wideout and two replaceable role players from the defensive line (Frostee Rucker and Jon Fanene).

Since sweeping the division in 2009, Cincy has gone 4-8 against its rivals. This year, I expect 4-2 or 5-1 if things go as planned.
WORST Case: Cincinnati continues to be plagued with "shrinking-in-big-moments-itis" (which is like the worst "itis" a team can have). They manage to beat the Browns once, maybe steal one from the bullies, but continue to be second-class citizens.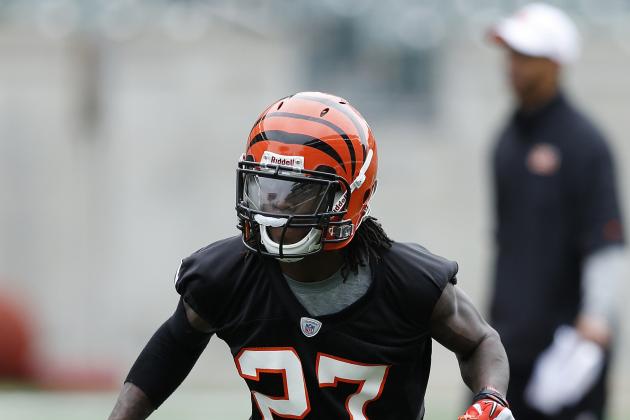 Joe Robbins/Getty Images

It pains me to root against a Buckeye, but I'm not sure Nate Clements is the answer at the No. 2 cornerback position. At 32, he's definitely lost a few steps, and he put multiple examples of that on tape last year.
Kirkpatrick was the Bengal's first overall selection in this year's draft, which means he's obviously a huge talent. Pair that with his rough-shod physical play (which is exactly what Zimmer looks for in his corners), and he has a good shot of picking things up quickly.
WORST Case: Dre needs time to develop, and Hall experiences a setback in his rehab, sending him to the PUP list. The Bengals start the season with Terence Newman and Pacman Jones at corner. Everyone (including Taylor Mays) gets Crockered all season long.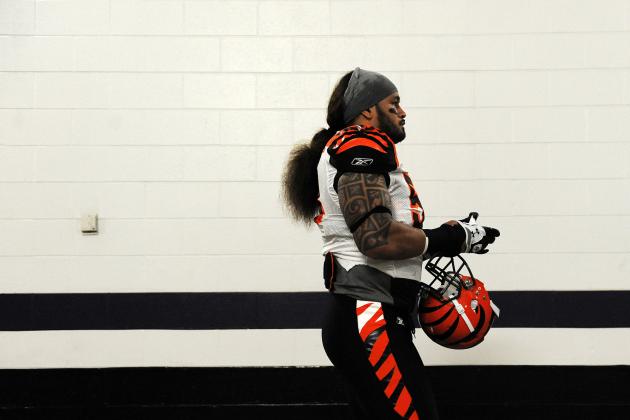 Patrick Smith/Getty Images

It would be hard to contend that, to now, Rey Maualuga has been anything but a disappointment. When the Bengals were able to grab him in the second round in the 2009 draft, I was ecstatic. I expected a lot of this, even more of this, and not quite as much of this.
Unfortunately, Who-Dey Rey has limped his way through two seasons, been moved from one position to another and hasn't yet become anywhere close to the bulldog presence every AFC North team needs.

If Rey can stay healthy and improve, and therefore log a whole season at his natural position (MLB), I'll be more than satisfied.
WORST Case: Another injury would be tough to take, as it would be yet another road-block in this guy's development. However, if Rey were to play a full season and not progress (continue to overrun the ball, get lost in traffic, etc.), the future of this defense could truly be up poop creek.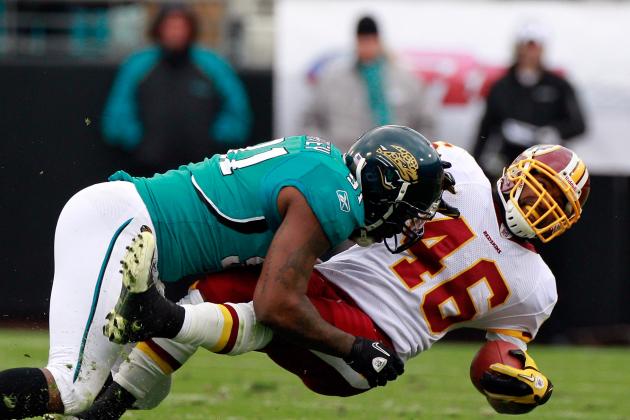 Sam Greenwood/Getty Images

This might be a huge reach, especially when you consider this tandem combined for only three last season, but are expected to replace two productive D-linemen lost to free agency (Rucker and Fanene, who combined for 10.5).
Still, this is a best case scenario projection, and being that Anderson and Harvey are former first-rounders, they may just have enough juice left to flourish in Zimmer's system.
Currently, it's unknown whether both of these guys (or even one of them) will make the squad—they were brought in for depth. However, if even one catches on, it's a win if he provides 10 sack-o's. Or eight.

OK fine, I'd take six.
WORST Case: This might be the least worrisome of the worst cases. If Harvey and Anderson don't impress in training camp, they're likely gone. After all, Cincinnati is FLUSH with great young defensive linemen.
It won't hurt much to get zero out of these guys, as long as Michael Johnson, Dunlap, Robert Geathers, Domata Peko, Devon Still, Geno Atkins and Brandon Thompson stay out of the training room.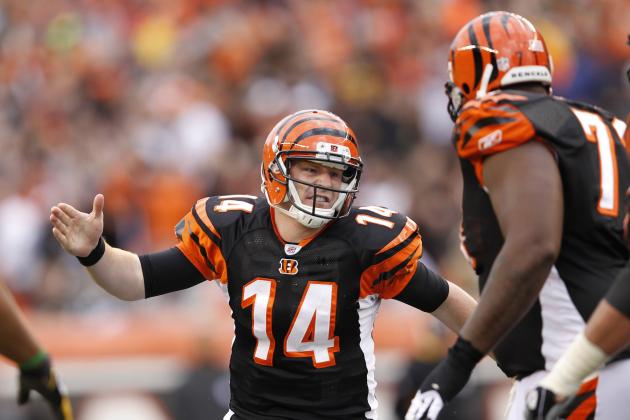 Joe Robbins/Getty Images

No, seriously, it's possible. Stay with me...

Week 1 @ BAL: WIN. Bengals focus in the MNF opener, beat the Suggs-less Ravens.
Week 2 vs. CLE: WIN. Browns are a mess. Home opener.
Week 3 @ WAS: WIN. Bengals gut out a tough road win, D-line ravages RG3's confidence.
Week 4 @ JAX: WIN. Despite new weapons, Blaine Gabbert is still Blaine Gabbert.
Week 5 vs. MIA: WIN. New coach, new QB, less weapons = rough season for the Fins.
Week 6 @ CLE: WIN. T-Rich makes this tough, but the better team wins again.
Week 7 vs. PIT: LOSS. 6-0 start ends here, Steelers come to play.
Week 8 BYE
Week 9 vs. DEN: WIN. I could see this one going either way. Home game? Bengals eek it out.
Week 10 vs. NYG: LOSS. Not enough secondary to stop the Giant passing attack.
Week 11 @ KC: LOSS. This team will have its stars back. Tough place to play.
Week 12 vs. OAK: WIN. Bengals D makes Palmer look like, well, Carson Palmer.
Week 13 @ SD: LOSS. Cincy is atrocious on the West coast.
Week 14 vs. DAL: WIN. Another tough game at home, Bengals rebound from SD loss.
Week 15 @ PHI: WIN. The Eagles will drop a bunch of games they shouldn't.
Week 16 @ PIT: WIN. Revenge.
Week 17 vs. BAL: WIN. Bengals continue to solve Ravens, get that first round bye.
WORST Case: Honestly, this is NOT an easy schedule for the Bengals, especially after the first seven games (which I see them definitely winning five of).
That being said, I could see a repeat of 2012 going down, aka beating who they should beat and getting edged out by playoff-caliber squads. If that were the case, I could see losses at Philly and Pittsburgh, and losses vs. Dallas and Baltimore. But 8-8 is as low as they'll go.
For more from Reed Domer-Shank, visit his blog: J O U R N E Y M E N . You can also follow Reed on Twitter: @ReedDS20, or contact him directly at Reed.Domershank@gmail.com.