Why Tony Romo Faces More Pressure Than Michael Vick in 2012
May 30, 2012

Ronald Martinez/Getty Images
While Eli Manning kicks his feet up with his two Super Bowl rings and Robert Griffin III is eased in without an overbearing sense of urgency, the other two NFC East quarterbacks will be under intense scrutiny and heavy pressure in 2012.
And while neither quarterback deserves the full blame for the failures of their respective teams in recent seasons, there's little doubt that Dallas Cowboys signal-caller Tony Romo and Philadelphia Eagles pivot Michael Vick will face the most pressure in the division this season. 
Here's why:
- Vick has yet to win a playoff game with the Eagles; Romo has won just a single postseason game with Dallas, and that was back in 2009. 
- Vick is surrounded by the most talented supporting cast in football, yet he hasn't been able to deliver a playoff victory in either of the last two seasons. He's lacked consistency and has missed six games while being severely limited in others due to injury.
- Romo is unfairly lassoed with a reputation for poor play in important moments. Eight of the Cowboys' nine losses between Nov. 14, 2010 and Dec. 17, 2011 were one-score games. 
Strictly from a statistical standpoint, Romo was more consistent and productive than Vick was in 2011, which is the only year we can use to properly compare the two quarterbacks because Romo missed a large part of 2010 with a broken clavicle.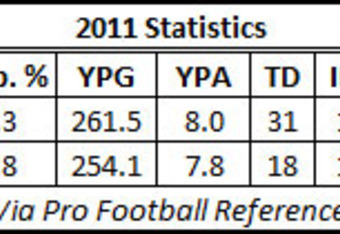 But it's Romo, not Vick, who faces the most pressure to accomplish something big in 2012. That's because a somewhat spoiled fanbase is growing increasingly tired of mediocrity that simply didn't exist in Dallas in previous generations. 
The Cowboys have now gone 16 years without a championship. The Eagles have never won a Super Bowl, but that's why Vick has less to lose. Dallas football fans have had several tastes of success, and by the end of this year, Romo will have been their quarterback for about 40 percent of the longest Super Bowl dry spell in team history.
Vick has already surpassed the expectations that were set for him when he signed with the Eagles in 2009, and he's on a team that has let its fans down time and again. They can't possibly be imagining a new result this time around, can they?
Vick has much less to lose. If he does finally lead the Eagles to a Super Bowl, he's this century's Rocky Balboa. If he doesn't, he's just another great player passing the baton of failure to the next Philly quarterback.
Romo, on the other hand, has now been the Cowboys' starter for half a decade. And while his numbers compare favorably to other Dallas greats (even when taking the inflation of passing statistics into account), he'll retire without a legendary status (maybe even an antagonistic one) unless he can lead the Cowboys to a Super Bowl.
No one remembers that Romo, too, has defied all expectations as an undrafted scrub out of Eastern Illinois. He's now a victim of his own regular-season successes combined with his playoff failures.
Both Romo and Vick will be 32 this season, and both have a lot of work to do in order to salvage or cement their legacies before it's too late. But based primarily on a difference in leash lengths, it's Romo who will face the most pressure to perform in 2012.