Arizona vs. South Carolina Game 1: Score, Highlights and Analysis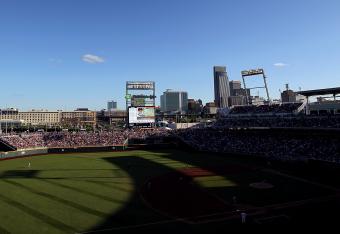 Ronald Martinez/Getty Images
Final: Arizona 5 South Carolina 1
The initial matchup between the final two standing at the College World Series features an offensive stronghold in Arizona (46-17) and a pitching power in South Carolina (49-18). The best-of-three series will take place at TD Ameritrade Park stadium in Omaha, Nebraska over the course of the next three days, starting today at 8 p.m. Eastern time.
The Wildcats return to the CWS title series for the first time since their 1986 championship, while head coach Andy Lopez will be searching for his second career title after leading Pepperdine to one in 1992. The Arizona program will be looking for a fourth overall championship.
The Gamecocks, however, are set up to finish a three-peat following their claim over the 2010 and 2011 titles. An unlikely return to the title this season has longtime head coach Ray Tanner and the South Carolina program looking to secure their third overall championship.
At this stage in the tournament, it will come down to every pitch and every at bat. Each squad has the potential to bring home the CWS Title, making this matchup all the more intriguing.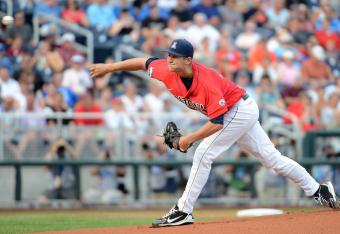 Konner Wade and Arizona pull out the game one victory in the CWS title series. Wade records his second complete game of this CWS, a very impressive feat. The Wildcats' big-time hitting was the difference in this game as aggressive at-bats led to five runs on the day.
Tomorrow we should see South Carolina's stud pitcher Michael Roth as the Gamecocks look to avoid elimination. That's it for tonight.
Till game two at 8 PM eastern time on Monday evening.
Once again, Beal gets out of trouble with the bases loaded by striking out a red-hot Robert Refsnyder. Huge job to keep this game within in reach for the Gamecocks heading into their final at-bat. The heart of the order is up with Christian Walker batting first.
Seth Mejias-Brean blasts an RBI single to push Refsnyder home from second. The Arizona offense continues to impress here in the CWS title series, gaining five runs in seven innings. This lineup is just dangerous...I look forward to watching them face-off against Michael Roth tomorrow.
Refsnyder throws across the field on a single to snare a huge out at third. Matthews came up just short to get tagged out. Refsnyder just keeps coming big in this CWS for Arizona.
Wade able to squeeze out of the inning after allowing South Carolina their first run of the game. It is now a necessity that Arizona keep up their power hitting now to keep building on their lead.
South Carolina finally lights up the scoreboard with a RBI single by Marzilli. Greiner scores in what will be a huge tell-tell for pitcher Konner Wade. The Gamecocks need to keep advancing runners home if they want to have any shot of winning this matchup, and this is their shot to do so.
Field scores the fourth run for Arizona with Seth Mejias-Brean's RBI single to center field. The hit breaks South Carolina bullpen's 18 scoreless innings streak...big break for this frustrated Arizona batting who had left five runners on base the past few innings, including two men on third.
The Gamecocks' poor batting has them looking at falling behind early in this series. Arizona starting pitcher Konner Wade continues to impress.
Robert Refsnyder comes up to bat to try and drive Field in from third base. Blasting a home run in the first inning, Refsnyder's at-bat is huge for the Wildcats as he will try to break South Carolina bullpen's 18-inning scoreless streak.
Wade has been extremely efficient this entire matchup. Three strikeouts and no walks with only one hit so far. Arizona is looking to push him all the way through the ninth and the way Wade is pitching, it's looking like he will with ease.
Beal and his USC defense are able to squeeze out of another inning with a second converted double play. The Wildcats have to frustrated with their lack of clutch with runners in scoring position...Arizona manager Andy Lopez should be looking to continue building on this lead with aggressive batting.
Look for the Wildcats to keep swinging strong, particularly against these young Gamecock pitchers.
USC is looking just as bad at the plate as we expected. Only two men on base with just one hit (the other came on an error). The Wildcats have already built a solid lead to start this CWS title series. Perhaps it's just the brilliant pitching of Konner Wade, but this Gamecocks lineup is failing miserably.
Wade ends the top of the fourth on two flyouts to left and center field.
South Carolina substitutes in Evan Beal to pitch. Immediately forces a double play to end the base-loades threat. Huge move by the Gamecocks to head to their bullpen early...it shows that the Wildcats power hitting is already getting to their best arms. Will easily be a storyline for the rest of the series.
Arizona's Mejias knocks in a huge RBI double to put the Wildcats up by three runs in the third. As of now, the South Carolina pitching is looking flaccid and un-Gamecock like...keep an eye out for a pitching change soon at the mound.
The Wildcats get out of the top of the second inning quickly by retiring the side. Wade achieves his second strikeout of the game...so far he is looking unbeatable.
Refsnyder jacks a two-run homer for Arizona in the first inning to put the Wildcats up. Huge score for this powerful batting squad. The pitching of South Carolina is not looking as sharp as usual so far.
Arizona pulls off a big double play to start off the first inning. After bad fielding at third for the first at-bat, the infield comes up huge to end the threat early. Walker up for Wade to retire the side.
The first pitch is underway. The CWS Championship has begun...first up, Konner Wade pitching against Joe Pankake.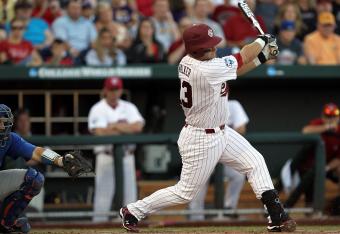 Top Hitters
Arizona - Soph. Johnny Field (.373)
Junior Alex Mejia (.361)
Junior Seth Megias-Brean (.360)
Junior Robert Refsnyder (.357)
South Carolina - Junior Christian Walker (.319)
Freshman Tanner English (.303)
Junior Evan Marzilli (.288)
The Wildcats are powerful at the plate, especially compared with the Gamecocks. Keep an eye out for Arizona to take advantage of strong hitting, especially against young USC pitcher in Forrest Koumas. The offensive load of South Carolina almost falls solely on Walker, making him the main focus of Arizona pitcher Konner Wade.
Weather
The game has clear skies for tonight's game. Temperatures of around 90 degrees Fahrenheit with a 57% humidity. The wind is blowing at approximately seven miles per hour to the east through TD Ameritrade Park.
Overall, it looks as if weather won't be too much of a factor in today's matchup. Due to the fact that most of the game will be played under the lights, heat won't be too exhausting on the players.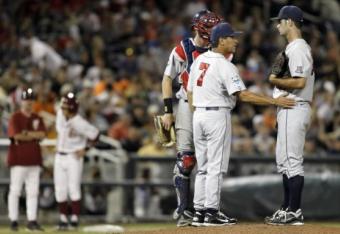 Starting Pitchers
Arizona - Sophomore Konner Wade (10-3)
The young right-hander will be facing off against this experienced South Carolina batting lineup for game one of the series. Wade pitched a five-hit shut out of UCLA in the Wildcats' second CWS matchup.
South Carolina - Sophomore Forrest Koumas (2-2)
To match Wade up on the mound will be another right-hander in Koumas. He will be taking on an Arizona squad that is sixth nationally in scoring (7.4 runs/game) and fourth in batting (.330).
Implications
The starting pitcher matchup for game one shows South Carolina head coach Ray Tanner's insecurity for putting a struggling Colby Holmes (7-2) on the mound. Also, it leaves game two wide open for stud pitchers Kurt Heyer (Ari) and Michael Roth (USC) to face off against each other.
This article is
What is the duplicate article?
Why is this article offensive?
Where is this article plagiarized from?
Why is this article poorly edited?