NBA Rumors: Why Knicks Are Better Fit for Lamar Odom Than Lakers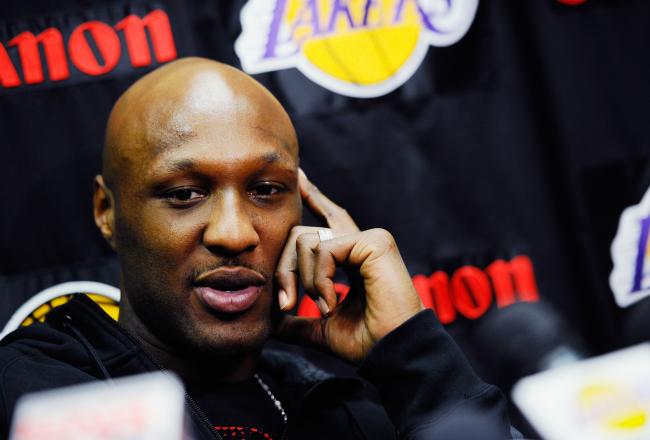 Kevork Djansezian/Getty Images
Dallas Mavericks forward Lamar Odom is desperate to return to the Los Angeles Lakers, the team that traded him away last summer for nothing more than a draft pick, according to ESPN's Stephen A. Smith.
But instead of a reunion in Los Angeles, Odom should take a long look at any potential offer from the New York Knicks. Odom is rumored to have the Knicks on the "top of his wish list," according to a published report from ESPN's Ian Begley.
Smith has said the opposite recently, strongly hinting that there is mutual interest in getting Odom back in Los Angeles with the Lakers.
From LakerNation.com, who quoted Smith on ESPN Radio:
(Odom) desperately wants to come back and wants to play for the Los Angeles Lakers. Mike Brown desperately wants him back. He's going to talk to Buss and Lakers hierarchy to see what they can do about getting Lamar Odom back.
As of May 30, Odom is still under contract with the Mavericks. But if Odom remains on the Mavs' roster a month from now—June 29th, to be exact—Dallas will be on the hook for the $8.2 million Odom is due for the 2012-13 season.
Dallas could control where Odom goes with a trade, but that seems highly unlikely given the money he's owed and the disappointing season the 6'10" forward put together in his one season with the Mavericks in 2011-12. Odom averaged under seven points and five rebounds while shooting just 35.2 percent in 50 games with Dallas this season.
Dallas made Odom inactive for the last nine games of the season.
The most likely scenario is a $2.4 million contract buyout from the Mavs before June 29th, which would make Odom a free agent this summer. Envisioning any other outcome simply doesn't make sense for either side.
Once a free agent, Odom will be available to sign with which ever franchise he wants.
If there's mutual interest—and the assumption is there would be from Los Angeles—Odom should have suitors in both the Lakers and Knicks.
According to Begley's report, Odom would welcome a move to New York.
"Lamar is big on being comfortable," a source told Begley. "And New York is somewhere he can be comfortable."
Begley's source had more glowing things to say on Odom's interest in the Knicks.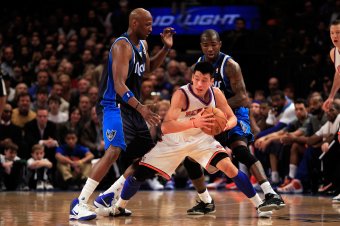 Chris Trotman/Getty Images
"He wants to find a place where he can end his career, and New York is ideal. He's won championships in the past and he wants to win another. And to do it there would be great."
The fit for both sides makes a lot of sense.
Odom was obviously never comfortable during his brief stint with the Mavericks, and that dynamic—possibly more than anything—negatively effected Odom's play the most this season. The two sides clashed throughout the year, with a move to the inactive list the conclusion to a drama filled season for Odom.
In a nutshell, Odom produced career lows across the board in one of the most difficult physical and emotional seasons of his 13-year NBA career.
If he's comfortable in New York, Odom could return to his pre-Mavs statistical outputs. While in Los Angeles, Odom routinely scored close to a 1,000 points a season with 700 or more rebounds and 200 or more assists.
In New York, Odom would likely resume his role as one of the game's best sixth men—something he nearly perfected as a member of the Lakers for seven years. He would bring talent and a veteran presence to the second unit in New York immediately.
The Lakers offer Odom all those same things from a comfort and playing view point, but it's possible that Los Angeles will be looking elsewhere for help this offseason.
While Odom might cost less than $2 million contractually this summer, Mike Bresnahan of the Los Angeles Times offered names such as Al Harrington, Dwight Howard, Raymond Felton, Beno Udrih and Trevor Ariza as other options to help reconstruct the Lakers during this offseason. Odom is listed, but last.
Maybe the Lakers think of Odom as a last resort option, too.
And after the way the Lakers treated his dismissal from the team last summer, Odom should be hesitant in giving Los Angeles a second chance. The better overall package might come from New York.
When push comes to shove, Odom will likely have several attractive offers once he's bought out in June. The Lakers and Knicks both represent the best of the bunch for Odom.
But instead of a reunion in Los Angeles, Odom should take his chances with the up-and-coming Knicks in New York. If he's as comfy in the Big Apple as he says he would be, Odom can anchor a second unit for one of the better potential teams in the East in 2012-13.
This article is
What is the duplicate article?
Why is this article offensive?
Where is this article plagiarized from?
Why is this article poorly edited?