College World Series Bracket 2012: Game-by-Game Preview and Predictions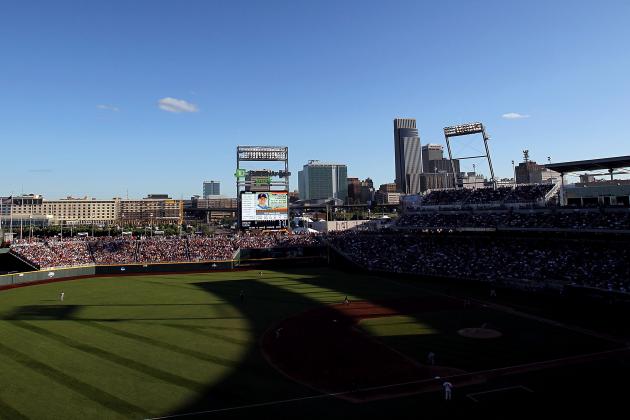 Ronald Martinez/Getty Images

Every sport has sacred traditions, many ranging back to the very birth of the competition itself. These conventions and customs are what compels players, coaches and fans to view these sports as more than just a game, but a ritual that will never go out of style or age with time.
For college baseball, that "tradition" is the College World Series. Hosted by Omaha, Nebraska, since 1950, the CWS holds a special place in the sport's heart, mind and soul. In honor of the sports dedication to Omaha, the city constructed an all-new stadium for the final round of the college playoffs, opening it for last season's tournament.
With the Super Regionals finally coming to a close, the eight-team bracket has been set into place while the teams began their travel preparations. This year's grouping features not one, but two CWS first-timers in Stony Brook and Kent State mixed with storied veterans such as Florida State, Arizona and South Carolina.
The double-elimination tournament starts Friday, June 15 at 5 p.m. ET, pitting the best of the college world against each other in a final battle to the death. It's time for win or go home.
We take a look at the four first-round matchups, exploring the depth of each squad, its road to Omaha and what it must do to have any shot at bringing home the title.
The stakes are highest at the College World Series, but the prize is more than worth the risk.
Begin Slideshow

»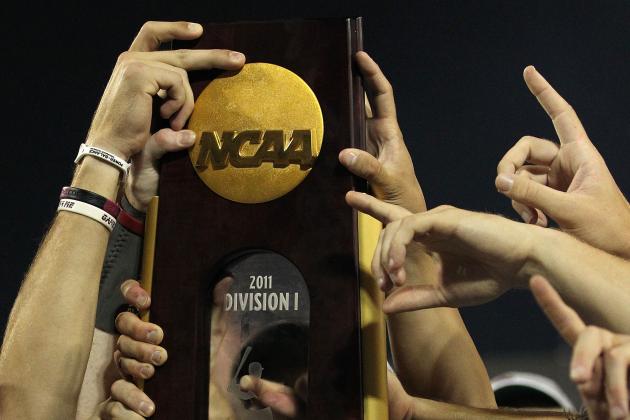 Ronald Martinez/Getty Images

For those of you who might not know, the College World Series is a double-elimination tournament. Following the dismissal of six squads, each acquiring two losses, the final two teams will then battle for the championship in a best-of-three series. The first-round schedule is posted below.
Friday, June 15
Stony Brook (52-13) vs. (2) UCLA (47-14) @ 5 PM ET
Arizona (43-17) vs. (3) Florida State (48-15) @ 9 PM ET
Both Games Broadcasted on ESPN2/ESPN3
Saturday, June 16
Kent State (46-18) vs. Arkansas (44-20) @ 5 PM ET
(8) South Carolina (45-17) vs. (1) Florida (47-18) @ 9 PM ET
Both Games Broadcasted on ESPN/ESPN3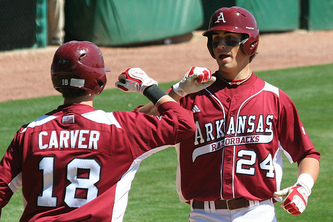 Arkansas: Season Record: 44-20
CWS Appearances: Six, No Titles
Claiming the last spot in the College World Series with a thrilling win over overall fourth-seeded Baylor, the Razorbacks elevate the SEC to dominating status in Omaha once again. The conference enters the CWS with three programs, the most of any other in the nation.
Arkansas has, over the course of the past few days, proven its abilities in the diamond. A squad that should take up the name "Texas Killer," the regionally second-seeded Hogs dismissed Houston and Waco-based Rice and Baylor in decisive fashion. The most notable memory for Arkansas must be the Game 2 elimination matchup during the Waco Super Regional where, down 4-3 entering the bottom of the ninth, the Razorbacks loaded the bases and were walked twice off consecutive pitches hitting batters.
The Hogs are led offensively by junior Matt Reynolds (.344), senior Tim Carver (.305) and sophomore Dominic Ficociello (.306), totaling together for 15 homers and 113 RBI. Arkansas' pitching staff isn't half bad either with sophomores Colby Suggs (7-0) and Ryne Stanek (7-4) in addition to junior DJ Baxendale (7-5) holding down the mound on a consistent basis. Sophomore reliever Barrett Astin (3-5) is also of note due to his 10 saves.
Statistically, the Razorbacks rank second among CWS squads in overall ERA (2.95). They also rank fourth in overall strikeout-to-walk ratio with 2.56.
Kent State: Season Record: 46-18, MAC Champion
CWS Appearances: None
One of the two programs entering the CWS for the first time in their history this season, Kent State has shocked the college baseball world with two solid rounds on the diamond en route to Omaha. The Golden Flashes entered the playoffs in the Gary Regional as the third-seeded team, defeating No. 2 Kentucky to reach Oregon and the Eugene Super Regional.
Surprising the rolling Ducks in the series opener, Oregon was able to battle back during the second matchup and force a Game 3. With the college baseball world expecting the Ducks' momentum to carry over from the previous game, Kent State once again proved its worth with a brilliant 3-2 victory and advancement to its first CWS.
Led by a strong pitching staff composed of senior David Starn (11-3), junior Ryan Bores (9-3) and sophomore Tyler Skulina (11-2), the Golden Flashes have held every opponent this postseason under six runs. Offensively, Kent State is run by senior Jimmy Rider (.364) and junior George Roberts (.368) who have combined on the year for 13 home runs and 120 RBI.
Statistically, KSU ranks fourth in overall batting percentage (.303) and scoring (6.9 runs per game) within the CWS. Junior George Roberts places third in RBI per game, knocking in just over one every matchup.
Edge: Arkansas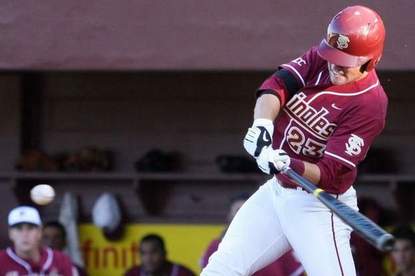 Florida State: Season Record: 48-15, ACC Champion
CWS Appearances: 20, No Titles
Florida State is, without a doubt, the most frustrated program in college baseball. FSU holds the record for most visits to the College World Series without ever emerging the victor, making its 2012 visit to Omaha just another likely failure. This extremely talented squad, however, is prepared to make sure history doesn't repeat itself once again.
Led by senior James Ramsey (.382) and junior Jayce Boyd (.389), the Seminoles have been dismantling anyone and everyone in their way. Undefeated so far this postseason with two brilliant showings against a solid Stanford team in the Tallahassee Super Regional, FSU is rolling into the CWS with a chip on its shoulder.
Compared with the other seven squads entering the College World Series this season, Florida State is easily the most powerful offensively coming into Omaha. While their two freshman pitching aces Brandon Leibrandt (8-2) and Mike Compton (11-2) will be able to hold teams to relatively low run totals, it is the large number of points the Seminoles can put up on anyone that opposing teams should be concerned about.
Statistically, FSU ranks second in the CWS for on base percentage (.406) with senior James Ramsey leading the category individually with a solid .519. Also, the Seminoles come in as the third best for scoring, putting up 6.9 runs per game.
Arizona: Season Season Record: 43-17, Co-Pac-12 Champion
CWS Appearances: 15, Three Titles (1976, 1980, 1986)
Unlike Florida State, the Wildcats have had a multiplicity of success in the CWS and own three titles to prove it. Arizona, however, is taking just its second trip up to Omaha since 1986, leaving this program with much to be desired in the modern era of college baseball.
In the diamond, UA has shown its resilience on a consistent basis. After closing out their regional with a 3-0 sweep, Arizona was allowed to host a Super Regional in Tucson due to St. John's surprising elimination of sixth-seeded North Carolina at Chapel Hill. In Game 1, the Wildcats battled back from five runs down to secure the 7-6 victory in extra innings. The following day, this experienced and emotionally charged squad ended the Red Storm's run and advanced to the College World Series.
Junior Kurt Heyer (12-2) and sophomore Konner Wade (9-3) have been able to boost this team to new heights by containing strong batting squads. Offensively, Arizona's hitting isn't half bad either with sophomore Johnny Field (.383) and junior Seth Mejias-Brean (.366) owning the statistical categories. The Wildcats aren't exactly a "swing for the fences" kind of team either with just 20 home runs coming on the year, but expect a high on-base percentage for UA in the CWS.
Statistically, Arizona ranks second in overall batting average (.333) within the CWS. Also, the Wildcats lead the eight teams in scoring on the year, batting in 7.5 runs per game. Sophomore Johnny Field ranks in at second for individual on base percentage (.490) as well.
Edge: Florida State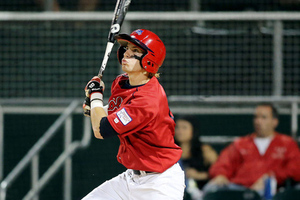 UCLA: Season Record: 47-14, Co-Pac-12 Champion
CWS Appearances: Three, No Titles
Following their CWS Championship loss to South Carolina two seasons ago, the Bruins are back in Omaha and are ready to claim their first title. A strong year by UCLA allowed them the opportunity to host a Super Regional and advance with no losses in the postseason thus far, going 3-0 in regional action and downing TCU in quick succession at Los Angeles.
Supported by their top-notch pitching staff, the Bruins will have to rely on defense over offense during this College World Series. Led by sophomores Adam Plutko (11-3) and Nick Vander Tuig (10-3) along with freshman phenomenon David Berg (5-3), UCLA is looking for pure containment of the nation's best batters. Junior reliever Scott Griggs (3-1) is also of note due to his big-time 15 saves over the year.
As any sports fan knows, however, teams still have to score in order to win. UCLA certainly isn't devoid of offensive life as juniors Trevor Brown (.328) and Cody Keefer (.339) have both helped in the Bruins' run-scoring department. Furthermore, junior Jeff Gelalich (.365) has come out as one of the better hitters out of the Pac-12 as he has racked up a team-leading 11 home runs in addition to his second-place 46 RBI.
Statistically, the Bruins rank third in overall team batting percentage (.309) within the CWS. Also, freshman David Berg comes into Omaha with the lowest ERA (1.58) amongst CWS pitchers.
Stony Brook: Season Record: 52-13, America East Champion
CWS Appearances: None
The Seawolves will be making their first trip up to Omaha in what has turned into a stunning Cinderella season. Stony Brook entered the Coral Gables Regional as the No. 4 seeded team, taking down regional host Miami in the first game and defeating second-seeded UCF twice to advance to the Super Regional. Since then, SBU has been nothing short of shocking.
Facing off against overall No. 7 seed and SEC Champion LSU in Baton Rogue, the Seawolves experienced a despairing loss during Game 1 in which the Tigers hit three solo home runs in each the bottom of the ninth, 10th and 11th innings before going on to win 5-4. SBU gathered itself though, taking down LSU in the next two matches to move onto Omaha, showing its resilience and upset capability to the nation firsthand.
A decently balanced squad, Stony Brook boasts three of the most solid hitters in the CWS with juniors Travis Jankowski (.422), William Carmona (.399) and Maxx Tissenbaum (.389) all combining for 20 home runs and 169 RBI. Their pitching staff is led by senior Tyler Johnson (12-1) and sophomore Brandon McNitt (8-3), both of whom have major league talent.
Statistically, Stony Brook enters its first College World Series as one of the best. The Seawolves rank first in overall team batting average (.335) and on base percentage (.414). SBU also comes in second in scoring, putting up 7.2 runs per game. Juniors Travis Jankowski and William Carmona rank as the top two hitters in the CWS with Maxx Tissenbaum coming in at fourth. Senior Tyler Johnson ranks second in overall ERA (1.93).
IMPORTANT: As only the second regional fourth-seed to ever make it into the College World Series, Stony Brook deserves special attention. Entering Omaha with a load of momentum and tons of talent, this squad has every possibility of reaching the CWS Championship Series. UCLA may have the seeding advantage, but after watching them play, it seemed as if they were just going through the motions. SBU is competing with passion and drive unlike any other squad in the CWS, giving it a solid shot against any of the nation's best.
Edge: Stony Brook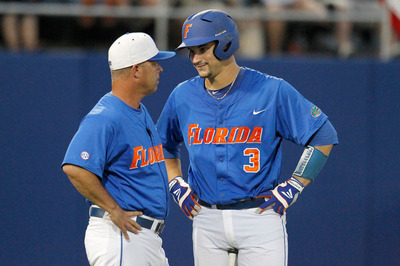 Florida: Season Record: 47-18
CWS Appearances: Seven, No Titles
Ranked as the best team in college baseball entering the playoffs, the Gators have continued to show why they belong on top. Following last season's grueling championship loss to SEC East rival South Carolina, Florida will be gunning to take home the title for the first time in its history off high caliber pitching and explosive hitting.
Overall, UF is, by far, the most balanced team in this College World Series. Offensively, Florida revolves around their "big three" power hitters. Seniors Daniel Pigott (.323) and Preston Tucker (.319) along with junior Mike Zunino (.322) have combined so far for 43 home runs and 153 RBI on the year, making them one of the most dangerous trios in the country.
The Gators pitching staff also boasts an impressive reputation. Led by juniors Hudson Randall (9-2) and Brian Johnson (8-4) in addition to senior Greg Larson (6-0), Florida owns arguably the most experienced group in the CWS. Junior reliever Austin Maddox (3-3) should also be of note as he has compiled a big-time 12 saves over the course of the season.
Statistically, Florida ranks first in lowest overall ERA (2.90) as well as highest total home runs (75) among CWS teams. The Gators also rank second in fielding percentage (.979). Junior Mike Zunino leads the CWS in homers with 19. Lastly, UF ranks first, both nationally and in the CWS, in their strikeout-to-walk ratio with an impressive 3.70.
IMPORTANT: Put simply, there is a reason this squad is considered the nation's best. On a more complicated note, however, Florida will be searching for some much desired revenge. The Gators getting even for last season's CWS Championship loss will prove to be one of the most powerful storylines in Omaha this time around. UF lusts to prove its capability in the clutch as it faces a team it went 3-1 against during the year.
South Carolina: Season Record: 45-17

CWS Appearances: 10, Two Titles (2010, 2011)

Over the past two years, the Gamecocks have emerged as one of the most deadly powerhouses in college baseball. Returning to Omaha for their third time in a row following a perfect postseason record, USC is prepared to continue their 20-game CWS win-streak and bring home another title in the program's quest for a three-peat.
Coincidentally, both of South Carolina's championship opposition from the past two seasons are the No. 1 and 2 seeds in this year's College World Series, making it more than likely that the Gamecocks would have to take both out en route to winning their third title. Fortunately for USC, however, it has more than enough talent and experience to pull off one of sport's most difficult tasks.
Led on offense by big-shot junior Christian Walker (.322), the Gamecocks have been able to consistently get clutch hits at necessary times during games. While the hitting has been better than decent over the course of the season, South Carolina has been able to rely on its pitching staff for pulling out wins. With senior Michael Roth (7-1) at the head, junior Colby Holmes (7-1) and freshman Jordan Montgomery (5-1) have dazzled. Also of note are junior relievers Matt Price (4-4) and Tyler Webb (5-2), combining for 13 saves.
Statistically, South Carolina leads all CWS teams in team fielding percentage (.980). The Gamecocks also place second in strikeout-to-walk ratio with 2.74 with freshman Jordan Montgomery ranking second individually with a 5.67 ratio.
Edge: Florida