Spain vs. South Korea: Score, Highlights, Twitter Reaction and Analysis
May 30, 2012

Jasper Juinen/Getty Images
Spain didn't play friendly with South Korea manhandling them 4-1 in their match on Wednesday afternoon. They left no doubts about who was the more talented team as they dominated from start to finish.
The momentum that they've built will go a long way on their Euro 2012 journey.
Tweets of the Day
John Duerden of The Guardian shed light on South Korea's game plan prior to the match.
Ahead of Spain friendly tonight. South Korea focusing on 'accurate passing & intelligent fouling' in training

— John Duerden (@JohnnyDuerden) May 30, 2012
The official Twitter page of Spanish soccer got a little excited when Fernando Torres launched home the first goal of the afternoon.
Gollllllllllllllllllllllllll!!!! de Fernando Torres a pase de Beñat. min.11

— RFEF (@rfef_es) May 30, 2012
Must-See Highlight
Here is Torres' goal from the 11th minute.
Grades for Key Spain Players
Fernando Torres: A
His Twitter-shaking goal was just the eighth that he managed to score in all competitions since January. Any success to boost Torres' confidence is huge for not only his performance, but Spain's Euro 2012 chances.
Pepe Reina: B-
South Korea only managed to attempt five shots on goal in the afternoon and Reina still allowed them to put a dent in the scoreboard. He did record a save, but he has room for improvement.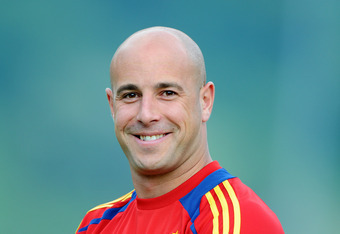 Jasper Juinen/Getty Images
Grades for Key South Korea Players
Do-heon Kim: B-
Kim was the only one who showed up offensively for South Korea. He scored their lone goal in the contest to tie up the match, but his teammates didn't offer him much assistance after that.
Jin-Hyun Kim: C+
Kim played quite admirably in the loss recording four saves of the day. While he surrendered four goals, South Korea's defense didn't give him much help, as Spain went swinging 20 times in the contest.
Deciding Factor: Shots on Goal
Spain controlled the match from the opening whistle. They held possession of the ball 65 percent of the game which led to the 15-shot disparity. If you can't shoot, you can't score.
Man of the Match: Santi Cazorla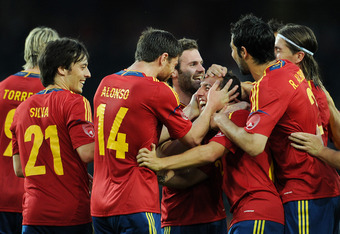 Jasper Juinen/Getty Images
While his goal wasn't any more valuable than Torres', Xabi Alonso's or Alvaro Negredo's, Cazorla's proved to be the dagger. In the 56th minute of play, it provided Spain with a comfortable 3-1 cushion. And with how phenomenal their defense played all afternoon, the lead proved to be insurmountable.
What's Next?
Spain will face off against China on June 3rd while South Korea will take on Qatar on June 8th.
David Daniels is a featured columnist at Bleacher Report and a syndicated writer.