Rhoads and Cyclones Ready to Build on Momentum in 2012: A Post-Spring Q & A
May 30, 2012

Christian Petersen/Getty Images
2011 was an exciting year for Iowa State head football coach Paul Rhoads and the Cyclones. A second bowl appearance in three years and huge wins over in-state rival Iowa and shocking then-national title contender Oklahoma State on national television has Rhoads and the Iowa State football family ready to go in 2012.
Q: It's a busy time for you out kissing babies and shaking hands and sharing the Cyclone love with the state.
A: It's a busy and exciting time for us to get out and rub elbows with our fans who give us so much. I have presented a couple of babies at different contests as winners so people have accused me of running for political office (laughing). 
Q: You are a guy who was born very close to Ames. Your father still comes to practice and your kids are firmly entrenched in school—it's a really good time for you right now at ISU.
A: It's really comfortable and being a native Iowan and being able to come back home and be around the people from where I was born and raised has been really enjoyable. Dad comes to most practices and still critiques me.
Q: How much push have you gotten last years bowl appearance, beating Iowa and Oklahoma State into recruiting and the offseason?
A: You're really starting to see it and this is our fourth season and there are a lot more doors opened, kids are listening to us when we say that Iowa State is a school that you should be interested in. That's what has to take place as we continue to develop every facet of our program from on the field, to the classroom, weight room and recruiting. Some of those marquee wins that you mentioned particularly that Oklahoma State game which was on a Friday night and sent the BCS into a tailspin—we're trying to take advantage of that the best we can.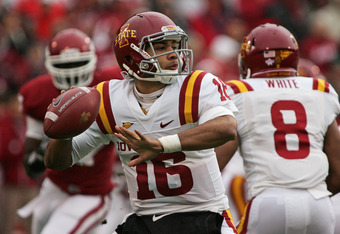 Brett Deering/Getty Images
Q: How important is it to "own" your state?
A: It's big—it's not the end all but it's important. Iowa doesn't produce many Division One athletes and you have to keep those kids in state. They are the foundation for our program. Always putting your best foot forward and winning that game against the Hawkeyes increases your opportunity to get that done.
Q: Year four is a big year for you and staff. For the most part these are your kids on the roster.
A: It is and what you've said is accurate. These are our kids that we have raised in the program. They have a great knowledge base of what we are doing on both sides of the ball and it should be our best football team and we believe it will be. What we want to do is continue to grow and improve.
Q: How much of that improvement depends on the kids picking up the offense of new offensive coordinator Courtney Messingham?
A: There are a lot of similarities (Last year's offense to new one) and I think what takes place is every spring you tweak and make adjustments. Aside from learning from a new play-caller, we moved smoothly through things and look for a seamless transition into the 2012 season.
Q: A lot of college football coaches do not like going into the summer without knowing who and naming a starting quarterback. You have two very good ones (Steele Janz and Jared Barnett) who do dynamically different things for you. Is there a clear cut No. 1?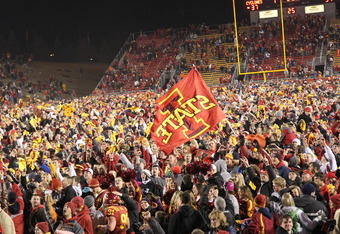 Reese Strickland/Getty Images
A:  They are dead even and it doesn't bother me at all. I've read where a lot of guys say they want to have someone named going into the summer, but we have two guys who each won three football games for us last season. The team has a lot of confidence in them as they should. They are both a year better and we saw that when we wrapped up spring practice. We want to put them through the heat of practice in August when things are really turned up to see who emerges as our starter for the season opener.
Q: You have a couple of talented running backs returning in James White and Jeff Woody. How was their spring?
A: Real good. Jeff Woody picked up where he finished in 2011 and that's what he needed to do. He started 2011 slowly. He didn't have a good camp and he didn't begin the season well. At the end of the year he was running hard and was very productive. James White has a completely different style with the ability to make people miss and turn short plays into long touchdowns. You need that one-two punch and we are hopeful that Shontrelle Johnson will be back for 2012. He electrifies our fans and people around the conference know who he is.
Q: It doesn't hurt that you have three offensive linemen returning and a really good tight end in Kurt Hammerschmidt up front.
A: Hammerschmidt needs to have a big year for us. He's between 260-270 pounds right now and still has the ability to move and get himself open. Even though we lost a couple of really good linemen to the NFL—we think this will be our deepest offensive line since we've been here.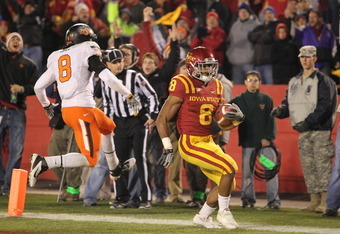 Reese Strickland/Getty Images
Q: On the defensive side of the football is there a better linebacking duo in the country than A.J. Klein and Jake Knott?
A: They are the best that I've ever been around. Excited about those two as they go into their senior year. They both have been elected captains by their teammates which speaks of their leadership and credibility.
Q: How much more difficult does TCU and West Virginia make the Big 12? Not saying it wasn't tough before with Missouri and Texas A&M, but they bring two more dynamic offenses to a conference loaded with high-powered scoring attacks already.
A: I've spent a lot of time saying this and I truly believe that the Big 12 is the deepest football conference in America and TCU and West Virginia just add to that. We are going to have the toughest conference schedule this year in my opinion. We play nine teams again for the second year plus TCU and West Virginia will both be among the Top 15 teams in the country when preseason polls and rankings come out. As always we have great challenges in our league and our kids are looking forward to those challenges.
Q: Things have changes greatly in the last couple of weeks with the announcement of the "Champions Bowl." The Big 12 is now on very solid ground. How has your sales pitch to fans and recruits changed because of that?
A: The past couple of summers have not been real stable.  There are still rumors about teams who want to join our conference and I think it just goes to the strength of the Big 12. Now you have no problems selling our conference to recruits and the fact that we (Iowa State) are here to stay in the Big 12. They all want to play on the nations biggest stage and that's what we now have.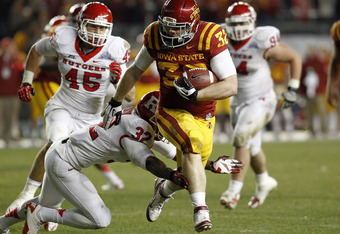 Jeff Zelevansky/Getty Images
Q: You've accomplished a lot at Iowa State in your first three seasons. Many have used this job as a "stepping stone" to somewhere else because of a perceived "ceiling." Now with television contracts, the exposure of your program that brings as well as an influx of money—is there a ceiling with the Cyclones?
A: We are searching for it and would like to find out what it is. We've already accomplished things that have never been done before in the history of Iowa State football and we don't want to stop. We want to keep doing that . We are doing an excellent job of developing kids and that's where it starts. We are recruiting the right kind of student-athletes into our program and we're just going to see how far that continues to take us.
Dave Barr is a Contributor for Bleacher Report. Unless otherwise noted, all quotes were obtained first-hand.