Roy Oswalt: Low-Risk Addition Will Pay off Big for Texas Rangers
May 30, 2012

Drew Hallowell/Getty Images
If there was any doubt which team was the American League favorite, it ended when the Texas Rangers signed Roy Oswalt to bolster their pitching staff.
Oswalt has sat out the first couple months of the season waiting for the right opportunity to arise. Signing with the Rangers gives him a chance to win the World Series, and he should receive plenty of run support from the team's dominant lineup. It doesn't get any better than that.
He comes at a bargain price as well. Gerry Fraley of the Dallas Morning News reports he'll make around $4.25 million, which amounts to chump change when you consider how much pitchers with front-end stuff are being paid nowadays.
Equally important is the fact it's only a one-year deal. So if things don't work out for whatever reason, the Rangers aren't forced to many any tough decisions at season's end. They can just let him go and not be any worse off financially.
That said, Oswalt should provide an major boost to the rotation once he finishes with a couple minor-league starts to get back up to full strength. The Rangers have had a hole to fill ever since Neftali Feliz went down with an elbow injury.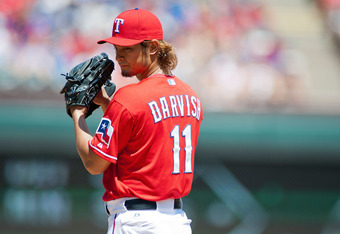 Cooper Neill/Getty Images
The 34-year-old right-hander made 23 starts for the Philadelphia Phillies last season. He finished with a 3.69 ERA despite pitching his home games in a hitter's park. So the move to Rangers Ballpark in Arlington shouldn't have a major impact on him.
He'll join a rotation that already features Japanese sensation Yu Darvish and underrated Colby Lewis. Already having two reliable starters should take a lot of pressure off Oswalt, since he won't be viewed as some type of savior, but rather just another player who can help the team win.
Derek Holland and Matt Harrison aren't slouches, either. They can hold up their end of the bargain at the back end of the rotation, giving the Rangers a staff almost as deep as their batting order.
When you combine those two factors, Texas starts to look like an unstoppable force. And the front office has build the roster without a major reliance on big free-agent deals.
The bullpen trio of Joe Nathan, Koji Uehara and Mike Adams have all been brought in over the past year to solidify the bullpen. The offense has a lot of homegrown talent and players other teams had given up on. And now a cheap move for a veteran starter like Oswalt to fill a hole.
Meanwhile, the division-rival Los Angeles Angels are just now starting to get some production for the monster contract they gave to Albert Pujols. It's often the smaller moves to build a more complete team that provide the most value, as the Rangers continue to show.
Adding Oswalt puts them on the fast track to the World Series for a third straight season. And there's a good chance he will help them finish the job.