Stanley Cup Finals 2012: 6 Bold Predictions for Kings vs. Devils Game 1
Ryan Porth- Red Light District Hockey
Tonight is Game 1 of the New Jersey Devils vs. Los Angeles Kings.
Who will take control and win the opening game of the series? Through the playoffs, the New Jersey Devils are 1-2 in Game 1. The Los Angeles Kings meanwhile have thrived in Game 1, going 3-0.
Both teams recognize the importance of Game 1 and will play excellent hockey tonight in order to take the early series lead. Here are six bold predictions for Wednesday night's Game 1 between the Devils and Kings.
Anze Kopitar Will Have an Assist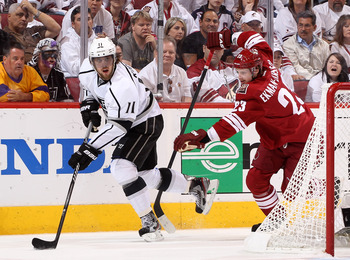 Christian Petersen/Getty Images
Anze Kopitar will wreak havoc against the New Jersey Devils tonight by using his 6'3" frame to dominate the forecheck and glide the puck through the offensive zone.
Kopitar has scored points in seven out of the last eight games for the Kings, who gave gone 7-1 during that stretch. If the Kings want to win they will need a great performance from their superstar Anze Kopitar.
Expect him to set up his teammates for a goal this evening. Kopitar is a great passer and moves well with the puck making him a lethal weapon for the Kings offense.
Patrick Elias Will Score the First Goal of the Night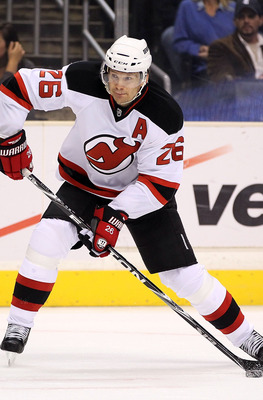 Jeff Gross/Getty Images
When the lights shine brightest like tonight in Game 1, Patrick Elias shines too. He will respond for the Devils by scoring the first goal of the night.
Elias has scored twice in two regular season meetings with the Los Angeles Kings, and I expect much of the same tonight in Game 1. Elias is one of the few New Jersey Devils on the front line that has a matchup advantage over the Kings front line.
Expect Patrick Elias to use his veteran experience and goal scoring ability to light the lamp first in Game 1.
There Will Be No Power Play Goals Tonight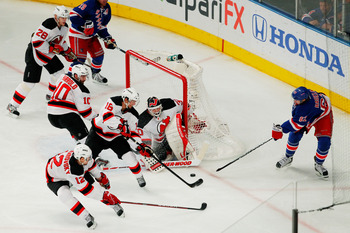 Paul Bereswill/Getty Images
Special teams can decide a series between two evenly matched teams like the Devils and Kings, but no power-play goals will be scored on this night.
The Kings have posted the best penalty kill so far in the playoffs, only allowing five power-play goals this entire postseason. Their 91 percent penalty kill rate makes them tough to score on when facing a penalty. Add that to the fact that the Kings have scored five short-handed goals this postseason, and expect the Devils to struggle to score on the power play.
The Devils meanwhile have killed 74 percent of their penalties this postseason. This may not be an elite statistic, but combine that with the Kings' struggling power play and the Devils will be able to prevent a power-play goal in Game 1. The Kings have only scored six power-play goals this postseason, making their eight percent clip the lowest of all playoff teams.
The combination of good power-play defenses and weak power-play attacks will lead to no special teams goals in Game 1.
Martin Brodeur Will Outplay Jonathan Quick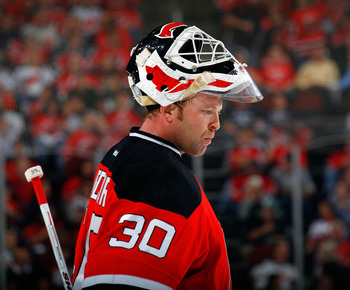 Bruce Bennett/Getty Images
This postseason both Jonathan Quick and Martin Brodeur have played outstanding for their respective teams.
Jonathan Quick is 12-2 this postseason with a 1.54 goals against average, which ranks him first amongst playoff goaltenders. Martin Brodeur is no chump either, posting a 12-5 record with a 2.04 goals against average. Both goaltenders have played huge roles in their teams reaching the Stanley Cup Finals, but expect Brodeur to make more spectacular saves tonight.
The Kings love to fire multiple shots in one possession using rebounds to create second-shot opportunities. Brodeur's main strength as a goaltender is limiting second-shot opportunities, and in order for the Devils to remain close in this game Brodeur will need to shine.
Jonathan Quick's play so far this postseason puts him in the running for the Conn Smythe Trophy. The one weakness for Quick however, has been his inability to prevent cheap goals early in the game. Expect the Devils to capitalize on this weakness and score the first goal of the Stanley Cup finals.
The Kings will fire more shots than the Devils, but Martin Brodeur's Stanley Cup experience will come in handy tonight leading to more saves than Jonathan Quick.
Ilya Kovalchuk Will Be a Hunted Man Tonight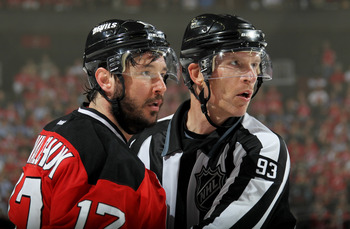 Bruce Bennett/Getty Images
In the summer of 2010, Ilya Kovalchuk was a free-agent superstar coveted by both the New Jersey Devils and the Los Angeles Kings.
Kovalchuk decided to decline the Kings 15-year $80 million dollar contract, instead taking New Jersey's 17-year $102 million dollar deal. Kovalchuk has played very well for the New Jersey Devils this postseason contributing 18 points, but expect the Kings to seek revenge against the man who turned them down for bigger and better money in New Jersey.
Defensemen Drew Doughty and Willie Mitchell will make life tough for Kovalchuk all night on the forecheck, limiting his effectiveness as a distributor in the offensive zone. Expect the Kings' defensemen to be especially hostile towards Kovalchuk in Game 1, not only as a means to limit his scoring ability for New Jersey, but also as a way to exact revenge for the offseason of 2010.
Simon Gagne Will Return and Score the Game-Winner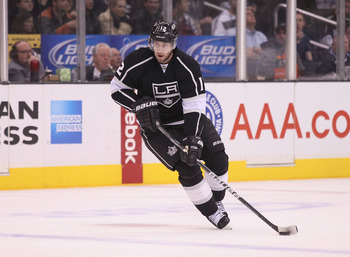 Victor Decolongon/Getty Images
Simon Gagne is a game-time decision tonight, but expect head coach Darryl Sutter to roll the dice and play Gagne in Game 1.
Sutter should feel confident about his decision due to Gagne's success against New Jersey in his career as a Philadelphia Flyer. In 55 games against New Jersey, Gagne has scored 22 goals and added 10 assists.
Gagne will reward Sutter's trust in him by playing pivotal minutes for the Kings. With the game on the line, expect Simon Gagne to light the lamp and give the Kings a 1-0 series lead.
Keep Reading