Spurs vs. Thunder: Biggest Adjustments Oklahoma City Must Make
May 30, 2012

Ronald Martinez/Getty Images
The Oklahoma City Thunder currently stand down 2-0 to the veteran San Antonio Spurs. Entering Game 3 of this playoff series, San Antonio is riding a 20-game winning streak bridging the regular season and the playoffs.  
As disheartening as this must be for Oklahoma City and its fans, I do not think that all is lost. The Thunder are still a young and very talented team who, in stretches, have shown their ability to score against the aging Spurs.
With the Thunder looking to stop the Spurs' winning ways, here are three adjustments that must be made before Game 3.
Stop Tony Parker in the Pick-and-Roll
A lot easier said than done, but Tony Parker scored 15 of his points in Game 2 as the pick-and-roll ball-handler.  
Parker also had his most efficient scoring while in the pick-and-roll, scoring these 15 points on nearly 78 percent shooting.   
An improvement in the Thunder's pick-and-roll defense will also have a trickle-over effect into Parker's overall assist numbers. In Game 2, Parker had eight assists with only two turnovers.
Play Better in the First Half
This series has been determined by 12 points. The nine points the Thunder lost by in Game 1 and the three points Oklahoma City lost by in Game 2.
With that said, San Antonio have outscored Oklahoma City 101-91 in the first half of both of these basketball games.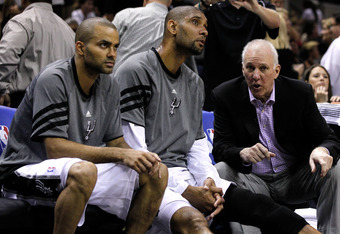 Tom Pennington/Getty Images
The Thunder's first-half performances seem to be heading in the wrong direction on both ends of the floor.  
The Spurs shot 58 percent and had 13 assists in the first half of Game 2, cutting down their turnovers from Game 1's 14 to six in Game 2.
Gregg Popovich may have hit the nail on the head when answering a question about his own team's first-half performances.  
"You never go out and say, we're going to start out fast…  You don't know what is going to happen.  You just want your team to be aggressive.  Good teams are aggressive, and it is, it's a matter of making shots or not making shots."
Russell Westbrook Has to Be a More Efficient Scorer for the Thunder
Yes, 27 points, eight assists and seven rebounds looks like a pretty solid night for the Oklahoma City point guard. But Westbrook only shot 42 percent in 41 minutes for the Thunder.
When you compare Westbrook's 42 percent shooting in Game 2 to Tony Parker's 76 percent shooting, we see one of the deficiencies the Thunder have to overcome in this series.
SB Nation believes that Westbrook's importance to the Thunder even outranks Kevin Durant's.
To win a championship, a team needs two types of toughness: physical and mental. The Thunder exhibited both of these characteristics against the Lakers. But just because a team shows toughness, does that mean all parts of the team are tough? Not necessarily. For this reason, I think Russell Westbrook is the key to this series. The majority of OKC's offense comes from their version of the "Big 3". Kevin Durant is going to get his, no matter how great Jax and Kawhi's defense is. He's that elite of a scorer, but of course it helps to limit his touches. James Harden's got game, but he's the only creator on their 2nd unit, thereby limiting his effectiveness against a good bench (this is when OKC really misses Eric Maynor). However, the Spurs have no answer for Westbrook's athleticism, speed, and ability to finish at the rim. So why was he non-existent in the 4th quarter?
For the Oklahoma City Thunder to come back from this 2-0 deficit, many different factors have to be dealt with and changed in the correct manner. If not, San Antonio should handle them quickly and Oklahoma City could fall just short of reaching the NBA finals.