Manchester United Transfer Rumors: Shinji Kagawa and Other Possible Signings
May 30, 2012

Clive Mason/Getty Images
For most of last season, Sir Alex Ferguson had to be feeling good about the job he was doing with an oddly weak Manchester United.
At one point, his squad was in first place in the EPL and looking at another title with eight points separating them and crosstown rival Manchester City.
However, United's "experience" didn't come through as expected in the final stretch of the season, and they were left shocked as Man City took the title right out from under them.
Considering this squad was one of the weakest in recent memory for Manchester United, there will need to be some changes made in order to assemble a group that can take grip of the EPL next season.
With the summer transfer window opening up, Ferguson and United's executives will be looking to bring in proven and cost-effective players who will help them not only next season, but for seasons to come.
Here's a break down of the most likely signings for the Red Devils and what they'll bring to the table.
Shinji Kagawa
After weeks of speculation that Manchester United would be the final landing spot, former Lille star Eden Hazard chose to take his talents to Chelsea instead of the bidding Red Devils or Manchester City.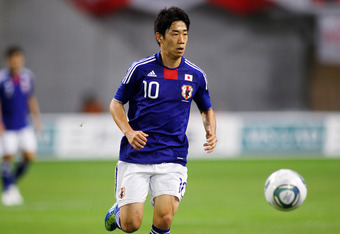 Koji Watanabe/Getty Images
After losing out on a player of that caliber—and with the dire need of instant impact in the scoring department—midfielder Shinji Kagawa seems like the perfect alternative.
The Red Devils have put a lot of their eggs in the Shinji Kagawa basket, and it looks like a deal will be struck with German club Borussia Dortmund to acquire one of its most prolific scorers.
In the 2011-12 campaign the Japanese midfielder netted 13 goals in 31 Bundesliga matches, which is five more than any Manchester United midfielder scored this past season.
Kagawa would be an even more crucial addition to the Red Devils, considering Bulgarian striker Dimitar Berbatov won't be returning to Old Trafford, according to FOX Sports.
While Ferguson's offer neared £12 million, Borussia Dortmund may receive up to £17 million, depending on Kagawa's success and appearances, according to the BBC. 
Whether it's £12 or £17 million, a player of Kagawa's prowess is well worth it, especially considering United's midfielder woes and age.
Leighton Baines
Even though the Red Devils possess some big name defenders such as Patrice Evra, Rio Ferdinand, and Nemanja Vidic, Sir Alex Ferguson is looking to reinforce his back line with the possible addition of Everton player Leighton Baines.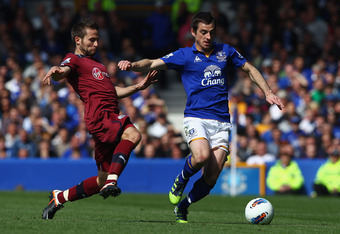 Clive Brunskill/Getty Images
According to The Mirror, United supremo David Gill has opened talks with Everton about bringing in the 27-year-old defender for a fee close to £12 million.
Even if the deal gets pushed up to £15 million, it looks like the Englishman could be coming in and helping a defense that looked confused and misplaced for parts of last season, particularly in United's collapse at the end of the season.
When asked about the Manchester United rumblings, Baines said that he was "flattered" but wanted to focus on Euro 2012 before he addressed his own future. He also said that it would be extremely hard for him to leave Everton, but he has been frustrated by their performances in the past couple of years. 
If Baines does decide to move to the Red Devils, it would be a monumental pickup for United as they would own a stalwart defensive set that would be tough to penetrate.
Nick Powell
One hot topic around the English football world has been where will emerging 18-year-old attacking midfielder Nick Powell move to.
And of course Manchester United got in on the action.
According to The Daily Mail, Ferguson and the Red Devils made a £5 million bid for the stud, who just recently led Crewe to a 2-0 victory over Cheltenham in the League Two playoff final.
Powell compiled an impressive 16 goals for Crewe this past season and has been on Ferguson's radar for several weeks.
Powell would be a great addition to Manchester United for their long-term success as the teenager has the potential to grow into a monster performer.