London 2012: Biggest American Stars to Watch for During Olympics
May 30, 2012
Streeter Lecka/Getty Images
The 2012 Olympic Games are fast approaching, so for millions of people worldwide it is time to start dusting off the old flag and get prepared to cheer in the streets.
For a country that is typically torn apart by bitter football rivalries, hosting the Olympics will be a great moment for England. It will bring together the entire country, if only for a few weeks during the Games.
For other countries, such as the United States, it is a time to be unified in a place that is typically separated by state lines and a plethora of professional sports teams.
Nothing brings the United States together like a great showing at the Olympic Games—and nothing brings about a greater sense of national pride than watching some homegrown athlete dominate the competition.
Let's take a look at some of the American athletes who shine the brightest.
When you talk about American Olympic athletes, the first name has to be Michael Phelps. In two previous Olympics, Phelps has racked up 16 medals (14 gold and two bronze). The upcoming Games should be no different.
Michael Phelps is by far the most dominating athlete in the sport of swimming and there is really no reason he shouldn't medal in every event he swims.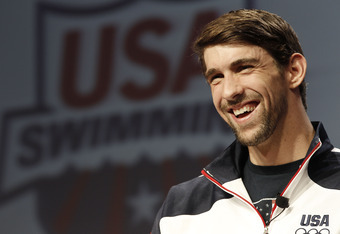 Brandon Wade/Getty Images
There has been talk of Phelps changing or not swimming in as many events, which is a shame for the fans but understandable. Phelps has also said he will retire after the 2012 Olympics, so expect big things from him this summer.
Shawn Johnson
Whether Shawn Johnson makes the U.S. gymnastics team is still to be determined, but when she is on her game she is one of the most electric gymnasts there is.
In the 2008 Olympic Games, she won the gold medal on the balance beam, silver in the individual all-around and was a part of the silver-medal U.S. team.
Johnson is still having some issues with a knee she injured in a skiing accident, but if she makes the team, she will be amazing to watch at the upcoming games.
Jordyn Wieber
Jordyn Wieber is another gymnast hopeful. Wieber has won two all-around medals in her last two events and appears ready to be the future for U.S. gymnastics.
The 16-year-old is no stranger to international competition, winning three medals at the 2010 World Championships (two gold and one bronze) and four gold medals at the Pacific Rim Championships.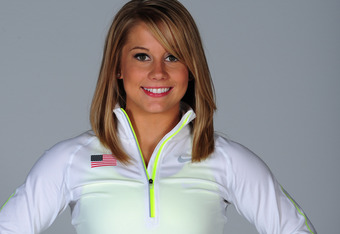 Harry How/Getty Images
Wieber is probably the most talented all-around American gymnast right now and will certainly help the U.S. gymnastic team win more medals in 2012 than they did in 2008.
Ryan Lochte
Ryan Lochte is the best swimmer you have never heard of. In the 2008 Olympic Games he won two gold and two bronze medals.
Lochte has stated he wants to swim in as many events as he can in the 2012 Games, and with Phelps set to swim less, it could be the perfect changeover for the face of American swimming.
Lochte absolutely dominated at the 2011 World Championships, winning six medals, including five gold and one bronze. This summer he should continue his rise to the top of the swimming world.
Misty May-Treanor and Kerri Walsh
May-Treanor and Walsh have two gold medals together in beach volleyball at the 2004 and 2008 Olympic Games. 
They are by far the greatest pair in women's beach volleyball in the history of the sport, winning 112 straight matches and making their names a household item.
This year, however, they might be considered underdogs.
May-Treanor took 2011 off to see if she still had the desire to play, and Walsh played with another partner that year after she took time off to start a family.
Now they are back together and sit third in the FIVB Olympic Qualification Rankings.
Watching these two athletes play is as thrilling as any sporting event can be.