Fantasy NASCAR Picks for the FedEx 400 at Dover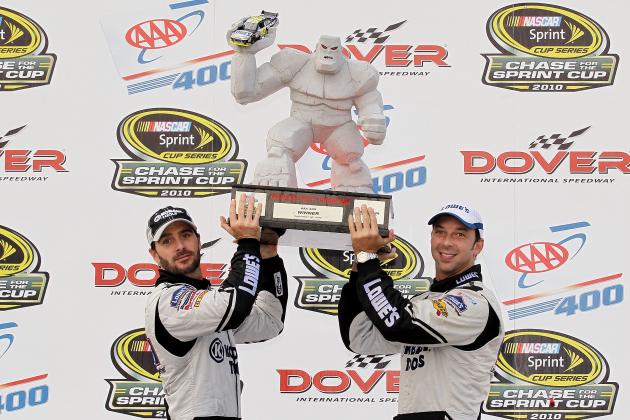 Jim McIsaac/Getty Images

The fantasy NASCAR season is one-third of the way complete. In most fantasy NASCAR leagues, the top teams are beginning to separate from group at the bottom. Hopefully you have been reading my articles all season and your team is near the top of the league standings.
Bad luck and poor judgment plagued my team last week. An hour before the race, I took out Kasey Kahne and put in A.J. Allmendinger. The switch cost me 74 points. My general rule for fantasy NASCAR is once your lineup is set, do not change it!
I ended up starting Jimmie Johnson, Dale Earnhardt Jr., A.J. Allmendinger and Aric Almirola. The lineup was good enough for 259 points (3,502 total points for the season) and kept my team in the top 99 percent of Yahoo! Fantasy Auto Racing players (ranked No. 967 overall out of 205,000).
The All-Star festivities and the Coca-Cola 600 are complete, and the NASCAR Sprint Cup Series will move to the Monster Mile at Dover International Speedway.
Fantasy NASCAR players in the Yahoo! Fantasy Auto Racing game will get to see two practices on Friday before their lineups will be due Saturday morning. This will make it much easier to select your team.
Here are my picks for the Yahoo! Fantasy Auto Racing game…
Begin Slideshow

»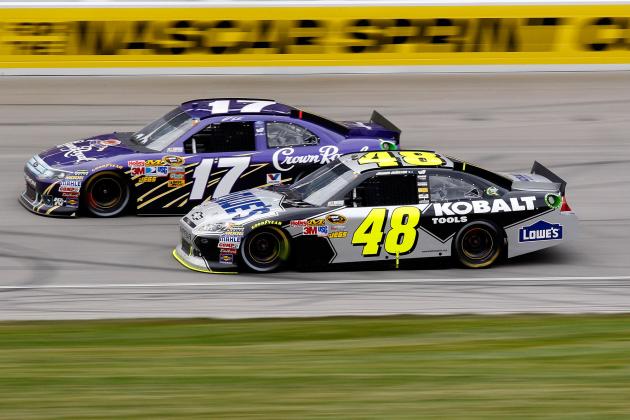 Geoff Burke/Getty Images

Dover is a high-banked, concrete, one-mile oval that has bumps in both ends of the racetracks. Most drivers are either very good or very bad at Dover. In Group A, there are four drivers worth picking for your team. Kyle Busch and Carl Edwards are good but have been left off of my list.
I will provide my picks in this article, but I will have my final selections for my team on Sunday morning as well as 10 fantasy NASCAR experts' picks.
Here are my selections for the Yahoo Group A:
Jimmie Johnson
Jimmie Johnson has been the best driver at Dover for the past 10 years. A victory this Sunday by Johnson will tie him with NASCAR Hall of Famers Richard Petty and Bobby Allison on the all-time Dover wins list.
In his 20 career starts at Dover, Johnson has six wins, nine top-five finishes, 14 top-10 finishes and led 1,986 laps. Johnson has a series-best average running position of 7.7, a series-best average green flag speed of 143.632 mph, a series-high 734 fastest laps run, a series-high 4,770 laps run in the top 15 and a series-best driver rating of 118.6.
Johnson is the one driver that must be on every fantasy NASCAR team this week.
Matt Kenseth
I had a hard time choosing my second pick for Group A. The choice came down to Matt Kenseth and Kyle Busch. Both drivers have momentum entering the race.
If you plan to start Johnson now matter how he practices, I would suggest going with Busch as your second Group A pick, because he has a better chance of qualifying up front and earning your team bonus points.
I went with Kenseth because his race statistics are better than Busch's. In his 26 career starts at Dover, Kenseth has two wins, 12 top-five finishes, 17 top-10 finishes, won one pole position and led 10,124 laps.
Also, Kenseth has the series-high 424 green flag passes, the second-best average running position of 7.9, the second-fastest average green flag speed of 143.418, the second-most laps run in the top-15 with 4,746 and the second-best driver rating of 110.
Kenseth will easily finish in the top five this week.
Other good picks: Kyle Busch, Carl Edwards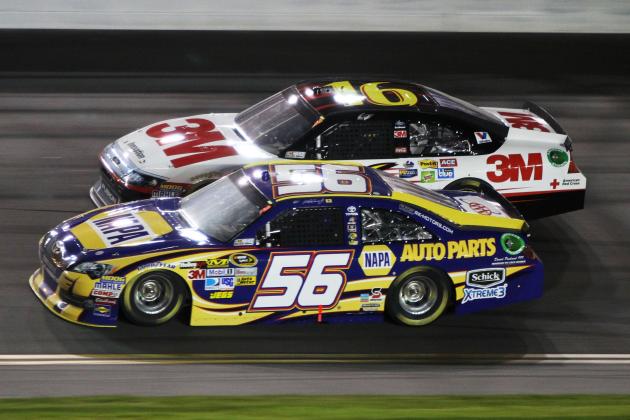 Jerry Markland/Getty Images

Most of the drivers that are very good at Dover are listed in Group A. You can still find some decent drivers in Group B if you watch practice.
I found four drivers that I like, but if they struggle in practice on Friday I may have to find new picks.
Here are my selections for Yahoo Group B:
Greg Biffle
Greg Biffle has struggled at Dover in the last two years. His best finish since the spring 2010 race has been 19th. I am overlooking his recent struggles, because Biffle is not the same driver in 2012 as he was in the past. Biffle has been the most dominating driver in NASCAR this season, and he has had success at Dover in the past.
In his 19 career starts at Dover, Biffle has two wins, six top-five finishes, 10 top-10 finishes, won one pole position and led 7,548 laps.
Biffle has the third-best average running position (9.4), the third-most fastest green flag laps with 414, the third-fastest green flag speed of 143.350, the third-most laps run in the top 15 with 4,562 and the second-most green flag passes with 416.
Biffle will continue to run up front in the race and has a great chance to win his second race of the 2012 season on Sunday.
Martin Truex Jr.
Five years—and 179 races—have passed since Martin Truex's first and only win came at Dover. This weekend, the long drought could end. Dover is the home track of the Mayetta, N.J., native, and one of his best tracks.
In his 12 career starts at Dover, Truex has one win, one top-five finish, four top-10 finishes and led 225 laps. Truex has won the pole for two of the last three races at Dover.
After a hot start to the 2012 season, Truex has cooled down the past four weeks. I think this is the week that Truex gets another top-five finish.
Mark Martin
Mark Martin has had a quiet 2012 season. He has won two pole positions this year, ran in the top ten at many races, but has not competed for any wins. Martin's history at Dover is too good to pass up, and he has a great chance at winning his third pole position of the year on Sunday.
In his 51 career starts at Dover, Martin has four wins, 23 top-five finishes, 31 top-10 finishes, won four pole positions and led 20,521 laps. Martin has the fifth-best average running position of 11, the fifth-most fastest laps run with 293, the sixth-best average green flag speed of 143.112 mph and the sixth-most laps run in the top-15 with 4,063.
This might be the week to use Martin and save a start with one of the better drivers in Group B.
A.J. Allmendinger
A.J. Allmendinger killed my team last week. His brake rotors locked up on his car, causing him to go to the garage. It was not a problem Allmendinger had any control over, so I plan to give him another chance this week.
Allmendinger has been good at Dover. In his 10 career starts at Dover, Allmendinger has three top-10 finishes and has led 152 laps. Allmendinger has qualified on the front row for two of the past three races at Dover. In the last four races at Dover, Allmendinger's average finish is No. 17, but he does have the fifth-best driver rating of 102.4.
Allmendinger is my sleeper pick this week. I selected him because I think he will qualify in the top four, and he might end up with a good car for the race.
Other good picks: Kasey Kahne, Jeff Burton, Ryan Newman and Clint Bowyer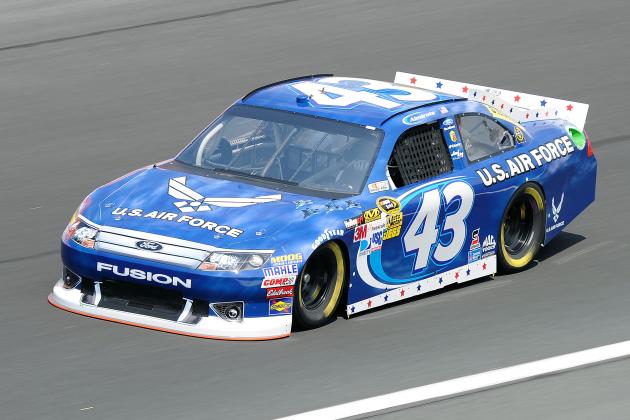 John Harrelson/Getty Images

This week, there is not much to choose from in Group C.
Usually there is a good driver entered into the race that fantasy NASCAR players can use. Drivers such as Trevor Bayne, Michael Waltrip, Brian Vickers and Danica Patrick have entered the race and provided fantasy players another option for their team. That is not the case this week.
Here are my selections for Yahoo Group C:
Aric Almirola
The best driver in Group C is Aric Almirola. He has never raced at Dover in the Sprint Cup Series, but his equipment and team is far superior to any other team in Group C that he must be used.
Almirola qualified for the pole position last week at Charlotte. He should start in the top-10 and finish in the top-20 on Sunday.
Casey Mears
After Almirola, the rest of the drivers in Group C are about equal. I plan to make my selection for my second Group B pick after practice on Friday. For this article I will use Casey Mears.
Mears has a streak of four top-25 finishes going into the race at Dover. If he can finish in the top 20, I will be satisfied. In his 18 career starts at Dover, Mears has three top-10 finishes. Maybe Mears will find some good luck this week at Dover.
Other good picks: Bobby Labonte, Landon Cassill and David Ragan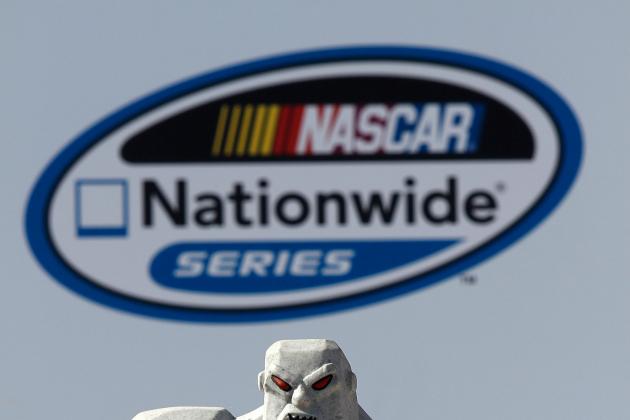 Jason Smith/Getty Images

Last Sprint Cup race: October 2, 2011 won by Kurt Busch
Won from the pole: 13 times, last by Jimmie Johnson in 2010
Won from top-five starting position: 51 times (61%)
Won from top-10 starting position: 66 times (79%)
Won from 21st or worse starting position: four times (5%)
Wins by active manufactures in last 10 years: Chevy (8), For (6), Toyota (2), Dodge (4)
Best average finish and driver rating by active driver in last four races at Dover

1. Kyle Busch 4.25 average

112.8 driver rating

2. Carl Edwards 5.75 average

113.8 driver rating

3. Jeff Burton 6.50 average

99.2 driver rating

4. Matt Kenseth 6.75 average

103.4 driver rating

5. Jimmie Johnson 7.00 average

134.3 driver rating

6. Kurt Busch 9.50 average

101.8 driver rating

7. Kevin Harvick 10.50 average

94.2 driver rating

8. Denny Hamlin 11.75 average

88.8 driver rating

9. Mark Martin 12.0 average

81.7 driver rating

10. Jeff Gordon 12.75 average

86.5 driver rating

11. Clint Bowyer 14.00 average

84.7driver rating

12. Ryan Newman 16.25 average

71.9 driver rating

13. A.J. Allmendinger 17.00 average

102.4 driver rating

14. Paul Menard 17.00 average

74.1 driver rating

15. Marcos Ambrose 17.25 average

84.3 driver rating

16. Joey Logano 17.25 average

76.7 driver rating

17. Greg Biffle 17.75 average

82.2 driver rating

18. Brad Keselowski 18.25 average

73.9 driver rating

19. Jamie McMurray 20.00 average

78.0 driver rating

20. Tony Stewart 21.00 average

68.3 driver rating
* Driver ratings include: Finish, average running position, average speed and number of fastest laps
*Stats courtesy of NASCAR Media Department.
My Fantasy Live team this week is: Jimmie Johnson, Matt Kenseth, Marcos Ambrose, Kurt Busch and David Reutimann
Good luck this week!
If you need any further advice with your team, look for me on Twitter @HuskerMagic.
If you like Fantasy NASCAR, LIKE my Fantasy NASCAR Page on Facebook: Chad's Fantasy NASCAR Picks. Check there on Friday night to see my breakdown of the two practice sessions.