WWE Smackdown: No Way Out WWE Championship Match Set (Spoiler Alert)
May 30, 2012

Spoiler Alert: If you would prefer not to know what is going to happen on this week's Smackdown, please stop reading now.  Otherwise, surprises will be ruined.  
On the upcoming edition of Smackdown, the WWE Championship match for No Way Out 2012 will be announced.
CM Punk will defend his title against both Daniel Bryan and Kane in a Triple Threat match.
While this is not shocking to those who've watched Kane insert himself into Bryan and Punk's rivalry recently, it has to be a major disappointment for a good number of fans.  Bryan and Punk proved at Over the Limit 2012 just how incredible they can be in the ring together.
Kane may only serve to muck things up.
Not only do Bryan and Punk have a long history dating back to their days at Ring of Honor, but they also share a unique chemistry.  Some wrestlers just fit supremely well together, and the current WWE champion and Daniel Bryan are a perfect example of that.
They both employ a healthy dose of kicks in their repertoire and blend technical skills into storytelling. 
Punk hasn't been known as an elite technical wrestler, but Bryan brought that side out of him.  At Over the Limit, Punk pulled out moves, counters and reversals that most of us haven't seen from him before.
That match could very well be the start to an incredible feud marked by top-notch wrestling and two guys who know their way around a microphone.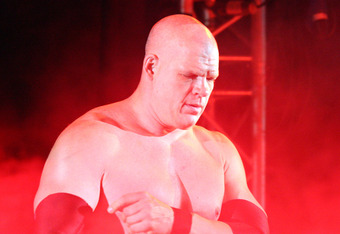 Gallo Images/Getty Images
Where does Kane fit in?
Age has slowed him down to a sometimes painful to watch pace.  He plods in the ring now though he was once one of the most agile big men in wrestling history.
Kane's lately been floating from short-lived feud to short-lived feud, gaining no momentum story-wise.  
Unless some extremely creative booking is in the works, Kane will likely be the third wheel in the WWE Championship match.
Kane's prime is long gone while Bryan and Punk are just kicking their careers into overdrive.  Plugging the Big Red Machine into their potential five-star match is a curious choice.
Perhaps WWE wants to tease us a bit, saving the next Punk vs. Bryan one-on-one match for SummerSlam.