Roy Nelson: Brock Lesnar Would Only Come Back for a Fight He Can Win
May 30, 2012

Roy Nelson has never been a dude that pulls any punches, whether he's in the cage or on camera being interviewed by various media outlets.
Both of those traits have turned him into one of the most popular stars in the sport. That's pretty impressive when you consider where he came from. When Nelson won The Ultimate Fighter and made his proper debut in the UFC, he was booed far more than he was cheered, mostly because he's the guy who exposed Kimbo Slice as a silly clown fighter by holding him down with his massive belly and forcing the ref to stop the fight after hundreds of non-damaging punches.
Yes, it may seem unthinkable, but Nelson wasn't all that well-liked back then. Most of that stemmed from UFC President Dana White's comments towards Nelson on The Ultimate Fighter. White thought Nelson was a fat jerk who didn't take the sport seriously and he didn't mind telling you so. Lots of fans glommed on to this idea, and it took Nelson more than a year to turn public sentiment in his direction.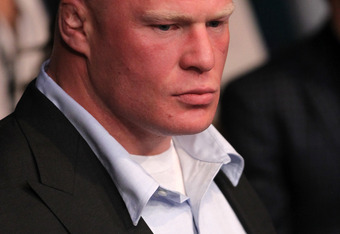 But now, as I said above, he's one of the most popular stars in the UFC, coming off a big knockout win over Dave Herman at UFC 146. And for his next trick, Nelson is going back to his old habit of calling out Brock Lesnar, even though Lesnar is still technically retired. I say "technically retired" because, well, no one is really sure what kind of game Lesnar was playing by showing up at UFC 146 last Saturday.
Does he want to fight? Probably not. He's more than likely attempting to use Dana and the UFC to create leverage with World Wrestling Entertainment. Brock's always been the guy who uses every little angle he can to create the best deal possible for himself, both in business and in life. I think that's essentially what we're seeing here, and I have doubts that we ever see Brock back in the UFC for a fight.
That's not stopping Roy from offering his own pitch for a fight with Lesnar. Nelson appeared on HDNet's Inside MMA on Monday night and said Lesnar won't fight him because, well, he can't beat him: 
You know what? Brock coming back, if he does come back, I would love to welcome him back to the UFC. That was a fight that I actually called him out on ESPN, before. But if they actually make him come back, or if he actually thinks about coming back, he'll probably come back to fight Frank Mir, because I think that's the only fight he thinks he can win. But, you know what? I would love to have that fight with Brock.
Nelson is right, but not for the reasons he's saying in this quote. 
If Lesnar comes back to fighting—and right now, nobody outside of Lesnar's trusted inner circle is sure what's going on—it would be almost criminal if he fought anyone besides Frank Mir in his return bout, but not because Lesnar would automatically win the fight.
No, the UFC would make that fight simply because it would do more money than any fight in the heavyweight division. And yes, I'm including the Junior dos Santos vs. Cain Velasquez rematch in that category.
Lesnar and Mir aren't what they used to be, but there's still a deep hatred between the two that somehow has the ability to hook fans and create extreme interest. Even now, several years after Lesnar seemingly ended their feud by beating Mir into a pulp at UFC 100, folks are interested in seeing them square off for a third time.
But kudos to Roy for throwing his name in the mythical Lesnar hat. If the biggest-drawing fighter in the history of the sport does ultimately decide to make a comeback, I wouldn't mind seeing "Big Country" finally get a crack at him.
And this time, I bet Brock wouldn't pretend as though he didn't know the rotund fellow with the absurd haircut talking trash about him.