NBA Draft Lottery 2012: 4 Prospects with the Highest Bust Potential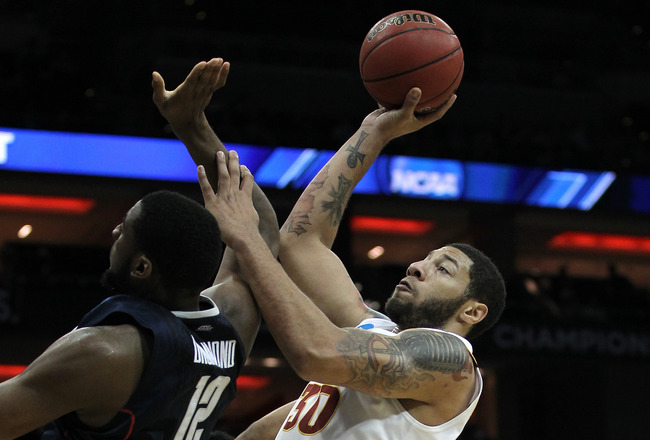 Jonathan Daniel/Getty Images
The NBA Draft is full of high-risk prospects: Sometimes they pay off, and sometimes they don't.
Greg Oden was expected to be a great player, but the risk of taking Oden first cost the Portland Trail Blazers a lot; the risk of taking Kevin Durant second paid off well for the Oklahoma City Thunder.
There are a lot of high-risk prospects in the draft, and they may pay dividends or end up as major disappointments—only time will tell.
Here are four prospects with the highest bust potential.
Andre Drummond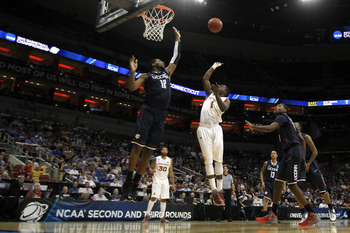 Andre Drummond tries to block a shot in the NCAA Tournament.
Jonathan Daniel/Getty Images
Andre Drummond is a great athlete, a hard worker and a solid player. However, there is a high risk for teams willing to take him.
Thanks to his pre-draft conditioning and hard work, he's a possibility for the second overall pick. His size and his frame are key components in teams' selections, and he definitely has an edge when it comes to athletic ability and size.
However, he isn't a great all-around player. He doesn't score much, he isn't as physical as a team would like down low, and he isn't a great target for point guards. Drafting him to a team with a good passing point guard has a high risk.
Drummond is a raw prospect and will need time to develop, so giving him a start on day one might not be a great idea. As long as he can develop in a good environment and adjust to the NBA level, he should be fine and ready to compete.
If those factors aren't there for Drummond, he''ll be in trouble, and so will the team that drafts him.
Harrison Barnes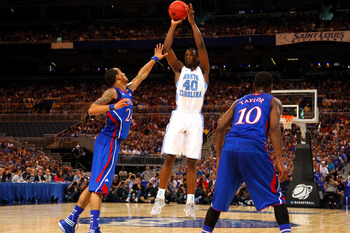 Harrison Barnes takes a shot in the Elite 8 of the 2012 NCAA Tournament.
Dilip Vishwanat/Getty Images
Harrison Barnes has always been regarded as an elite prospect, and he had a solid year at UNC. However, there is a lot of risk that comes with taking Barnes.
Barnes is athletic, he's a good shooter, he can get to the rim and score, and he puts up points. He averaged 17.1 PPG in his sophomore year in college, but failed to take a huge step forward from his freshman season.
He's never been a great defender, although he was able to get away with his defense in college. He'll need to take his D to the next level in the NBA, and he'll need to be able to reel in rebounds.
Barnes is a solid all-around player, but will need to improve his game to avoid being a bust at the NBA level. Like Drummond, Barnes is raw, and he would benefit from taking time to adjust to the NBA and develop his skill set.
As long as Barnes gets time to hone his abilities and improve his game, he should be fine. However, there is lots of risk in taking Barnes.
Perry Jones III
Perry Jones III finishes a dunk in the Elite 8 of the 2012 NCAA Tournament.
Streeter Lecka/Getty Images
Perry Jones III was a great player in his first year of college. However, his lack of improvement from his first to his second year has greatly hurt his draft stock and increased the risk of selecting him.
Jones III is athletic and has loads of talent, but his jump shot and post play definitely needs to improve. His inconsistency and inability to take over games cost Baylor, and has drastically lowered his draft stock.
He hasn't been able to use his talent to the best of his abilities, and his size has been wasted at times. Jones III is 6'11", but doesn't even average eight rebounds per game. To become a true NBA big man, his post play and rebounding needs improvement.
Jones III has drawn comparisons to Harrison Barnes because of his lack of improvement from his freshman year, and just like Barnes (and Andre Drummond), he will need time to develop in the NBA.
Jones III is very raw and needs time to hone his skills, improve his jumper and post play, and adjust to the NBA. As long as he uses his talent to make him become a better player, Jones III should be fine.
However, there's still lots of risk to drafting the Baylor product.
Thomas Robinson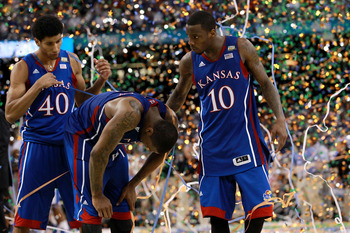 Thomas Robinson is comforted by teammates after losing the NCAA Championship.
Ronald Martinez/Getty Images
This won't go by well with all Kansas fans and most basketball fans. However, here's my reasoning for putting T-Rob on this list.
First of all, there are a lot of big men in this draft, such as Anthony Davis, Jared Sullinger and Andre Drummond. Robinson is considered the second or third-best out of the four players, but other than Drummond, he is riskier than all of the others.
Robinson scores and rebounds, and he easily averaged a double-double in 2011-12. However, he is turnover and foul-prone, he doesn't always give his best effort on defense, and his post play isn't ready for the elite big men of the league.
T-Rob completed three years of college, although he only received significant playing time in his junior year. He wasn't able to out-duel Anthony Davis in the national championship, as Davis had a great all-around game and held Robinson to a low shooting percentage.
He's done a great job against big men this year, but I don't believe he's completely ready for the NBA. I don't think he should've stayed in college, because his draft stock could get hurt (like Barnes and Jones'). However, he is still raw.
Robinson will probably go second in the draft, and I wouldn't disagree with a team's decision to select him. However, if T-Rob isn't brought up right, he will struggle in the NBA.
I see a lot of Greg Oden in T-Rob, except Oden was a better post player. Will T-Rob end up with the same fate as Oden?
Only time will tell.
Keep Reading