NBA Draft 2012: 7 Projected Lottery Picks Who Will Make an Impact in 2012-13
May 30, 2012

Ronald Martinez/Getty Images
With the 2012 NBA draft lottery just around the corner, there is no doubt that those college prospects projected to go in the top-14 selections will be paying very close attention to how the ping pong balls are drawn.
Some have called this the deepest draft class in a decade, and while there are a great deal of intriguing players to choose from, nobody (sans Anthony Davis) should be considered a "sure thing."
Those teams hoping to use the lottery to improve the roster are looking at players who have both produced in college and still have a great deal of upside. It's awfully hard to find guys like that, and often clubs face a tough decision to make when pursuing either proven production or salivating upside when it comes to pulling the trigger on draft day.
The good news for the lottery-bound teams is that there is plenty to like about the projected top 14 picks, and there is a ton to like about the seven studs listed below.
Anthony Davis, PF, Kentucky
This is a no-brainer. No matter what team lands the first overall selection, Davis is going to be the pick. He's drawn comparisons to Kevin Garnett at both ends of the floor, and that's high praise for someone just 19 years of age.
Davis averaged a double-double while blocking an unbelievable 4.7 shots per game, and his achievements during his one year at Kentucky are even more impressive when one factors in that he shot 62.7 percent from the floor.
He'll need to add some weight to bang around down low with the bigger opposition he'll face at the next level, but Davis is a franchise-changing player who will make one front office's job that much easier moving forward.
Bradley Beal, SG, Florida
Beal has gotten a ton of attention as draft day approaches, and it really wouldn't be surprising to see him go as high as second overall right behind Davis.
Blessed with a solid ability to rebound the basketball, something that many players of his size simply can't do, Beal has a versatile game that should translate well to the next level regardless of what team drafts him.
He'll have to improve his perimeter game a bit in order to open things up for him on the court, but Beal is active at both ends of the floor and has a high aptitude for the game that will set him apart from many of his peers.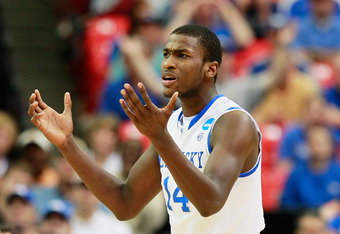 Kevin C. Cox/Getty Images
Michael Kidd-Gilchrist, SF, Kentucky
An incredibly athletic small forward, Kidd-Gilchrist is someone who comes with an understanding for the game and a real readiness to contribute from day one.
The knock on Kidd-Gilchrist is that he doesn't excel at any one particular thing, but he does so many things well that several decision-makers are willing to overlook the fact that he doesn't dominate in one particular area. He contributes on both sides of the basketball, and there isn't a prospect in this class who has a stronger ability to attack the rim in transition than Kidd-Gilchrist.
The best part about the Kentucky product's game is that he moves well without the ball in his hands and understands how to open things up for both himself and his teammates. That's one thing that will instantly appeal to teams looking to make an impact pick inside the top five.
Damian Lillard, PG, Weber State
There is no doubt in my mind that Lillard would be a top-five pick if he was coming from a more traditional basketball school—this kid is that good.
He's coming in as a score-first point guard, and there's absolutely nothing wrong with that. Sure, Lillard will have to improve his facilitating skills once he gets into the league, but he's got a knack for finding the bottom of the net that some never even come close to developing.
Lillard still needs to improve his decision-making and understand that he's going to have plenty of help around him at the NBA level, but a smart general manager will put him in the right situation to succeed and come out of the draft looking like a genius.
Thomas Robinson, PF, Kansas
A lot of people like to get hung up on the fact that Robinson is slightly undersized at 6'9", but this kid plays with a relentless motor every minute he's out on the floor and shouldn't have trouble beneath the cup whatsoever in the NBA.
He's got really good athleticism for a big man, and his strength will aid him a great deal when it comes to facing bigger guys than he's seen in college. Robinson asserts himself at both ends of the floor with the same passion, and that's awfully difficult to find in a player who hasn't even spent a single day in the league.
There's nothing to see here in the way of shot-blocking abilities, but Robinson is a decent defender in the low post and should be able to hold his own when bigger opponents challenge him.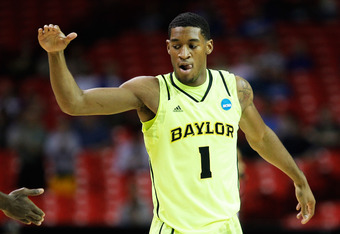 Streeter Lecka/Getty Images
Perry Jones III, F, Baylor
High-risk, high-reward is the term associated with Jones regularly, and there's good reason that's the case. Although he's arguably the most talented prospect in the entire class behind Anthony Davis, Jones just didn't appear to be "all in" on the floor when he played at Baylor.
Somewhat of an enigma, Jones is either going to get a general manager a contract extension or his walking papers depending on how he pans out. He's highly, highly athletic with an incredible upside, but there are serious questions about if he'll ever fulfill his massive potential.
He really needs to work on making a concerted effort at the defensive end of the court 100 percent of the time, but if he's able to do that, we're going to be talking about why Jones slid on draft day for a long, long time.
Harrison Barnes, SF, UNC
Barnes is unlikely to ever live up to the massive hype he received when coming out of high school, but that doesn't mean he won't be a stud in the NBA. In fact, Barnes fits the picture (almost perfectly) of what teams are looking for when drafting a small forward.
He understands how to use his strengths to his advantage, and that should lead to success for Barnes right off the bat. Although he does most of his scoring from the perimeter, Barnes should serve as an effective floor-spacer from the minute he sees his first action.
Although Barnes is best served by having someone alongside him who can facilitate the offense, he has a chance to become a dynamite contributor who should find success on a yearly basis for a long time.