NBA Draft 2012: Likely Lottery Picks with Biggest Boom-or-Bust Potential
May 30, 2012

Streeter Lecka/Getty Images
The 2012 NBA draft is still about a month away, but the draft picture will clear up somewhat with Wednesday night's draft lottery.
While the lottery may clear up the top of the draft, there will still be some risky picks in the middle of the lottery, as teams will draft on potential—and as everyone knows, the word potential can mean one of two things: boom or bust.
Several players expected to be drafted among the top 14 picks in this year's draft definitely fall into that category.
Let's take a look at a few guys that have the biggest boom-or-bust potential in this year's draft class.
Andre Drummond, Connecticut
Drummond's ceiling is as high as anyone in the draft not named Anthony Davis, but he's the classic example of a highly touted prospect that can go either way.
He has a good feel for the game and a solid back-to-the-basket game to go along with very good rebounding and shot-blocking skills, but is Drummond capable of bringing that production out consistently?
During his freshman season, Drummond scored in single digits in 16 of UConn's 32 games and grabbed five or less rebounds in 13 of them. That has to be concerning.
Thomas Robinson, Kansas
There is absolutely nothing about Robinson's game that I don't like, especially when it comes to production, as the Kansas product recorded 27 double-doubles on the season.
However Robinson stands at only 6'9", which could turn into a problem playing the 4 in the NBA.
Personally I don't think it will, but if there's a reason that Robinson could struggle in the NBA, it would be that he's playing against bigger competition on a nightly basis.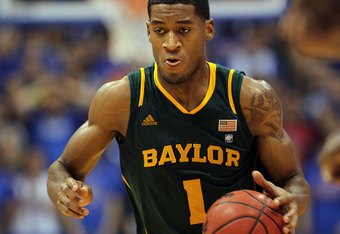 Jamie Squire/Getty Images
Perry Jones III, Baylor
Jones has the skill set to be one of the top players in the draft, but will be bring that out on a consistent basis?
His numbers (13.5 PPG, 7.9 RPG) at Baylor didn't suggest a dominant player, but Jones certainly has the ability to be one. It's just a matter of getting into the right situation and showcasing his consistent ability.
Austin Rivers, Duke
Rivers has star power, but he also has a lot of work to do.
He's a natural scorer, averaging 15.5 points per game during his freshman season at Duke, but there's no guarantee he turns into a great NBA scorer.
He has the talent to do so, but if Rivers doesn't learn to play without the ball better and use his teammates more, he could end up struggling in the NBA.
Jared Sullinger, Ohio State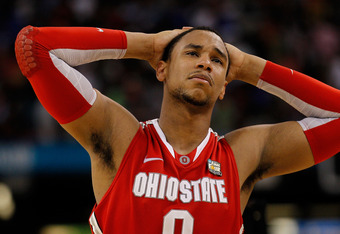 Chris Graythen/Getty Images
I love Sullinger's post game, but there's many concerns as well.
He's a guy that needs to go to the right situation, preferably one with a pretty good center in place already. If he does, Sullinger has a chance to be very good.
If he doesn't, I have concerns about his athletic ability and the way he will be able to produce against longer and more athletic big men. If that turns out to be a problem, Sullinger won't come close to averaging the 17.6 points and 9.3 rebounds he did in college.
John Henson, North Carolina
Henson won't have a problem athletically, as he's one of the best pure athletes in the draft.
If he can develop a post game to go along with his rebounding and shot-blocking abilities, then Henson has a chance to be a star.
But he's raw offensively, and that post game may be harder to develop than some may think. If that's the case, then Henson might not have much of a chance to be an NBA star.