Steelers 2012: The Quiet, Consistent Strength of Heath Miller
May 30, 2012

The Pittsburgh Steelers have had, for better or worse, their share of headlines this off-season.
Between bringing in Todd Haley as the new offensive coordinator, the release and retirement of Hines Ward, the question marks at running back since Rashard Mendenhall's knee injury last year, Mike Wallace's hold out, and the remodeling of an offensive line that allowed 42 sacks last year, there has been very little that has not been scrutinized for the six-time Super Bowl champions (and that's just the offense).
But with all of the manufactured drama, at least one mainstay for the Steelers has not been at the center of a media hubbub: tight end Heath Miller.
Entering his eighth season, Miller is coming off a solid 2011 that saw him nab 51 receptions and 631 yards—his best receiving season next to his totals in 2009. With all of the issues the Steelers had at offensive line last year, Miller found himself pulled back into more protection schemes for Ben Roethlisberger, which probably kept him from exceeding his 2009 stats.
Now with the offensive line restocked and reshuffled, Miller looks to be a bigger part of Haley's new offense, which is more run-oriented, and provides a lot of opportunity at the tight end position.
With Weslye Saunders having to serve a four game suspension after testing positive for a banned substance and David Johnson being converted to fullback in Haley's new scheme, Miller and former Kansas City Chief (and Haley favorite) Leonard Pope will be shouldering the load at tight end.
There has been some speculation that Pope could even supersede Miller at the position due to his past history with Haley in Kansas City and Arizona and overall familiarity with Haley's offensive game plan.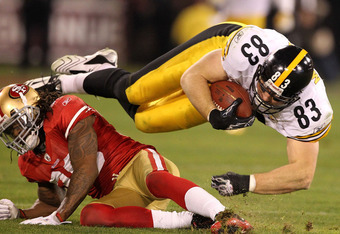 Pope has six years under his belt compared to Miller's seven and has 102 career catches for 973 yards to Miller's 337 catches and 3,864 career yards. Without a doubt, Pope is very talented, and as the two tight end scheme is becoming an addition to more and more offenses since New England's success last year, he can be a viable receiving threat for Roethlisberger.
Ultimately, though, with all of the changes and uncertainty surrounding the Steelers' offense in 2012, Miller has to be the go-to tight end for Roethlisberger. As one of the more underrated tight ends in the league, Miller has proved to be the ultimate safety net when a big catch has been needed for Pittsburgh.
Last year versus New England, Miller caught six passes in the first quarter alone to help set a tone of Steelers time possession dominance that led to a 25-17 Pittsburgh victory. And although the Steelers lost in Week 15 to the 49ers 20-3, Miller caught five passes to become the all-time leader in receptions for tight ends in franchise history.
With so many tweaks and changes to the Pittsburgh offense in 2012, Miller remains the rock of Gibraltar and one less storyline for them to worry about heading into September.