Boston Red Sox: Injury to Dustin Pedroia Will Test Their Flexibility
May 30, 2012

Jamie Squire/Getty Images
The Boston Red Sox are becoming the Cirque du Soleil of Major League Baseball. They are a travelling sideshow of flexibility living their lives on the edge of the baseball world.
It's time for the Red Sox to continue to show their amazing flexibility with the loss of Dustin Pedroia.
According to the Boston Globe, the Red Sox may lose Dustin Pedroia for two to four weeks with a muscle tear in this thumb. These thumb injuries can be tricky as we learned with Andrew Bailey and those two to four weeks may be longer.
Although Pedroia wants to play through it, the Red Sox should not forget what happened to Kevin Youkilis in 2010.
According to Mike Fine of The Patriot Ledger:
Pedroia said the injury is similar to one Kevin Youkilis suffered, but he required surgery because there was further damage, including ligaments. Unlike Youkilis, Pedroia feels he can keep playing with proper bracing. 
The Red Sox should take it slow with Pedroia.
If we have learned anything about your 2012 Red Sox, it is that they are full of surprises when their star players go down.
Will Middlebrooks all but stole Youkilis' job at third base when the latter went down with a back injury.
When Youkilis did return, the Red Sox put Adrian Gonzalez, their Gold Glove first basemen, in right field. It worked.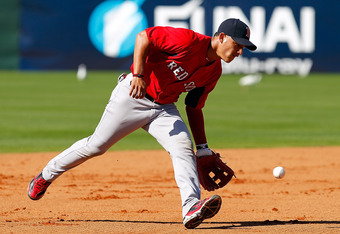 J. Meric/Getty Images
When Carl Crawford and Jacoby Ellsbury went down with injuries, the Red Sox used a combination of Ryan Sweeney, Cody Ross, Marlon Byrd and Daniel Nava to fill the void.
When Andrew Bailey went down with a thumb injury, they turned to Alfredo Aceves to close games. For the most part, it has worked.
They have lived on the edge of chaos all season and have come through with a 25-24 record, sitting only three and half games out of first. (mlb.com)
They have shown a remarkable ability to keep themselves in the playoff picture even with their rash of injuries.
Don't get me wrong, the Pedroia injury is a tough pill for the Red Sox to swallow. But Iglesias would make that pill go down a little easier.
Iglesias is a wizard on the field but has never been able to hit. That's beginning to change down in Triple-A Pawtucket.
Iglesias is hitting .269, with 14 RBI and 23 runs scored. He's also shown some speed and has eight steals on the year. (mlb.com)  
Mike Aviles could shift to second base to clear the way for Iglesias. 
Aviles has played 142 games at second in his career. The move would be an easy one for Aviles to make.
In addition to Aviles' flexibility in the field he has given the Red Sox a spark at the plate. Aviles is his hitting .265, with eight home runs and 32 RBI.
The Red Sox sideshow of injuries continues now with Pedroia. Ringmaster Bobby Valentine has found a way to keep his club in the playoff race when they easily could have tumbled off the high wire into oblivion.
The Red Sox are quickly becoming an interesting team. It's time for Iglesias to join the cast. Get ready, the show is about to begin.