French Open 2012: Why Rafael Nadal Is Primed to Make Another Dominant Run
May 30, 2012
Clive Brunskill/Getty Images
There are two things that mean nothing less than a trip to the finals at the French Open for Raphael Nadal: 1) playing on clay and 2) playing at Roland Garros.
He has the attitude, his opponents fear him, and he may have just a teeny bit of incentive to win his 7th French Open title—considering he would pass Bjorn Borg for the most championships of all time during the Open era on the clay courts in Paris.
Rafa is coming into the 2012 French Open on fire, especially on clay. He won last week in Rome, three weeks ago in Barcelona and then four weeks ago in Monte Carlo. The first and last of those victories all came against current no. 1 Novak Djokovic.
 It is not just his recent play that should peg him as the top contender to win the French Open, he also sports an unbelievable record of 46-1 at the French Open after yesterdays win. On clay, has an overall  winning percentage of 93 percent, the New York Times explained.
Even after his recent strong play, Nadal tells the Daily Mail U.K. Online that, "this (French Open) is a different tournament, and because I played very well at the three clay-court tournaments, that doesn't mean that I'm going to have success here."
He also goes on to tell the Daily Mail that his "motivation always is the same." However, Nadal is not getting in over his head and respects his opponents, especially Djokovic. 'I am playing well. But you can win and you can lose when you play against the best players of the world, and Novak today, he's number one," Rafa told the Daily Mail.
 Whatever modesty Nadal poses is lost on the rest of the field. It is not only the lower seeds who fear seeing their name next to his, but now it is climbing all the way up to the higher seeds.
 Andy Murray, the unlucky 4th seed in almost every tournament, has seemed to almost punch his ticket for  Nadal. The two will most likely meet in the bottom half semifinal, considering the way the draw has been lined up.
Murray talks to STV Sport about his admiration of Nadal:
 "I think the fact that he started at such a young age is what's most impressive. He won it when he had just turned 19. It's obviously still going as well. So I'm sure he'll have more great runs here. I'm sure he'll win the event a few more times probably before he finishes."
 Although it would seem to be tough to faze Roger Federer, he also has expressed his thoughts on Nadal winning the title.
 Federer, according to the Daily Mail U.K., says:
 'I think Rafael playing for his seventh title is the favourite. I think he lost only two sets (on clay), so that's a pretty good start. Then he's playing for his seventh title, so no discussion. We're crazy to even talk about this. Some people might say he's not the favourite, but to me he's the favourite."
Sure, we all know that Nadal will be the favourite at this year's French Open, but it is another for two players right on the cusp of having legitimate shots at winning—Murray in the semi's and Federer in the finals against Nadal—to be giving him any sort of extra leverage.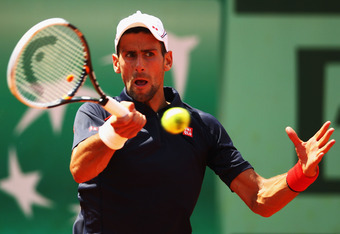 Clive Brunskill/Getty Images
As for his other rival opponent, Novak Djokovic, there are some interesting story lines that will make a final match up of the two quite compelling. With a championship win at Roland Garros, Djokovic will become the winner of the past four Majors. This, however, is not quite a true Grand Slam, as they all did not come in the same year, but it is quite a feat nonetheless for the current world No. 1.
Djokovic recognizes the opportunity he has and would love to be able to complete his feat while delaying that of Nadal's, especially after the two met up in the last tournament's final in Rome, and Nadal managed to come out on top.
Djokovic goes on to tell the New York Times that:
"This is the opportunity that very few tennis players have in their lives. I'm aware of that, but I accept it as a challenge. It makes me even more motivated, if I can say, in a positive way. It makes me feel good about it, rather than, you know, feeling pressured and worried."
Even with the confidence Djokovic brings and the opportunity he has to hold all four Major's at one time, he still tells the Miami Herald that, "he (Nadal) is always the favourite, even if I win against him seven times. He is the best player in the world on this surface."
Nadal also seemed lucky enough to catch a good draw, with his toughest opponent coming in the fourth round where he may have to take on young Canadian Milos Raonic. He should be able to give Nadal a little bit of a test should he make it that far. Remember, at the tournament in Madrid a couple of weeks ago, Raonic just lost to Federer in the round of 32, a match he most likely could have won.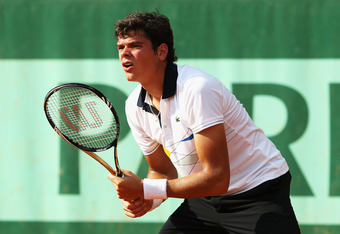 Matthew Stockman/Getty Images
The main reason why Nadal is ready to make a strong run at this year's French Open is the chance for him to break records. At the moment, himself and tennis legend Bjorn Borg each have won at Roland Garros 6 times. One more win for Nadal and he will hold the outright record with seven titles on the red clay.
Telling the Daily Mail U.K., "I arrive here with positive feelings, and I will try my best to be very competitive and to be at the right level to have my chances," Nadal says.
Although he tries to play off thoughts of becoming the most winningest player at Roland Garros, you know the thoughts have to be swimming through his mind. He is playing it off like a real athlete, focused on the task at hand, but clay is what he does. To be fully cemented in the record books as the best French Open player—ever—would be something very special for him.
 "I am coming here with the motivation of every year, with the desire to play well, and then we will see. But I'm not going to be more motivated because I have six and I can win seven," Nadal tries to explain to the Daily Mail U.K..
Rafa sure looks ready to bring this one home, and judging by his first round performance, he had his game on track and in the right place. It would be a surprise if he did not write himself into the tennis record books after winning his seventh title at this year's French Open.