Spurs vs. Thunder: Game 3 TV Schedule, Live Stream, Spread Info and More
May 30, 2012

Tom Pennington/Getty Images
Game 2 of the Western Conference Finals was a relative walk in the park for the San Antonio Spurs, as they extended their ultra-impressive win streak to 20 games with a 120-111 win over the Oklahoma City Thunder.
Now the series shifts to Oklahoma City for Games 3 and 4, where the Thunder are a combined 31-7 on the season (including playoffs).
Taking a look at Game 3, a lot has to change in order for Oklahoma City to get a win and get back into the series.
Gregg Popovich is outcoaching Scott Brooks. Tony Parker is outplaying Russell Westbrook. The Thunder have no answers defensively for the Spurs' ball movement. Oklahoma City can't defend San Antonio's pick-and-roll and so on.
Can the Thunder make the necessary adjustments to get back into the series, or are the Spurs simply too good to be beaten right now?
Here's a look at everything you need to know about this pivotal Western Conference matchup.
When: Thursday, May 31 at 9 p.m. EDT
Where: Chesapeake Energy Arena in Oklahoma City
Watch: TNT
Live Stream: TNT.com
Betting Line: Oklahoma City (-4) via LinesMaker.com
Spurs Key Injuries (Per CBS Sports)
No key injuries reported.
Thunder Key Injuries (Per CBS Sports)
No key injuries reported.
What They're Saying
The Spurs' winning streak has reached 20, and with only six more wins needed to run the table in the postseason, it's fair to now ask if San Antonio can make history and become the first team to go a perfect 16-0 in the postseason.
ESPN's J.A. Adande thinks they can accomplish the feat, since there aren't many big men left in the playoffs who can give San Antonio trouble.
Adande wrote:
The way to beat them is from within, with a big man who can do damage like the 16 points and 30 rebounds Andrew Bynum put on them the last time they lost. … But there aren't any of those left in the playoffs.

So I'll ask the same question I put out there after their incredible comeback against the Los Angeles Clippers in Game 3 of the second round: If the Spurs can't lose when down 24 on the road, when will they lose?

Actually, I'll update that based on the results of Tuesday night's 120-11 victory: If a team built around a big three can't beat them when the trio goes for 88 points, who will beat them?
ESPN's Marc Stein also chimed in on the topic, looking at the fact that even with 88 combined points from Kevin Durant, James Harden and Westbrook, the Thunder may not have enough to defeat San Antonio.
If the Thunder's short-term outlook is indeed as bleak as it suddenly looks, needing four wins in five tries against a team that hasn't lost a single basketball game for almost 50 days, their rising exasperation in trying to keep up with these Spurs will eventually fade.

If the Thunder can't win the next two games at home to make this a series -- after the combined 88 points from Durant, Westbrook and Harden weren't nearly enough in this 120-111 Game 2 defeat -- they'll realize with time that there's no shame in getting schooled and at times shredded by the old masters.
Most Important Player to Watch: Scott Brooks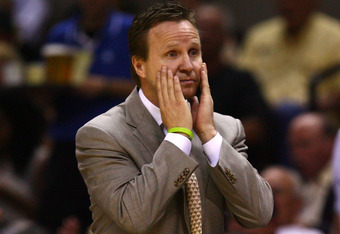 Ronald Martinez/Getty Images
I know I usually look at a player here, but today I have to put Brooks on the hot seat.
The Thunder have gotten off to bad starts in the first two games and dug themselves a big hole, and Brooks has been too late to make the necessary adjustments.
He has to make the adjustments defensively, as the Spurs always seem to have two open shooters ready to knock down shots from behind the arc. San Antonio shot 33 percent from behind the arc in Game 1, but upped that to 42 percent in Game 2, with a lot of those makes coming on uncontested shots.
Then there's the pick-and-roll that has shredded the Thunder thus far.
Brooks must get Kendrick Perkins off the floor. Perkins has proved to be useless this series, as it's just a bad matchup. Brooks went to a smaller lineup for a stretch in Game 2, and it proved to be more effective.
All the pressure is on Brooks to not only make adjustments before the game, but during the game as well, as Popovich will certainly adjust to whatever Brooks has planned.
Key Matchup: Tony Parker vs. Russell Westbrook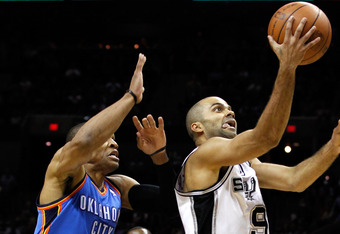 Tom Pennington/Getty Images
It's the classic matchup of the score-first point guard in Westbrook against the all-around pure floor general in Parker. Through two games, Parker has the decided advantage.
Sure, Westbrook scored 27 points in Game 2, but in the series, he's made only 17-of-45 shot attempts (37 percent). In addition, he's done absolutely nothing to slow Parker down.
After a solid 18-point, eight-rebound and six-assist effort in Game 1, Parker made it look easy in Game 2. He made 16-of-21 (76 percent) shots, scored 34 points and dished out eight dimes. 
If Westbrook doesn't step things up in Game 3, especially on the defensive end of the floor, Parker will continue to eat him alive and this will be a very quick series.
Prediction
Spurs 99, Thunder 96