Stanley Cup 2012: Ilya Kovalchuk and Devils Who Must Thrive vs. Jonathan Quick
May 30, 2012

Bruce Bennett/Getty Images
There are several reasons for the Los Angeles Kings' surprising run to the Stanley Cup Finals, but there is no question that the play of goaltender Jonathan Quick has been the biggest.
Quick is having a better playoff run than perhaps anyone ever has as he enters the cup finals with a 1.54 goals-against average, .946 save percentage and two shutouts.
If the New Jersey Devils are going to entertain any thoughts of beating the Kings for Lord Stanley's Cup, then they're going to have to rattle Quick and put the biscuit in the basket.
That is easier said than done against a guy who has developed into the best netminder in the league rather quickly, but nothing is supposed to come easily in the playoffs.
Here are three offensive stars for the Devils who must step up, play their best and make life tough on Quick to give New Jersey a fighting chance to win its fourth Stanley Cup.
Many have questioned Ilya Kovalchuk's ability to perform in big spots over the years, as he went an entire decade without winning a playoff series, but he has made up for lost time this season. Kovalchuk has been the Devils' best offensive player this postseason, just as he should be.
The Russian star leads all skaters in playoff scoring with 18 points in 17 games and he was particularly dangerous in the Eastern Conference finals against the New York Rangers.
Kovalchuk has essentially transcended the stigma that Russian players can't perform in the tight-checking playoffs and he will have to continue that in the finals. Kovalchuk has been particularly dangerous on the power play as his hard, accurate shot has led to five tallies with the extra man.
Quick will be at his most vulnerable when the Kings are playing short-handed and Kovalchuk will need to take advantage of that.
Zach Parise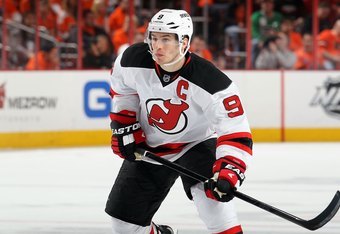 Jim McIsaac/Getty Images
He hasn't been quite as dynamite as Kovalchuk during the postseason, but Zach Parise is the Devils' captain as well as their heart and soul. The diminutive forward has bounced back from a subpar regular season, by his standards, to rack up 14 points in 18 playoff games.
He is equally adept at putting the puck in the back of the net and distributing it to his teammates, so he is going to be an extremely important player for New Jersey in this series.
Parise is an unrestricted free agent once the season concludes, so he has several million reasons to excel against the Kings.
Not only does he want to win the cup in order to live out what has likely been a lifelong dream, but his value on the open market will increase big-time if he captains a Stanley Cup-winning squad.
Parise may be the Devils' sneakiest and craftiest player, and he'll have to use those assets to his advantage to frustrate Quick.
David Clarkson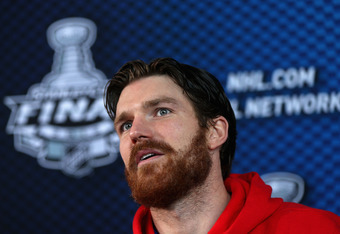 Bruce Bennett/Getty Images
In today's NHL, 30-goal scorers are tough to come by, but there has possibly never been a more anonymous 30-goal scorer in the history of the game than David Clarkson.
Prior to this season, the Devils' bruiser had never scored more than 17 times in a season, but he became a sniper of sorts this year.
Clarkson has continued his stellar play in the postseason with three goals and 10 points overall, and he could possibly be more important than any Devils forward when it comes to throwing Quick off of his game.
Clarkson was like a gnat in the face of goalie Henrik Lundqvist during the Eastern Conference finals, as he constantly screened him and made it difficult to see shots from the point.
No matter how great a goalie is, he can't stop what he can't see. The same is true of Quick, so even if Clarkson doesn't score a goal himself, he can be equally effective if he simply blocks Quick's line of sight and creates opportunities for his teammates.
Follow @MikeChiari on Twitter