NHL Free Agency: The Young, Talented, and Undervalued
May 30, 2012

Gregory Shamus/Getty Images
Free agency this year has quite a number of interesting prospects. There are a lot of battle-tested veterans at every position who would certainly add leadership and meaningful experience to any roster, but especially for some of the very talented young teams like the LA Kings, Colorado Avalanche and Toronto Maple Leafs. 
While I imagine most of these big name players will be re-signed by their former teams or may even retire, guys like Martin Brodeur, Evgeni Nabokov, Nicklas Lidstrom, Teemu Selanne, Jaromir Jagr, Ryan Smyth, Shane Doan and Sean Avery could make a big difference on any team. 
However, besides these longtime NHL stars there are a number of young up-and-coming players who are entering free agency that could blossom into great players if placed on the right team and given a chance.
The first name I noticed in this lower echelon of young players (most likely because he played on the Avalanche for a while) was Brandon Yip. He certainly made an impression on me during his short stay in Colorado. He had an excellent collegiate career with the Boston University Terriers, where he won a national championship and took time to develop his game against some of the best kids in the country.
After college, Yip somewhat struggled with injury while playing with the Colorado Avalanche, yet he still managed to showcase his vast skill set leading all rookies in goals per game that year, recording a Gordie Howe hat-trick and ranking second in playoff points for the Avs in 2010. 
He clearly has the offensive talent to be a strong player in the NHL; however, he still needs to polish his defensive skills and aggressive mentality. Even so, he is quite young and I believe this aspect of his game will come naturally with more playing time, especially in the playoffs, where he has so little experience.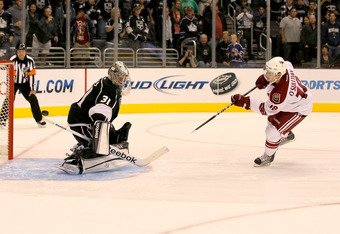 Stephen Dunn/Getty Images
The next player who caught my eye is Patrick O'Sullivan. This guy looked like he had a tremendous career ahead of him as he entered the NHL. He set numerous records and won several prestigious awards while playing with the Mississauga Ice Dogs (OHL) and Huston Aeros (AHL). This success continued early on in his NHL career, as he recorded 53 points in his first full season. 
However, since then he has yet to reach his full potential on a consistent basis and has been a journeyman ever since—being traded, waived and released from quite a few teams, including the Kings, Oilers, Wild, Hurricanes and Coyotes. If put in the right situation and given time to re-establish his game, O'Sullivan has all the tools to become a great all-around player; he is a good skater, has speed, the ability to both to score and pass and enough youth to develop further. 
On the defensive side of the puck, Shane O'Brien stood out as a young and somewhat undervalued free agent.  He is a physical presence on the ice at 6'3", 223 pounds, and he can lock down defensively. While he lacks true offensive talent, he is a very solid defensive player who rarely gets injured and knocks people around the rink. 
As a fan of the Avalanche, I sincerely hope they re-sign him. Nevertheless, he is a quality hockey player who not only instantly improves the depth of any team's defense, but also brings a big, tough, aggressive and reliable mentality to a defensive back line.
In net, Josh Harding is a free-agent goaltender who has had an up-and-down career in the NHL but has certainly shown flashed of greatness. He has an ordinary career goals-against average with 2.65 and a similarly common save percentage at 91.6.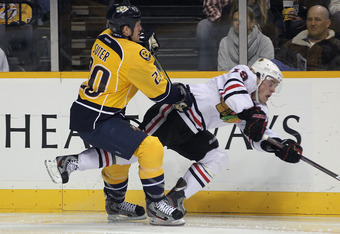 Bruce Bennett/Getty Images
However, thanks to his young age (27) he has time to fine tune his skill set and develop his game as a backup. He has all of the tools to be a very good goalie in the NHL. All he needs is some confidence and a team to really get behind him.
Though Ryan Suter is not exactly an undervalued player (he made $3.5 million last year), he remains a very intriguing free agent. As a very young and very talented defensive player who brings decent size (6'1", 195 pounds) as well as potent offensive abilities, he will be a hot commodity if the Predators don't re-sign him. 
At only 27 years old, Suter has seven years of NHL experience, over which time he has averaged 28.5 assists per season, including 36.25 over the last four years. He is truly a top-flight defender.     
While we are still dreaming, I might as well mention Zach Parise. I would be incredibly surprised if the Devils do not re-sign him, as he is an remarkably well-rounded hockey player for being only 27 years old.
Over the past three full seasons he played in, Parise averaged 81 points per year, including a 94-point season in '08-'09. This is the type of young player you can build a franchise around—that's why he made $6 million last year. 
Parise has had great success at every level of the hockey world. Whether he was playing at the University of North Dakota, during his short stint in the minor leagues, throughout his seven-year NHL career or in international play, he is a very dangerous threat on the ice and can quickly ruin the day for an opposing team. 
While he is a little undersized, Parise is very talented, clutch as hell and plays extremely fast and hard.  Like I said—I would be very surprised if the devils do not retain his services.
As we saw this year, young players can unexpectedly take over a game or even a series. In addition, every team has weaknesses that need to be addressed this offseason whether in the draft, through their farm system or by way of free agency. There is plenty of talent in this pool of free agents, both young and old. It should be exciting to see what moves teams make this summer, where the big names end up and what hidden gems are revealed.