College Basketball: Red Flags for Every Top 25 Team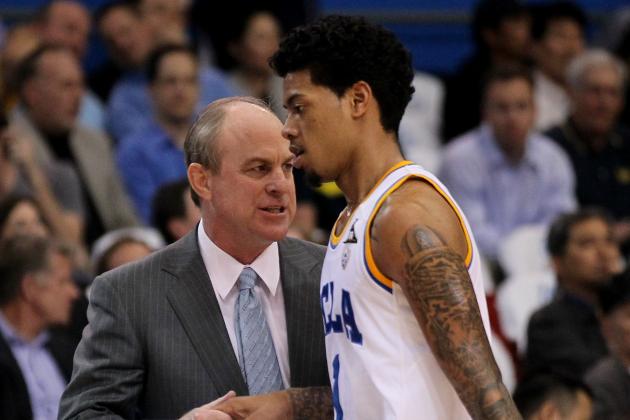 Stephen Dunn/Getty Images

The first Top 25 polls for the 2012-13 college basketball season have been released.
Basketball pundits have painstakingly analyzed each and every team, picking apart their strengths and flaws in order to create the first polls of the season.
So what could get in the way of the early Top 25 teams reaching their potential?
Every team has a few red flags. Some are much more worrisome than others, and some will never even see the light of day.
That does not mean that they are not worth discussing, of course. Any factor that could impede a team from succeeding should be noted.
Without further ado, then, let's look at the red flags for each Top 25 team.
*Note: Rankings are used from ESPN's most recent Top 25 Poll.
Begin Slideshow

»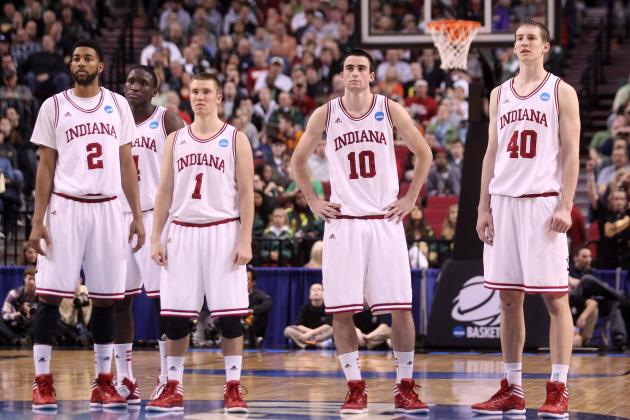 Jed Jacobsohn/Getty Images

Red Flag: Hype
The Indiana Hoosiers burst onto the scene in 2011-'12, winning their first 12 games en route to a 25-8 season and Top 15 overall finish.
Freshman Cody Zeller proved to be the difference, averaging 15.5 points and 6.4 rebounds in his first college season to lead Indiana back into college basketball relevance.
The one problem for the Hoosiers this year will be the hype surrounding the team. Expectations are sky high in Bloomington, and the only question now is whether Indiana can meet them.
For a program that toiled in the depths of college basketball's unknown for many a season before completely revitalizing itself last year, a No. 1 overall ranking might be too much pressure.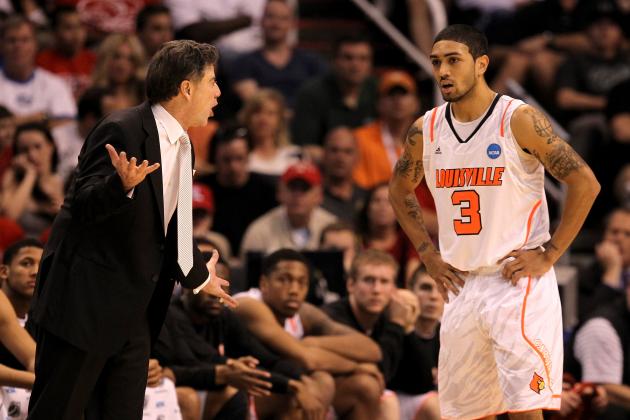 Jamie Squire/Getty Images

Red Flag: Turnovers
All seems to be going smoothly in Louisville. The Cardinals did not lose any key players to the NBA draft, return almost all of their core for next season and are still coached by Rick Pitino—one of the most exciting basketball gurus in the game.
Despite Louisville's excitement and Top 5 national ranking, there is one issue that could doom the team: turnovers.
Peyton Siva could be the team's best player. There is no doubt that when he is on, the Cardinals are almost impossible to stop. When Siva is playing erratically and practically handing the ball to the opponent, however, the entire team suffers.
Louisville ranked 228th in the country last season in turnovers per game—averaging a whopping 13.8 per contest.
If the team cannot take care of the ball, opponents will capitalize. The Cardinals' mid-season rut in 2011-12 almost doomed their season—something similar could happen next season if Siva and the rest of the team cannot take care of the ball.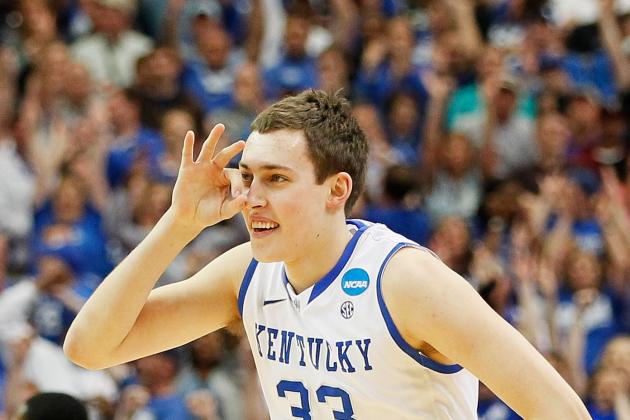 Kevin C. Cox/Getty Images

Red Flag: Youth
Yes, I know, John Calipari has practically rewritten the basketball dictionary by relying on freshman and sophomores to win national championships with the Kentucky Wildcats.
What many casual fans do not realize, however, is that in every year of Calipari's tenure at Kentucky, the team has had some kind of veteran leadership.
In 2009-'10, it was junior Patrick Patterson; in 2010-'11, previously unheralded senior Josh Harrellson stepped up for the Wildcats' and last season, senior Darius Miller and battle-tested sophomores Terrence Jones and Doron Lamb led the way.
This season? Kentucky has no veteran leadership to speak of. Six players declared for the NBA draft (or, in the case of Miller, graduated), leaving just Kyle Wiltjer and little-used John Hood as the team's "seasoned leaders."
If nothing else, it will certainly be interesting to see whether or not a team full of freshman can truly challenge elite teams.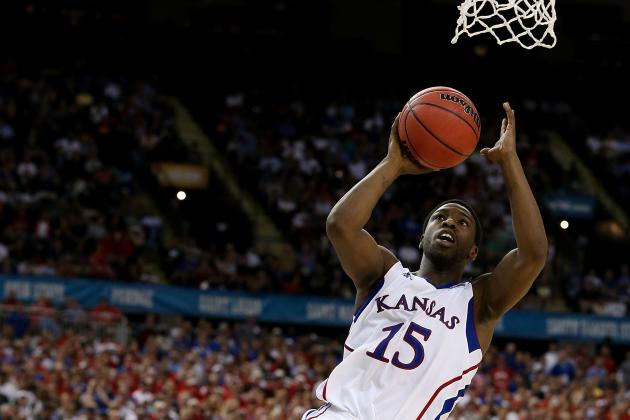 Jeff Gross/Getty Images

Red Flag: Lack of Star Power
A similar question dogged the Kansas Jayhawks last season, and the team responded with a 32-7 record and national runner-up finish.
This year is slightly different, however.
Kansas is searching for star power to lead its team to national prominence. Tyshawn Taylor and Thomas Robinson have departed, leaving backups Elijah Johnson, Jeff Withey and Travis Releford to take the reins.
Last season, many were wondering about the Jayhawks after the departure of the Morris twins, but things were different. Taylor already had a fairly good command of the team. Robinson was impressing people right and left.
Now Johnson and Withey, both seniors, will have to step out of the shadow they played in for three solid years and put an entire team on their backs.
When players have grown accustomed to playing second- or third-fiddle to superstars for their entire career, it can be very difficult to snap out of it. Withey and Johnson will certainly have to try.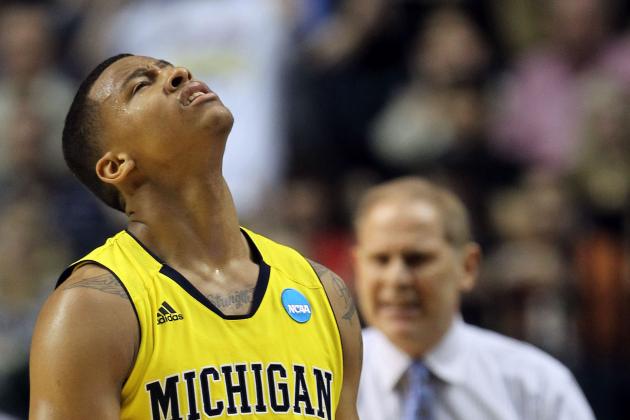 Jamie Squire/Getty Images

Red Flag: Consistency
The Michigan Wolverines were just one or two wins away from a Big Ten title last season, yet the team could not pull through.
The chief problem for the Wolverines was consistency.
In one stretch, Michigan lost to the Iowa Hawkeyes, not a good team by any stretch, then upset the No. 9 Michigan State Spartans, but followed up that win by falling to a fairly pedestrian Arkansas Razorbacks team.
Tim Hardaway, Jr. has never quite turned into the scorer Michigan fans envisioned and has contributed to the team's up-and-down play.
Trey Burke was an incredibly pleasant surprise for the Wolverines and will be one of the best point guards in the country next season.
The losses of Evan Smotrycz to transfer and Stu Douglass to graduation, however, will be hard to overcome.
Everyone knows what happened to the Wolverines in the NCAA tournament last season. If Michigan cannot figure out its consistency problems next season, a similar fate could befall the Wolverines.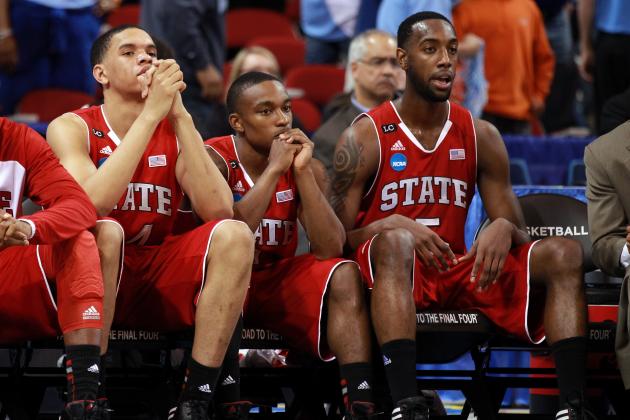 Andy Lyons/Getty Images

Red Flag: Melding Styles
Mark Gottfried surprised everyone in his first season as the coach of the North Carolina State Wolfpack, leading his team to a 24-13 record and a Sweet 16 appearance last season.
NC State fans breathed a sigh of relief when star C.J. Leslie decided to return to school and were even more excited when star recruit Rodney Purvis committed to the Wolfpack.
The only problem for the team will be if these two styles cannot fit in with one another.
Leslie, Richard Howell and Lorenzo Brown have paid their dues dwelling in the bottom of the ACC and are ready to take the reins of the team and build on last year's success.
If Purvis or fellow recruits T.J. Warren or Tyler Lewis cannot accept how the veterans operate, there could be problems in Raleigh.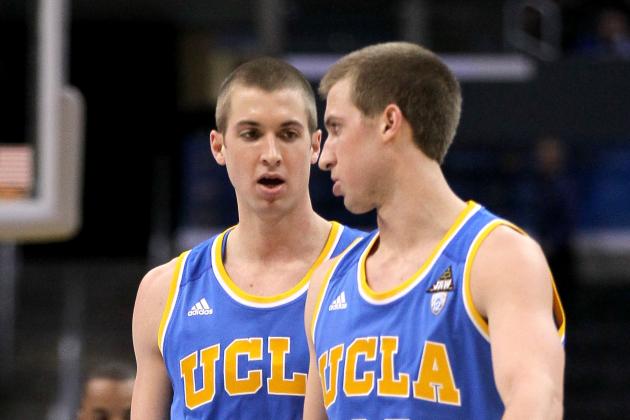 Stephen Dunn/Getty Images

Red Flag: Ben Howland, Past Performance
Could there be more red flags for a Top 10 team?
Sure, the UCLA Bruins have the No. 1 recruiting class in the country, but what else does the team have?
Well, UCLA has a coach that has been on the hot seat year in and year out.
The team has a scathing write-up in Sports Illustrated about how Howland lost control of his players and stars were allowed to run wild, disobeying rules right and left.
The Bruins have a cadre of unproven stars who are still waiting for their breakout seasons.
So, in short, UCLA is covered with red flags. It will be up to super-recruit Shabazz Muhammad and the rest of the freshman to try to change an entire culture.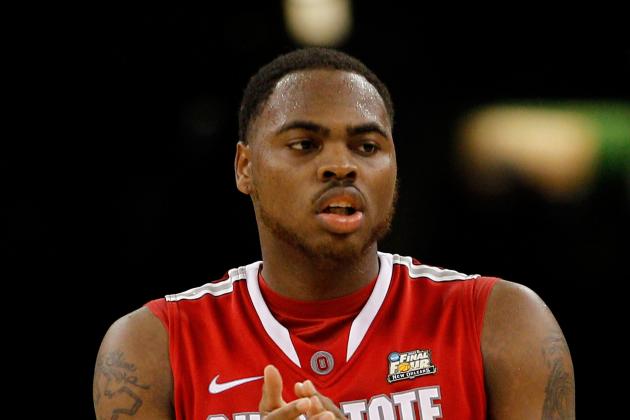 Chris Graythen/Getty Images

Red Flag: No Post Presence
As one of the most storied players in Ohio State Buckeyes history, Jared Sullinger was never going to be easy to replace.
Fortunately for Ohio State and head coach Thad Matta, there are plenty of talented players waiting in the wings.
Deshaun Thomas is poised to take the basketball world by storm in his junior year. Aaron Craft will do typical Aaron Craft-y things—see the floor, rebound and play in-your-face defense on every possession.
But who will be the Buckeyes' man in the middle?
Thomas doesn't have the size, bulk or game to anchor the paint, Amir Williams is still growing into his body and…oh wait, that's it.
Ohio State will have plenty of talent, but it remains to be seen how the team will defend bigger centers and score underneath.
Jamie Squire/Getty Images

Red Flag: No Draymond Green
It is impossible to prepare for life without Draymond Green. The senior was the unquestioned leader of the Michigan State Spartans, doing quite a lot of everything for his team.
Green was 0.3 assists per game away from leading Michigan State in points, rebounds and assists per game.
No opponent could ever count out the Spartans as long as Green was on the floor.
So what is the team to do?
Well, Branden Dawson, Keith Appling and Derrick Nix are ready to fill the void.
Still, replacing Green's statistical production is one thing. Finding a way to replicate his toughness, heart and encouragement is a completely different matter.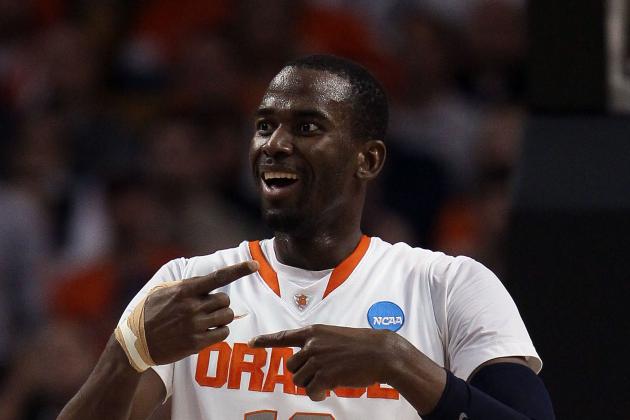 Elsa/Getty Images

Red Flag: Rebounding
In the rough-and-tumble world of the Big East…oh no wait, I mean the ACC.
Either way, in order to win college basketball games, a team must be able to rebound in order to prevent the opponent from scoring and advance the ball on offense.
The Syracuse Orange may struggle in that department next year.
In the 2011-'12 season, Syracuse ranked 125th overall, in rebounds per game. Unfortunately, two of the team's top three rebounders—Fab Melo and Kris Joseph—have departed for the NBA.
The Orange does not have a proven anchor in the middle who can protect the rim and grab rebounds.
James Southerland and Rakeem Christmas will have to pick up a lot of slack in that department. The question is whether or not the two are up to the task.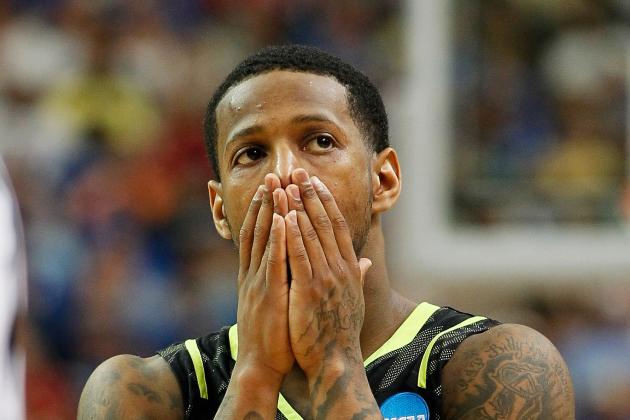 Kevin C. Cox/Getty Images

Red Flag: Rebounding from Disappointment
At the end of the 2011-12 season, the Baylor Bears expected to go through some kind of rebuilding process.
Perry Jones III was likely leaving for the NBA along with Quincy Acy. Despite losing the majority of its frontcourt, fans were optimistic that freshman Quincy Miller would return to school.
Fortunately for Baylor, Miller announced that he was returning for his sophomore season, setting off cheers all across Waco.
Immediately thereafter, however, Miller changed his mind and declared for the draft.
His departure means that the Bears have lost virtually their entire frontcourt. It also might leave a sour taste in the mouth of his fans and teammates.
For a Baylor team that was preparing to have three returning starters, the loss of Miller hurts. What hurts more, though is that Miller said he would return.
If the team can get past Miller's sudden change of heart, it has a chance to challenge the Kansas Jayhawks for the Big 12 title. If not, it could be a long season for Baylor.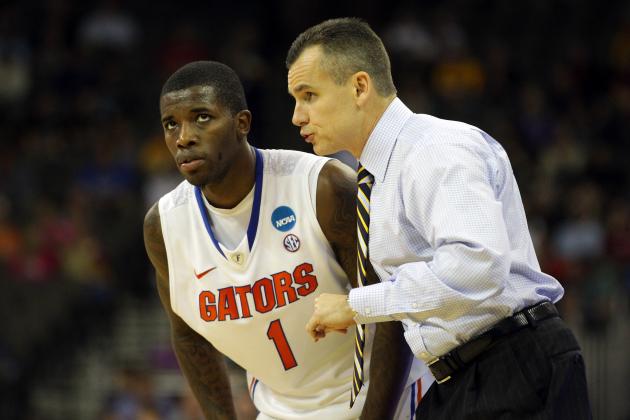 Doug Pensinger/Getty Images

Red Flag: Depth
It is not always necessary to go nine-deep like the Syracuse Orange did last season.
It is important, however, to have players ready to come off the bench and play major minutes in case of foul trouble or injury.
The Florida Gators are not necessarily equipped to do so next season.
With Erving Walker lost to graduation and Bradley Beal departed for the NBA, the Gators will have basically a five-man rotation left from last season.
The rest of Florida's players are unproven. They have not seen significant minutes and apparently have not shown in practice that they are capable of competing in conference play.
Unless more than one or two returning players or incoming recruits can have an offseason impact and earn big minutes, the Gators will be dangerously short of players.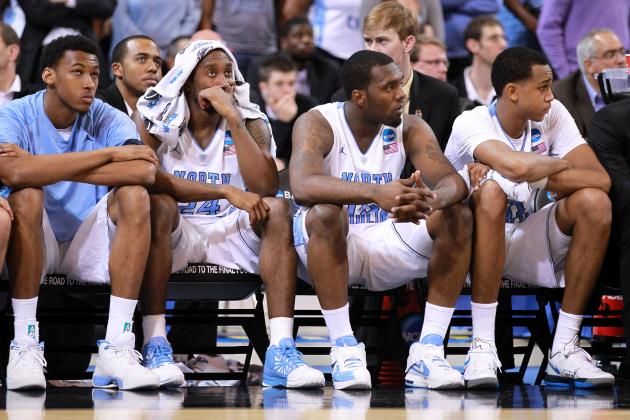 Andy Lyons/Getty Images

Red Flag: Interior Defense
The North Carolina Tar Heels lost four starters from last year's Elite Eight team. Tyler Zeller graduated, and John Henson, Harrison Barnes and Kendall Marshall all declared for the NBA draft.
North Carolina is lucky that many of their returning players did play important minutes last season. There should not be too many struggles in terms of adjusting to playing starters' minutes.
However, the one area in which the Tar Heels will miss their departed stars is on the defensive end of the floor.
Henson, in particular, anchored the team's interior defense. He averaged just shy of three blocks per game and altered countless more shots.
Zeller averaged 1.5 blocks per game himself and was able to body up with bigger players and force them outside of the paint.
North Carolina will have to develop a group of slightly-undersized, yet talented players into the defensive force that Henson and Zeller were last season.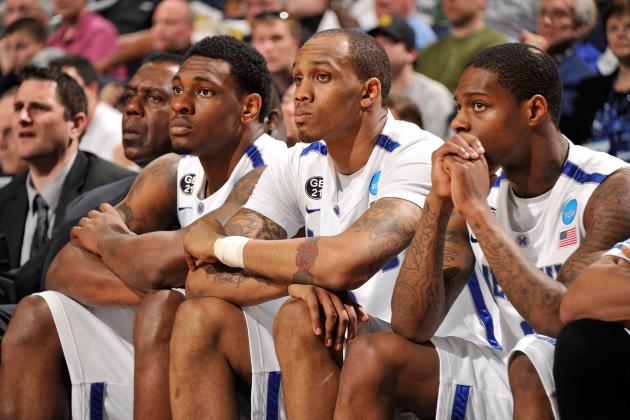 Jamie Sabau/Getty Images

Red Flag: Conference USA
Fortunately for the Memphis Tigers, 2012-'13 is their last season in Conference-USA. It cannot come soon enough.
Going back to John Calipari's tenure with Memphis, the team was consistently under-matched in conference play.
The disparity forced the team to play an extremely tough non-conference schedule, then basically take two months off before having to play their best basketball of the season just in time for the NCAA tournament.
Memphis is increasingly relying on young players, and they cannot get fully tested in such a weak conference.
As the Saint Louis Billikens showed this season, when players are unprepared for the rigors and intensity of facing good teams night in and night out, their season will end much earlier than anticipated.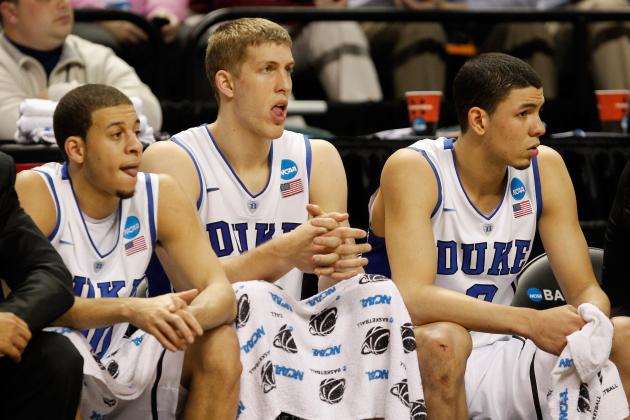 Streeter Lecka/Getty Images

Red Flag: Passing
Perhaps there is a Kyrie Irving curse on the Duke Blue Devils. Ever since the star freshman went down with a mysterious foot injury at the beginning of his freshman season, Duke has not been able to find a reliable point guard.
Okay, okay, maybe I'm blowing things out of proportion. It has only been a year. However, next year does not look much better for the Blue Devils.
Clearly, Austin Rivers did not fit in the point-guard role. He struggled to find teammates and make good decisions, too often jacking up unnecessary shots.
No one on the team averaged more than 2.4 assists per game, and the team as a whole averaged just 12.5 assists per game.
Duke is crossing its fingers that an unheralded role player will be able to step up and fill the role of distributor to allow Seth Curry to play his preferred position of shooting guard.
Unfortunately, that is still not assured. The Blue Devils might have to wait another year before finding their point guard of the future.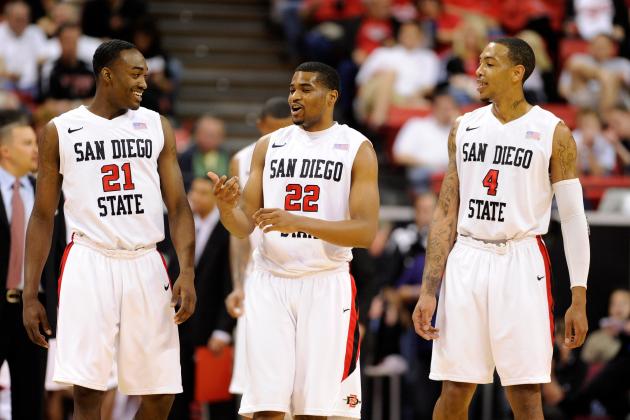 Ethan Miller/Getty Images

Red Flag: Forcing Turnovers
The San Diego State Aztecs surprised just about everyone last season when the team vaulted into the Top 25.
This season, the team will not be a surprise but should still challenge national powerhouses.
The only flaw San Diego State has is in forcing turnovers. The team has Jamaal Franklin and Chase Tapley to pace them in the scoring column, but their pressure defense leaves quite a bit to be desired.
The Aztecs force just 12.2 turnovers per game, ranking them 244th nationally. Only three players averaged one steal or more, barely disrupting the opposing offense at all.
Allowing a team to keep control of the ball allows them to stay in the game. San Diego State was unable to put less skilled teams away last season because they could not force turnovers.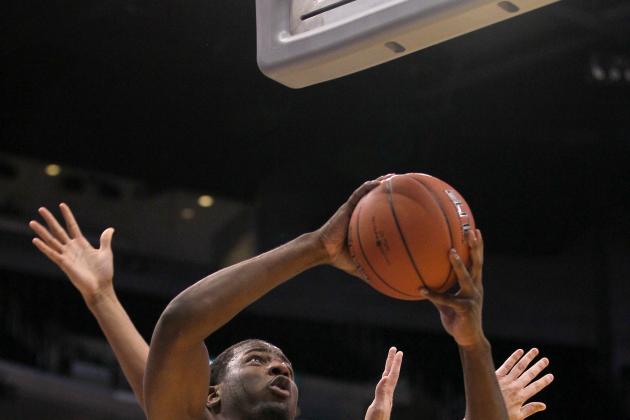 Stephen Dunn/Getty Images

Red Flag: Last Season
Oh, the Pac-12. The land where disciplined basketball goes to die.
The Arizona Wildcats had high expectations in 2011-'12. And then, well, the season started.
Arizona dropped early-season games to semi-quality opponents in the Mississippi State Bulldogs and San Diego State Aztecs, and the losing just continued.
The team finished 12-6 in a very bad Pac-12, failing to ever break out the way many predicted they would.
This season did not start much better as point guard Josiah Turner has already announced his decision to transfer.
The Wildcats have some key returning players and good recruits, but in looking at last season as an example, it is hard to believe Arizona will be good until the team proves it.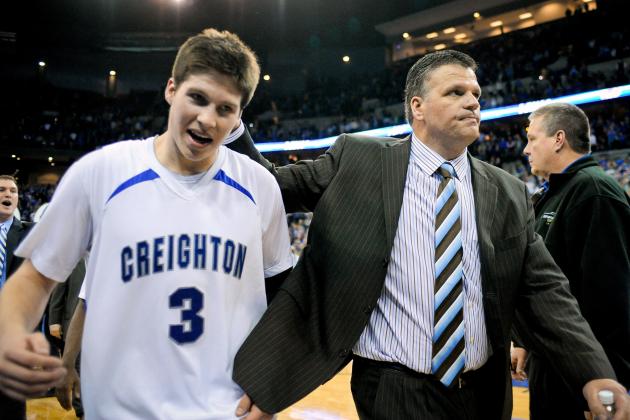 Eric Francis/Getty Images

Red Flag: Doug McDermott
Let me clarify: having the potential preseason Player of the Year on your team is not a red flag.
The problem for the Creighton Bluejays is that the team must find a way to help out star Doug McDermott on the offensive end of the floor.
McDermott scored 22.9 points per game in his sophomore season. Creighton's next leading scorer, Antoine Young, graduated.
After Young, no one else on the Bluejays roster averaged over 10 points per game.
McDermott was somewhat of a novelty last season. He was expected to be good, but not to challenge for the scoring title.
Teams will be prepared for McDermott's prowess next year and will be much more prepared to shut him down.
That means that another Creighton player must step up. The question now is who.
Streeter Lecka/Getty Images

Red Flag: Expectations
The Notre Dame Fighting Irish is a tricky team to predict.
When it is expected to do a whole lot of nothing, as it was last season following the loss of star Tim Abromitis to a torn ACL, it challenges for the Big East title.
In the past, however, when expectations have been sky-high for the Fighting Irish, the team has failed miserably to live up to them.
So with Notre Dame coming off of a 22-11 season and third-place finish in the Big East, with the majority of their roster returning, which team will show up?
If the Fighting Irish can simply stay out of its own way, the team could be in for a great season. However, that is a big if.
Jonathan Daniel/Getty Images

Red Flag: Interior Toughness
No one can argue against the toughness of the Gonzaga Bulldogs' guard combination of Gary Bell, Jr., Kevin Pangos and David Stockton.
It is the interior play that might be lacking a bit on the toughness scale.
Robert Sacre never quite molded into the take-charge, double-double machine that many were predicting when he began his career at Gonzaga.
Sacre has now graduated, leaving Elias Harris and Sam Dower to anchor the paint. Harris has played much like Sacre—tentative at times and not willing to demand the ball and take over games.
Dower is unproven as a consistent starter, so it is unclear whether the Bulldogs' trend of weak interior play will continue for another generation.
Unless Harris can step up in his senior season at Gonzaga, the Bulldogs could be in for a quick exit come tournament time.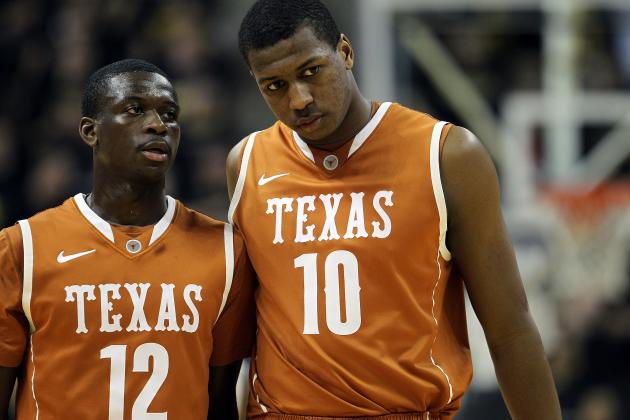 Jamie Squire/Getty Images

Red Flag: Scoring
This red flag for the Texas Longhorns might turn out to be more of a blessing in disguise.
J'Covan Brown, the team's leading scorer with 20.1 points per game, has departed for the riches of the NBA. Obviously, that will leave a team that scored just over 70 points per game last season searching for someone to fill the void.
The Longhorns had just one more player on the roster, Sheldon McClellan, average double-digit points.
The hope in Texas is that Myck Kabongo will be able to pick up some of the slack and increase his scoring output. If he does, the loss of Brown may benefit the team by helping to spread out its offensive output.
At times last season, though, Kabongo looked hesitant to shoot and instead preferred to defer to his teammates.
If he keeps that up next season, there will not be many teammates capable of scoring to defer to.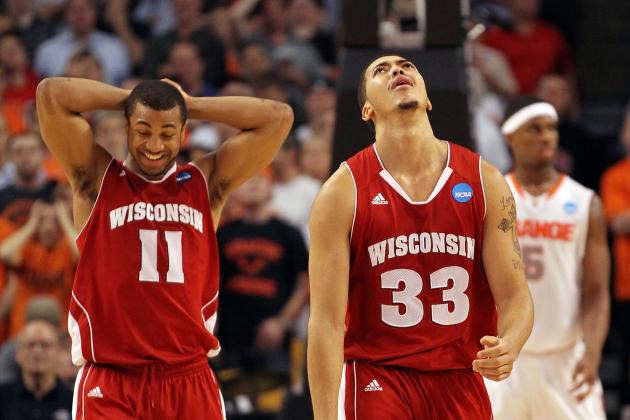 Jim Rogash/Getty Images

Red Flag: Point Guard
The loss of Jordan Taylor will undoubtedly hurt the Wisconsin Badgers. He was the do-everything, emotional leader for the team.
More so than simply losing Taylor, however, Wisconsin will struggle because the team will also lose a point guard.
True, the Badgers have a solid complement of players to fill in, but none is a proven floor leader.
Point guard is by far the most important position in basketball. Teams rely on one player to advance the ball, set up an offense and get the team involved.
Without a point guard to pass the ball to the Badgers' dead-eye shooters, Wisconsin will struggle to hang with the many talented teams in the Big Ten.
Taylor filled a key role for Wisconsin, and he will not be easy to replace.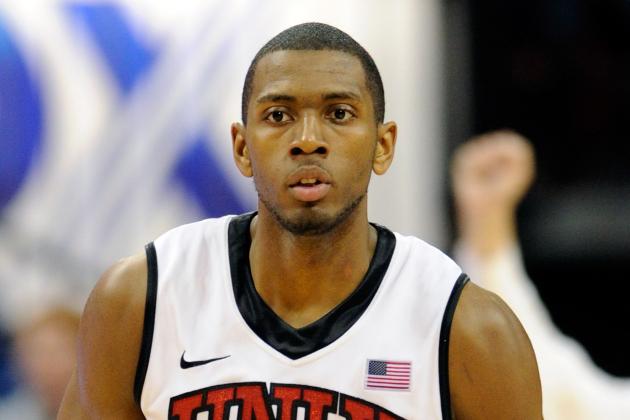 Ethan Miller/Getty Images

Red Flag: Sustaining Momentum
The UNLV Rebels started last season 21-3, including an upset of the then-No. 1 North Carolina Tar Heels.
After that scorching start, however, the team went just 5-6 the rest of the way.
It became clear that the Rebels simply could not sustain their high level of play for an entire season. Much of the problem for UNLV was reflected in star Mike Moser's stats.
When Moser was scoring in bunches, the team was winning. However, towards the end of the season, Moser's production dipped off along with the Rebels'.
Adding Connecticut Huskies transfer Roscoe Smith should help Moser underneath, as will having a full season as a playmaker under his belt.
Perhaps just in case, though, coach Dave Rice should work on resting Moser and the team a bit more as the season wears on.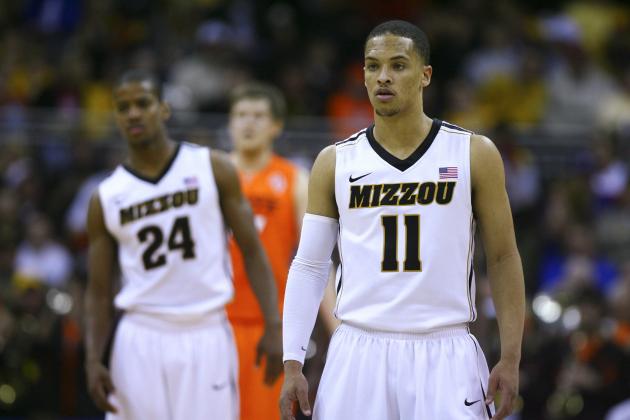 Ed Zurga/Getty Images

Red Flag: Starting Fresh
The Missouri Tigers burst onto the college basketball scene last season as the team illustrated the opinion that veteran teams always have an edge.
This season, though, Missouri will have to figure out what to do now that its core group of leaders has partially disbanded.
The team has lost Kim English, Marcus Denmon and Ricardo Ratliffe to the NBA and graduation. While it does return Phil Pressey, Michael Dixon and Laurence Bowers, there will definitely be a period of adjustment.
In addition to the Tigers' losses, the team is adding four transfers. The culture of the team will undoubtedly change, and the question is how the players will respond.
First-year coach Frank Haith did a lot with very good players last season, but the true test of his coaching ability will be this season when he must mold very different individuals into a team.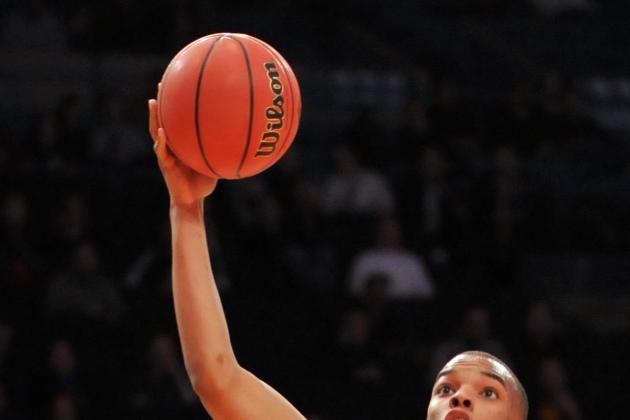 Jason Szenes/Getty Images

Red Flag: Snowballing
The 2011-12 season was considered a success for the Minnesota Golden Gophers, if only because the team was expected to completely implode after losing star Trevor Mbakwe to an injury at the beginning of the season.
Mbakwe was granted a sixth year of eligibility and will return to what should be a vastly improved Minnesota team.
The one problem the Golden Gophers encountered last season was the team's unfortunate habit of letting one loss spiral into many.
The team went on losing streaks of four and six games, losing winnable games and sometimes just not looking ready to play.
Mbakwe's leadership should help in that regard, but if a culture of snowballing losses has emerged in Minnesota, it may be hard to shake.