15 Players Who Suffered Big Injuries During Training Camp in NFL History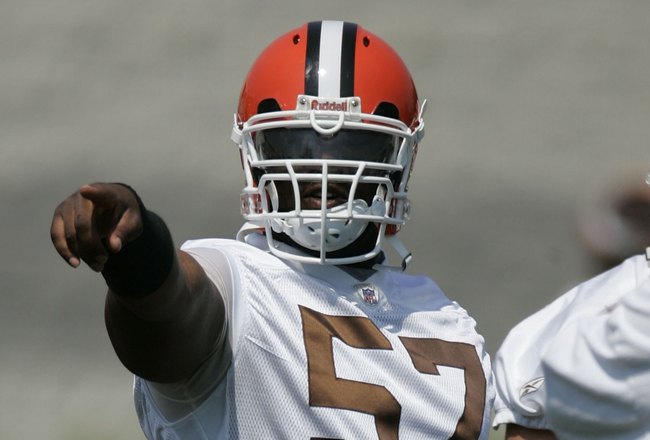 Gregory Shamus/Getty Images
Ah, training camp. Freshly cut grass, renewal, time for guys to get back into the swing of things in the NFL.
Battles heat up for starting jobs, and young talents are trying to prove themselves worthy of a roster spot. The start of training camp can also bring some out-of-shape athletes with rusty legs and lungs.
As a result, training camp tends to foster many injuries to both the young rookies and seasoned veterans looking to secure their spots on the squad.
Here's a look at 15 players who suffered major injuries during NFL camps throughout history.
Elvis Dumervil, Denver Broncos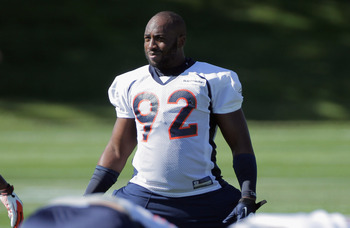 Doug Pensinger/Getty Images
Elvis Dumervil led the league with 17 sacks in 2009 and parlayed that breakout season into a five-year contract extension worth $58.332 million.
The pass-rusher's 2010 season was over before it began when he suffered a torn pectoral muscle during a one-on-one passing drill at training camp.
The injury bug seemed to stay with Dumervil, as he spent the 2011 season battling various ailments. He was still managing that shoulder injury and added a hurt ankle in October 2011.
In an attempt to regain explosiveness and remain healthy, Dumervil has lost 10 pounds coming into camp this season. He is looking to return to form as a sack machine.
Ben Utecht, Cincinnati Bengals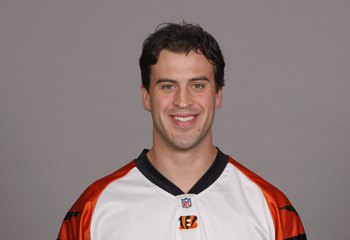 NFL Photos/Getty Images
In August of 2009, tight end Ben Utecht suffered a severe concussion during a scrimmage early on in Bengals training camp.
Utecht had a history of previous head trauma, and this last concussion ended his 2009 season and forced him to walk away from the game.
He has made the rare transition from professional athlete to recording artist and has been vocal about the substantial memory loss lingering from his NFL career.
Dean Cain, Buffalo Bills
Ethan Miller/Getty Images
Before dashing into phone booths and wearing a cape and tights, Dean Cain had a bright potential career ahead of him in football.
In 1987, while a free safety at Princeton, Cain set an NCAA record for interceptions in a single season with 12. After graduating in 1988, he signed with the Buffalo Bills as a free agent.
Cain suffered a knee injury during training camp that ended his NFL career before it even had a chance to take off.
LeCharles Bentley, Cleveland Browns
Gregory Shamus/Getty Images
In 2006, the Cleveland Browns signed LeCharles Bentley to a six-year free-agent contract. He was a two-time Pro Bowl center and one of the Browns' prized free-agency acquisitions.
During the first full-pads drill of training camp, Bentley tore the patellar tendon in his left knee, forcing an end to his season before it began. He went on to have four surgeries to repair that knee, including two for a staph infection.
He returned to the Browns in 2008 but never actually made it to the football field. Bentley retired in 2009 without ever playing a game in a Browns jersey.
Yatil Green, Miami Dolphins
Eliot J. Schechter/Getty Images
In 1997, Yatil Green was a stud wide receiver out of the University of Miami. At 6'2", 205 lbs, coaches and scouts were salivating over his size and speed.
Green was drafted in the first round as the 15th player taken overall. Staff and fans were thrilled to finally have their receiving weapon to help Dan Marino get the Dolphins back to the Super Bowl.
Sadly, Green never played a down in 1997. On the first day of training camp, he suffered a devastating injury, tearing his right anterior cruciate ligament (ACL), cartilage in his right knee and his quadriceps muscles.
Green was a fighter and began a very aggressive rehabilitation program, wanting to return to the Dolphins for the next season. At the start of camp in 1998, he was looking great and ready to hit the field.
Unfortunately, disaster struck once again. While running a non-contact pass route, he tore his ACL on his right knee again.
In the end, Green had more knee surgeries than years he spent wearing an NFL jersey.
Mikel Leshoure, Detroit Lions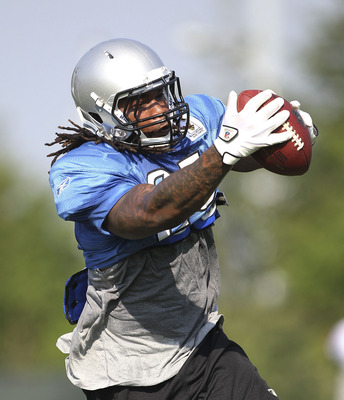 Leon Halip/Getty Images
The Lions have had their share of high draft picks not panning out for one reason or another.
Mikel Leshoure was a second-round pick from Illinois in the 2011 draft with the solid potential of providing power to the backfield along with Jahvid Best.
The running back tore his left Achilles tendon during his rookie training camp in August of 2011. Leshoure was hit high during an 11-on-11 drill in practice and was carted off the field. The injury left him out for the season, only to watch from the sidelines.
Coming into Lions training camp this season, Leshoure is rehabbed and ready to battle for playing time at the running back position.
John Madden, Philadelphia Eagles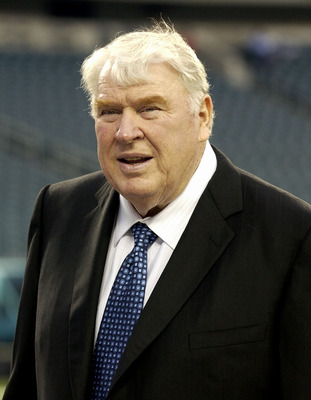 A. Messerschmidt/Getty Images
With such a highly successful career centered around the NFL, one would think that John Madden played for decades in the league and racked up all sorts of records and achievements.
Ironically, Madden was drafted by the Philadelphia Eagles in 1958 and never got to play a down as a professional football player. He suffered a knee injury during training camp, dashing any hopes of a career as an athlete.
Perhaps the "Madden Curse" actually began with John Madden?
D'Anthony Smith, Jacksonville Jaguars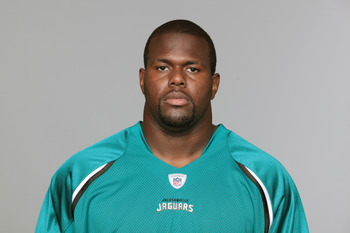 Handout/Getty Images
This former Louisiana Tech standout was drafted by the Jaguars with high expectations in the 2010 draft.
Smith is a 6'2", 300-pound solid defensive tackle who excelled at the college level, bringing excitement to Jacksonville's training camp.
Smith suffered an Achilles injury the first week of camp and was placed on injured reserve on August 31, 2010. After rehabbing an entire year, he seemed ready to go at the start of the next season.
Sadly, a toe injury along with his prior Achilles issue sidelined him again as the team made its final roster cuts in 2011. After two seasons inactive for the Jaguars, Smith is coming into camp this year ready to prove himself to the staff and fans.
Domonique Foxworth, Baltimore Ravens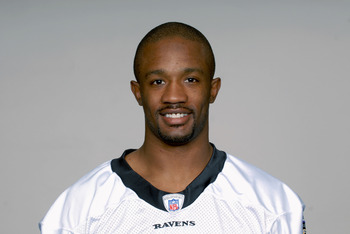 Handout/Getty Images
The Ravens signed Maryland native Domonique Foxworth to a lucrative free-agent contract in February of 2009.
After a decent season for Baltimore, Foxworth was once again poised to contribute to the Ravens defensive backfield. He never got the chance in 2010, as he tore his ACL during an OTA workout, sidelining him for the season.
After coming back and playing in two games in 2011, Foxworth was placed on injured reserve for the remainder of the season after his knee failed to sufficiently recover.
The Ravens released the cornerback this May after he failed a team physical.
William Andrews, Atlanta Falcons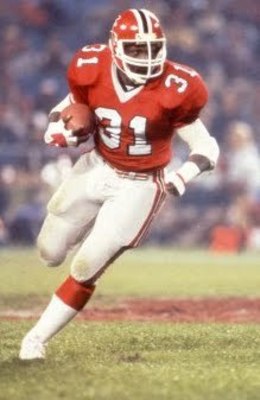 The Falcons scored a hidden gem in William Andrews, a running back selected in the third round of the 1979 NFL draft.
Andrews was a stud from day one and quickly became one of the elite backs in the early 1980s. He rushed for over 1,000 yards in each of his first three seasons with the Falcons and probably would have added another if it weren't for the 1982 players strike.
The next season, Andrews finished second in the NFL in rushing yards with 1,567 as well as second in yards from scrimmage with 2,176.
It seemed like Andrews was on the path to posing in front of a bronze bust of himself while wearing a gold jacket in Canton. However, the next season in training camp, he sustained a serious knee injury and was out for the next two years.
Andrews returned to the Falcons in 1986 with a mediocre performance and retired from the game at the end of the season.
Ma'ake Kemoeatu, Carolina Panthers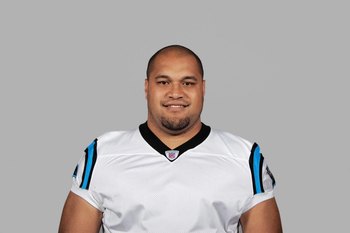 NFL Photos/Getty Images
At 6'5" and 345 lbs, Ma'ake Kemoeatu was originally signed by the Ravens as a rookie free agent in 2002. He played for Baltimore from 2002 to 2005, making 21 starts, including all 16 games in 2005.
The defensive tackle signed with the Carolina Panthers as a free agent in 2006 and was a beast clogging up the middle. He moved well for a guy his size and was great at creating separation.
During the first minutes of training camp in 2009, Kemoeatu tore his right Achilles tendon, ending his season and sending him to the operating table a few days later.
He went on to play for the Redskins in 2010 and was out of football in 2011.
Kemoeatu's career has now come full circle, as he has been given another chance and recently signed again with the Ravens as a free agent.
Dan Mosebar, Oakland Raiders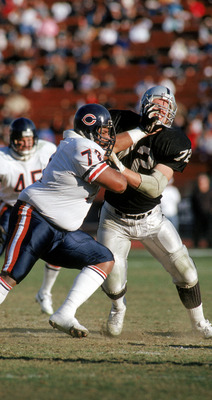 George Rose/Getty Images
Don Mosebar spent 13 seasons as the center for the Oakland Raiders. He started in every single game from 1990 to 1994 and was a fixture on the Raiders offensive line.
On August 3, 1995 during a morning scrimmage against the Dallas Cowboys during camp, Mosebar suffered a ruptured eye globe. He was blocking Dallas' Chad Hennings on an inside running play and was inadvertently poked in the eye.
Mosebar was rushed off the field and into surgery to repair a two-inch tear in the back of his eye. He subsequently had to undergo multiple operations on that eye over the next few years.
Sadly, that freak accident not only ended his career but his vision in that eye as well.
Reggie Hodges, Cleveland Browns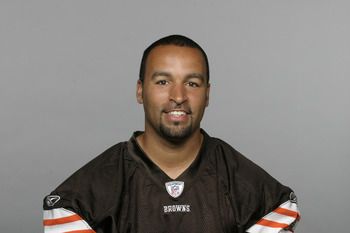 Handout/Getty Images
In only the second practice in full pads during camp of 2011, Reggie Hodges tore his Achilles tendon and was out for the season.
The Cleveland Browns punter was a valuable member of the squad and was coming off of a solid season. Hodges averaged 43.9 yards on 78 punts, with 29 punts inside the 20-yard line.
He also had one of the Browns' most memorable plays of 2010, faking a punt and running 68 yards up the middle in an upset over the Super Bowl defending New Orleans Saints.
Nick Kaczur, New England Patriots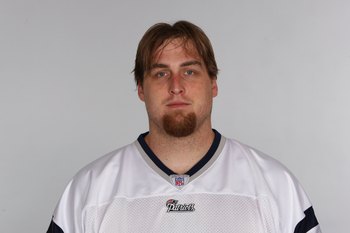 NFL Photos/Getty Images
Most of Nick Kaczur's five-year career was spent as the Patriots' starting right tackle. He was drafted by New England in 2005 and started in 62 of 68 regular-season games as well as seven playoff games.
Kaczur suffered a serious back injury during the second day of training camp in 2010 and never rejoined the team. He underwent surgery that August and missed the entire season.
The New England Patriots released Kaczur in 2011.
Tony Dorsett, Denver Broncos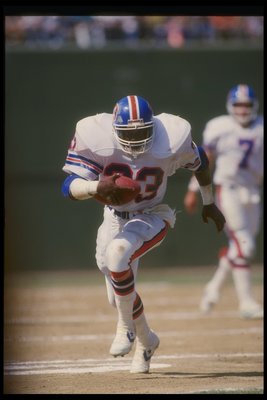 Stephen Dunn/Getty Images
I know it seems odd to associate Tony Dorsett with the Broncos, but after an illustrious career with the Dallas Cowboys, he was traded to Denver in 1988.
During training camp at the start of his second season with the Broncos, Dorsett tore a ligament in his knee, which put an end to his highly successful rushing career.
Dorsett recorded 12,733 yards and 77 touchdowns in his 12-year career in the NFL. He was elected to the Pro Football Hall of Fame in 1994 and the Texas Stadium Ring of Honor that same year.
Keep Reading