London 2012: 5 Sprinters Who Could Upset Usain Bolt in the 100-Meter Dash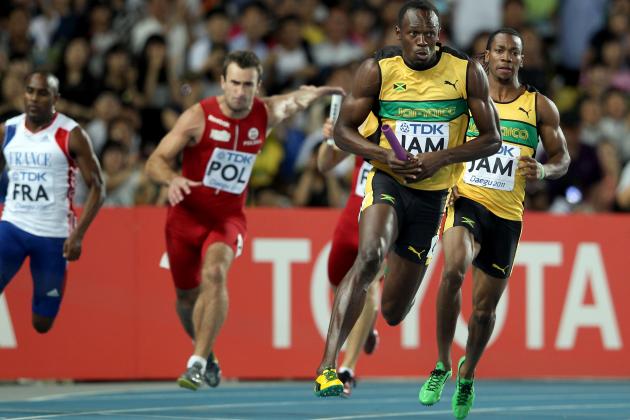 Ian Walton/Getty Images

With a little less than two months until the opening ceremony of the London Games, there isn't much mystery surrounding the sprinting events. That's because Jamaica's Usain Bolt is the overwhelming favorite—not only to take gold but to take it in dominant fashion.
There's even talk that Bolt could beat some of his own world records this summer.
Even though he ran a seemingly unbeatable 9.58 seconds in the 100-meter dash at the 2009 World Championships, he's only now entering the peak of his career. And with Bolt confident in his Olympic chances, the competition has every right to be afraid.
The beauty of sports, though, is that no competition is over before it begins. Although Bolt is the overwhelming favorite now, there are several capable sprinters who could beat him. There's even the outside chance that someone other than Bolt could set a new world record.
Here are the five sprinters that I think have the best chances of beating Lightning Bolt in the 100.
Begin Slideshow

»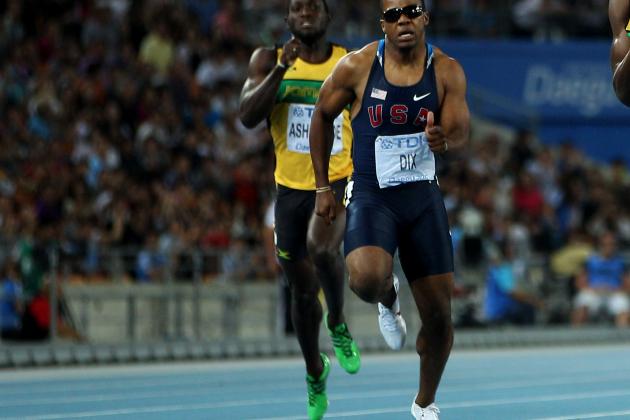 Michael Steele/Getty Images

Although Jamaica is stacked with runners like Usain Bolt and Yohan Blake, the United States actually has some pretty good runners, too—such as Tyson Gay, the second-fastest man in the 100-meter dash and possibly the biggest track star in the country.
Although he's had less media attention than Gay, Walter Dix is another U.S. sprinter who could beat Bolt. His 200-meter record of 19.53 ranks him as the fourth best all time. That's definitely an impressive number for a 26-year-old who is only in the fifth year of his professional career.
At 5'9" and 190 pounds, Dix is a diminutive runner, which usually serves as a disadvantage. However, he makes up for this perceived disadvantage with his powerful stride, quick acceleration and exceptional closing ability.
Dix has proven to be clutch—he won three outdoor 200-meter titles during his collegiate career at Florida State.
Although he was not expected to medal at Beijing, he still earned a bronze in the 100 and a bronze in the 200. Now, after several seasons of competing internationally, gold is the only medal that Dix lacks, so he should be extremely motivated to get his first one in London.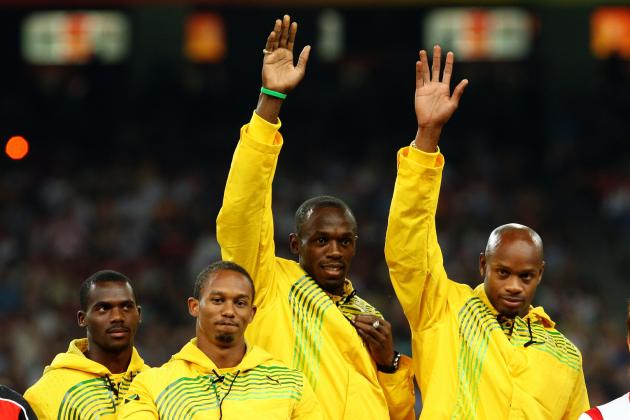 Julian Finney/Getty Images

Jamaica is stacked with elite sprinters, even without considering Usain Bolt. After all, they are the defending gold medalists in the 4x100-meter relay. Behind the shadow of Bolt, sprinters like Asafa Powell and Nesta Carter are extremely talented in their own right.
Carter (far left in the picture) has a personal best of 9.78 in the 100. That's the fourth-fastest time in history, yet Carter still isn't guaranteed an Olympic spot. With Jamaica's team looking stacked, Carter may need a good performance at the national trials in June to cement his place on the team.
But with his back against the wall, Carter is still confident he can perform well under pressure.
According to Caribbean Track Life, Carter is glad that he is being overlooked. This gives him the ability to train in privacy—an impossibility for his more popular teammates.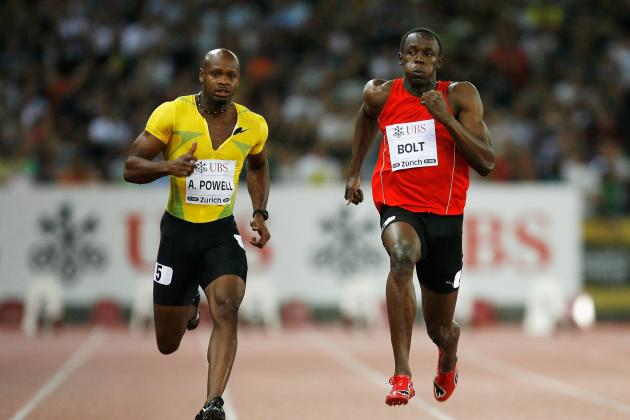 Paul Gilham/Getty Images

Before Usain Bolt broke out in the 2008 Olympics, Asafa Powell was arguably the greatest sprinter in the world. In 2007 he broke the world record in the 100-meter dash with a time of 9.74 seconds.
Bolt has since broken the record multiple times and has clearly overtaken his countryman.
Powell, however, has legally broken the 10-second barrier more than anyone else in history—an astonishing 74 times. This includes his time of 9.72 seconds ran in September 2009, which ranks as the third fastest 100-meter time ever.
For most of his career, Powell has been unfairly accused of letting pre-race anxiety affect his performance on the world's largest stages.
He has not yet won an individual medal in the Olympics, settling for fifth in the 100 in both the 2004 and 2008 Olympics. But he has done well in other events, particularly the Commonwealth Games, where he has won one silver and two gold medals.
Despite losing 10 of 11 races to Bolt, Powell has insisted that he's not competing against him. With this being his third and possibly final Olympics, the 29-year-old Powell hopes to finally deliver on the world stage.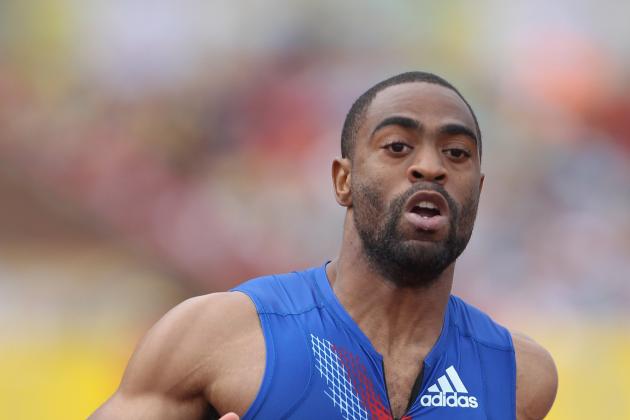 Ian Walton/Getty Images

Two years ago, Tyson Gay was able to upset Usain Bolt in the 100 meters at the DN Galan meet, where Gay ran a time of 9.84 seconds. Bolt was not far behind him in what was a slow-for-him 9.97 seconds.
Gay is in many ways Bolt's top rival.
Gay's time of 9.69 seconds is the second best in world history. Even with up-and-coming young sprinters like Walter Dix rapidly improving, Gay is still America's best bet at a gold medal.
The Florida native is trying to redeem himself from a disastrous Beijing Olympics, where the U.S. sprint team was mostly known for dropping the baton in the 4x100-meter relay.
He also had a pulled hamstring that prevented him from running his best in the 200 meters—another event in which he is considered elite, having run the fifth-fastest time in history at 19.58 seconds.
One of the most accomplished sprinters ever, Gay needs an Olympic gold to end his career on a high note. With his injury-prone career thus far, the 2012 Olympics could be his last good attempt to beat Bolt.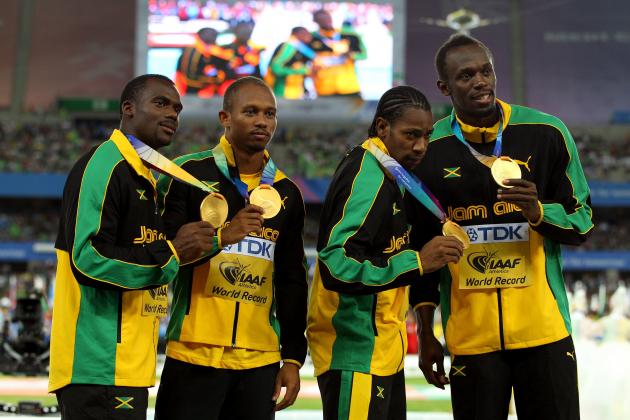 Mark Dadswell/Getty Images

Who better to beat Usain Bolt than someone who trains with him? That someone is the youngest sprinter on this list—at only age 22.
Yohan Blake (third from left in the picture) is the current 100-meter world champion, having taken a gold medal in the 100-meter dash and the 4x100-meter relay at the 2011 World Championships.
Blake trains alongside Bolt, and both men work with track coach Glen Mills. Even with Bolt holding the current world record in the 100, Mills will not say which runner he thinks is better.
If recent performance is a good indication, then Blake has a lot going for him.
His 200-meter time of 19.26 seconds in September 2011 ranks as the second-fastest ever. He's already started his 2012 season scorching hot with a 9.90 100 meters at the UTech Classic.
Like other members of Jamaica's track team, Blake has come under scrutiny for a doping scandal.
It's not the kind of thing any track star wants to be known for, so he should definitely be motivated to prove he can win a medal while clean. And with Blake knowing Bolt so well, it would make for a fascinating subplot to see the pupil beat the master on the world's largest stage.