Pacquiao vs. Bradley: Each Fighter's Biggest Weakness His Opponent Can Expose
May 30, 2012

Stephen Dunn/Getty Images
When dissecting the combatants of a genuine, world-class prizefight the term "weakness" must be taken with a degree of restraint. This relative understanding of deficiencies is especially applicable in analyzing the upcoming Manny Pacquiao-Timothy Bradley fight at the MGM Grand in Las Vegas on June 9.
Pacquiao (54-3-2, 38 KOs), 33, is riding a 15-fight winning streak dating back to 2005. His last official defeat was a unanimous decision loss to Erik Morales.
Since that setback, Pacquiao's winning streak has included two redeeming triumphs against Morales, as well as a nearly unprecedented leapfrog between super featherweight and junior middleweight where he has pummelled the likes of Marco Antonio Barrera, Ricky Hatton, Oscar De La Hoya and several others.
Throughout this run, which is as close to the feats of the great Henry Armstrong as we are likely to see, Pacquiao has carried an aura of invincibility.
Enter: Juan Manuel Marquez.
In the three epic tilts between Pacquiao and Marquez, the official results stand at a split draw and two wins for Pacquiao—one by split decision and the other by majority decision. The debate over who actually won these fights is best left for another article. What Marquez has shown—and shown three times—is how Pacquiao can be beaten.
By nearly cleaning out the junior welterweight division, Timothy Bradley (28-0, 12 KOs), 28, has shown his prowess as one of boxing's best all-around young fighters. Victories over Junior Witter, Kendall Holt, Lamont Peterson and Devon Alexander have been either dramatic or decisive, and Bradley blends a unique offensive style with a quality right hand, a commitment to body punching and excellent stamina.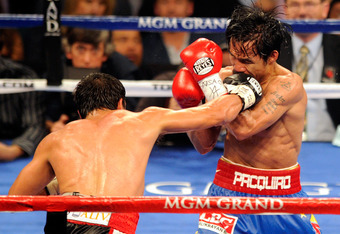 Ethan Miller/Getty Images
Still, Bradley has flaws.
He has been seriously hurt and knocked down hard, though his resilience, heart and survival instincts deserve credit. Bradley can also be erratic, and his punches, at times, are thrown in wide arcs as he lunges forward with his head. Furthermore, Bradley has yet to stop a world-class opponent (if anyone dares to mention Joel Casamayor they must be living in a time-warp).
In defining "weakness" for this article, I stuck to boxing attributes as opposed to, say, Bradley's mega-fight inexperience or Pacquiao's outside distractions.
With that, let's look at both fighters' biggest weaknesses.
Pacquiao's Weakness: Susceptibility to Counter-punching, Especially Right Hands
In the most recent fight between Pacquiao and Marquez, it was starkly evident that Pacquiao eats a lot of right hands.
This is not to say that haphazardly throwing a right hand will lead to guaranteed success against Pacquiao. On the other hand, Marquez, one of the best and most precise counter-punchers in boxing, consistently timed Pacquiao's forward movement and punch rhythm to land counter right hands.
While Timothy Bradley is not on Marquez's counter-punching level, the Palm Springs native's strongest and most effective punch is his straight right, which he throws from an assortment of angles. This, coupled with the fact that a straight right is traditionally the most effective punch against a southpaw, will enable Bradley to have success.
Bradley's right hand is often clubbing and lands as if heaved downward. That said, Bradley has also demonstrated the ability to throw the punch with precision, whether he is doing so using his forward momentum to propel the blow or fighting off his back foot.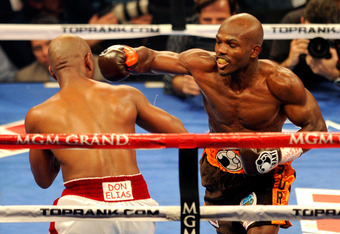 Ethan Miller/Getty Images
This versatility will be key.
Bradley isn't quite precise enough to fight exclusively off his back foot, and it is imperative that he both counter and initiate action with his right hand.
Pacquiao is hittable, and Bradley has the perfect weapon to bother "Pacman." The question is whether Bradley's blows will carry enough pop to halt Pacquiao's forward progress or hurt the Filipino icon.
Bradley's Weakness: Punching Power
If Timothy Bradley had the one-punch knockout power in his right hand of, say, Randall Bailey, the fight odds against Pacquiao would certainly look different.
I don't want to discredit Bradley's power completely, but it is obvious he does not carry explosive knockout ability at the world-class level. Bradley is, however, an elite boxer, and his technical strength and volume punching can inflict damage.
That said, before scoring a TKO of Joel Casamayor's corpse in his most recent fight, Bradley's last stoppage victory dates back to 2007. Bradley's notable victories against the likes of Junior Witter, Kendall Holt, Lamont Peterson and Devon Alexander have all been by decision.
If Pacquiao is able to walk through Bradley's punches, expect a long night for "Desert Storm." In order to exploit Bradley's lack of punching power, Pacquiao has to be willing to plant and throw his punches purposefully.
When Bradley charges forward, Pacquiao, who possesses greater power, should be ready to stand and fight so as to land his heavier blows with proper balance. If Pacquiao allows Bradley to back him up by fighting off his back foot, he will lose the natural power advantage he possesses.
This is not to say that Pacquiao shouldn't respect Bradley's ability to throw down. On the contrary, by drawing Bradley into well-placed traps and then unloading—or even slugging—Pacquiao has a tremendous opportunity to win the fight's more meaningful and telling exchanges.
It's almost shocking to see that Pacquiao is fighting a (slightly) shorter man who is moving up in weight. Now, it's up to Pacquiao to act like the stronger puncher and be prepared to walk through a right hand or two to land his shots.
Ultimately, the fight will be decided on more than these two issues. Still, while both men are world-class boxers, the obvious strengths and weaknesses they possess will make for a compelling fight.