Tim Tebow Girlfriend: Lolo Jones Sheds Light on Jets QB's Secret Relationship
May 29, 2012

Is New York Jets quarterback Tim Tebow hiding his girlfriend from America?
US Olympic hurdler LoLo Jones sure thinks so.
In a Twitter conversation with Tebow's Jet teammate Nick Mangold, Jones spilled the beans that Tebow may not be the bachelor America thinks he is:
@nickmangold thanks Nick but i actually heard tebow has a girlfriend he just isn't saying it publicly. the search continues...

— Lolo Jones (@lolojones) May 29, 2012
And the plot thickens...
Jones has recently been linked to Tebow. Then, an HBO Real Sports profile on her revealed to the world that the 29-year-old is a virgin...just like Tebow. So, naturally, people assumed they were dating. Apparently virgins stick together in the eyes of America.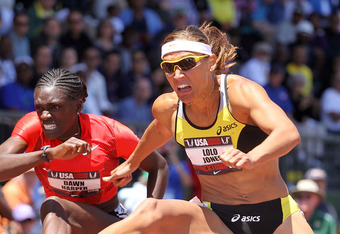 Andy Lyons/Getty Images
Jones has yet to come out and say she would date Tebow, but if you read her recent interview with the New York Daily News, I think you can read between the lines:
I should actually have one of these, so that you guys can contact him and tell him that I need a date. Whatever actor is watching this and you're single and you are hot, I am single as well. Hit me up after the Olympics.
Bad timing, LoLo. The football season will be in full-swing when the Olympics are over. 
So, once again, we are left at a dead end.
Tebowmania has certainly simmered since the end of the football season, but there seems to be no shortage of people who are dying to know about No. 15's personal escapades.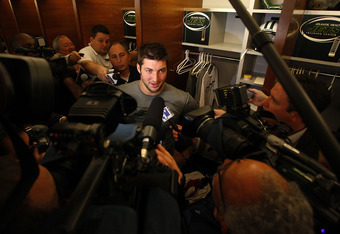 Jeff Zelevansky/Getty Images
Why is everyone so infatuated with his love life?
It's simple really: 1) He is a virgin, an almost extinct breed in professional sports. 2) He's good looking. 3) He has kept all of his previous relationships completely under-the-radar.
Seriously, search the Internet waves all you like. You will not find a shred of evidence that Tebow has ever had a significant other. Considering that he went to college at the University of Florida, it seems rather far-fetched to have gone through 24 years of life (including four at a major university) without a single meaningful relationship with the opposite sex.
Back in March, he was linked to country singer Taylor Swift, and then to actress Dianna Agron. This was after rumors were swirling that he was dating Olympic skier Lindsey Vonn.
The case has yet to be solved. If Tebow is secretly dating somebody, though, you have to give him props for keeping it under wraps, because right now, he is under a larger microscope than the president with the New York media.
And the mystery continues...