Orlando Magic: Why Dwight Howard and Shaquille O'Neal Couldn't Coexist
May 29, 2012

Mike Ehrmann/Getty Images
Shaquille O'Neal turned down an offer to interview for the Orlando Magic's general manager position—and thank goodness he did.
I'm not sure what the Magic front office was thinking. Many Orlando fans still hold bitter feelings toward Shaq, and he is the poster man-child for leaving a small-market and moving to a bigger one and winning championships.
Ever since Shaq called out Howard in March for not committing to the Magic long-term, Orlando's superstar center has only grown increasingly conflicted. Howard wants to win immediately, but doesn't want to follow in Shaq's footsteps by abandoning his first home.
Howard also doesn't want to take orders from has-beens, even if they are future Hall of Famers.
Shaq might have regrets about leaving Orlando, but it's easy for him to tell Howard to stay after he left and won four NBA championships. It's unlikely he would have won that many had he stayed with the Magic.
Why would the front office want to bring in a guy who has already had issues with your star player, and who's argument for Howard staying could ever be taken seriously?
If you thought Stan Van Gundy had a big mouth or ego, it's nothing compared to Shaq. He has always been a larger-than-life personality. Van Gundy had enough and wasn't going to deny the fact that Howard wanted him gone any longer.
He fired back at Howard and outed his demand to fire the coach. Shaquille O'Neal would never have a problem exchanging harsh words with his player, even if it's at the expense of the franchise.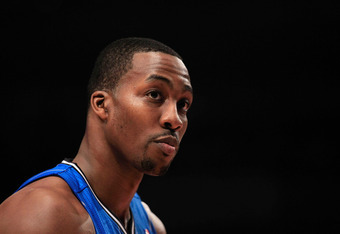 Chris Trotman/Getty Images
They would've been two of the ultimate alpha dogs refusing to back down from one another. I think it would've caused more problems and driven Howard away that much faster. 
The Magic seemed to have targeted O'Neal for one reason—to somehow keep Howard in Orlando.
But what if Shaq was unable to?
What then?
Orlando needs to hire a general manager, not to keep Howard, but to deal with the situation in the best way possible. If that means trading him, they need someone who can orchestrate a deal to set up the franchise for the future.
Even if they can keep Howard happy in Orlando, they need someone who can make a blockbuster trade or lure a prized free agent to help out their All-Star center.
I don't think O'Neal has the general manager know-how to pull off a trade that brings in another all-star caliber player.
He might be able to convince a guy like Deron Williams to come play for him. But, as many teams have found out recently, counting on free agency to solve all your problems is not a reliable plan.
The Magic should be happy they didn't interview O'Neal. They need to move on from their desire to bring in a big name.
Instead, they need to hire a crafty general manager that can make a positive, franchise-changing transaction.