Is Baltimore Ravens OC Cam Cameron on the Hot Seat?
May 29, 2012

Rob Carr/Getty Images
Baltimore Ravens offensive coordinator Cam Cameron joined the team in 2008, the same time as quarterback Joe Flacco, and has helped the team along to reaching the playoffs in each of the four years he's been calling the plays.
However, that doesn't mean Cameron is without his detractors. From fans, to NFL Films senior producer and expert Greg Cosell, the gripes about Cameron are the same—his plays are predictable and simplistic, that nothing changes even when personnel is replaced, that the passing offense is the only area of liability for an otherwise strong Ravens team.
So despite his successes, Cameron's seat is getting ever-warmer with each passing season that Baltimore fails to reach the Super Bowl.
In terms of total yards last season, the Ravens had the 15th-best offense in the league, but they ranked just 19th in passing yards. Much of the Ravens' offensive success last year had to do with the impressive performance of running back Ray Rice, who had the most yards from scrimmage of any player in 2011.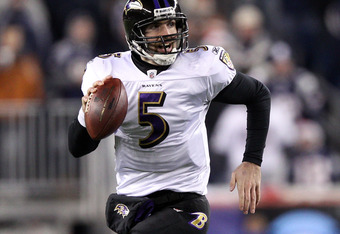 Elsa/Getty Images
While issues regarding Flacco's consistency and a young receiving corps played a part in the somewhat flat Ravens' passing offense last year, Cameron's playcalling was also at fault.
As Cosell noted when speaking on the Sirius/XM NFL Blitz last fall, the Ravens have an "archaic" offensive philosophy, with plays and formations that echo the way the game was played in the 1960s.
He claimed the system lacked the kind of variety that leaves opposing defenses guessing, only employs two basic routes in the route tree and failed to effectively use a No. 3 receiver.
It's not as though Cosell's word is gospel, of course, but he also watches far more tape than your or I and has far more knowledge of the game than most people who cover it, so he's certainly onto something. 
If anything, Cameron's playcalling is simplistic and conservative. This has worked out fairly well during his tenure, but the Ravens' offense has never been explosive as its defensive counterpart and, as such, doesn't get much credit for the team's overall success.
With an offense that's as strong as the defense, the Ravens would be an unstoppable team. As of now, they're a very good team, but not a complete team. 
Cameron's plays are slow-developing. There isn't a lot of opportunity for Flacco to audible. Flacco's development as a quarterback has seemed to plateau during his time working with Cameron, and it's hard to believe that it's all the fault of Flacco or that he's not capable of improvement.
Much like the Pittsburgh Steelers, the Ravens may seek a change at offensive coordinator at the close of this upcoming season, simply in order to spur some offensive evolution. Cameron has a system that he's comfortable with, but not one that has caught up with many of the innovations we've seen of late, especially in the passing game.
Wins help job security, to be sure, as do playoff appearances. But without progress on offense, regardless of how the Ravens end the 2012-13 season, Cameron may find himself out in Baltimore simply because it may finally be time for a change.