New York Rangers: 5 Free Agents the Rangers Must Re-Sign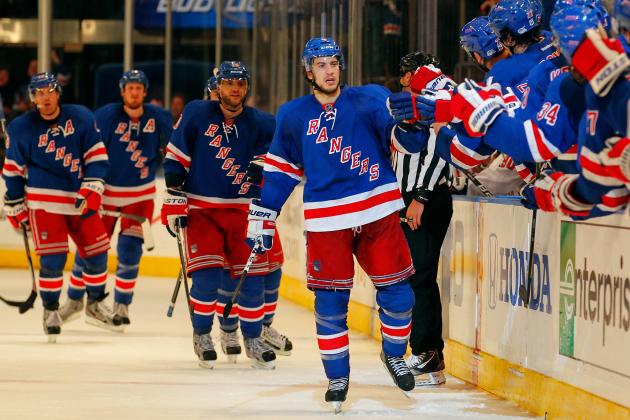 Paul Bereswill/Getty Images

Despite falling short of the Stanley Cup, the New York Rangers had a great season.
The best record in the Eastern Conference.
Back-to-back wins in elimination games in the first round.
A triple overtime win on enemy ice.
A second crucial Game 7 victory.
The Rangers also managed to win two games against the Devils, despite being outplayed for nearly the entire series.
20 playoff games is incredibly taxing and by the end of the Devils series, it was clear that the Rangers were near exhaustion.
The good news is that the Rangers were led by a core of young, talented players and most are locked up at least through the Summer of 2013. Most, but not all.
If the Rangers want to get to the Stanley Cup Finals next year, they should make their summer priority re-signing these five players.
Begin Slideshow

»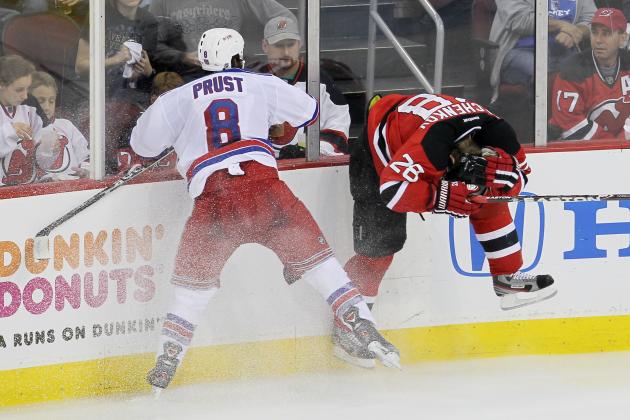 Jim McIsaac/Getty Images

When Prust was suspended in Game 3 against the Devils for an elbow on Anton Volchenkov, the Rangers looked nearly lifeless in a Game 4 loss without his energy.
The Rangers recipe for success is all about energy, effort and sacrifice for the good of the team.
Besides Callahan, I don't think any Ranger exudes these qualities more than Prust.
I also don't think the Rangers would have made it out of the first round of the playoffs without Prust picking this fight against Chris Neil in an elimination Game 6, with the Rangers losing. Neil had knocked Boyle out of the last game and Prust's determination to not only goad Neil into the fight, but to land some punches after Neil started stronger, inspired the Rangers to victory that night and in the series.
Prust is an unrestricted free agent this summer, and at 27, entering the prime of his career.
The Rangers must re-sign Brandon Prust.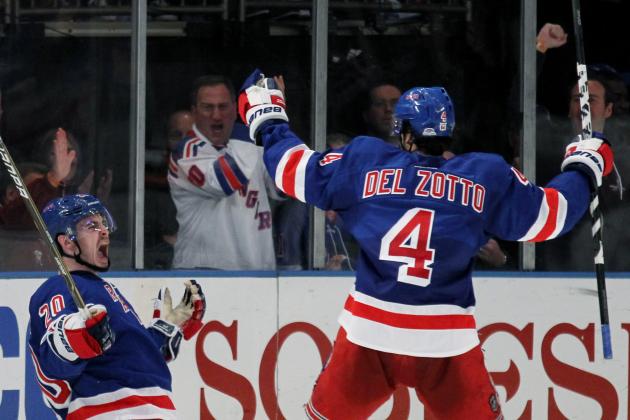 Bruce Bennett/Getty Images

During the regular season, Michael Del Zotto led all Ranger defensemen with 41 points.
Del Zotto really had a stellar year and postseason, besides one benching spell against the Devils.
If it weren't for Dan Girardi and Ryan McDonagh each looking like the reincarnation of Brian Leetch, Del Zotto would be the priority for the Rangers this summer.
Even with Girardi and McDonagh, Del Zotto should be a key piece in the Rangers' future plans. Del Zotto is only 21 years old and has already shown exceptional talent, instinct and speed.
He had a couple of high-profile mistakes during the playoffs, but I attribute that to age and being a little unlucky.
Del Zotto is a restricted free agent this summer and the Rangers should try to lock him up early.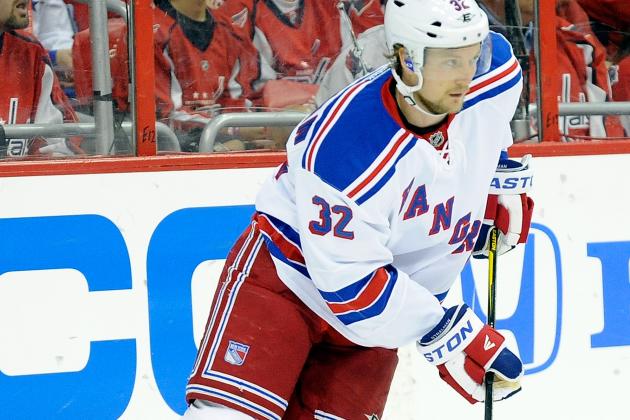 Greg Fiume/Getty Images

Anton Stralman had a very good postseason.
His six points (three goals, three assists) were more than McDonagh or Hagelin contributed.
However, the best argument for Stralman is Tortorella trusts him and the Rangers seriously lack depth on defense.
Girardi, McDonagh and Staal each averaged over 25 minutes per game this postseason. Nearly two minutes more than any teammate, besides Lundqvist.
The Rangers need to disperse those minutes among more defenders so the top two lines have the energy to play into June. Stralman is capable of handling those extra minutes.
Stralman had a plus 9 rating during the regular season and played meaningful minutes in every postseason game.
He is also only 25.
I think Torts and Sather will re-sign Stralman because they know the quality he brings every night.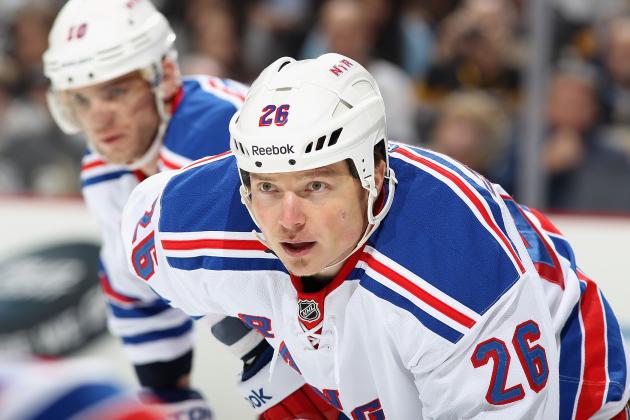 Christian Petersen/Getty Images

Ruslan Fedotenko had the best plus/minus of any Ranger this postseason.
Fedotenko is also a left winger. Another position in which the Rangers lack depth.
Unless the Rangers think Sean Avery will be back next season, they need to add some left wingers.
The catch with Fedotenko is that he's 33 and he's not Jaromir Jagr.
As an unrestricted free agent and with more years in the NHL behind him than in front of him, Fedotenko may have a tough time finding a lucrative or long term deal.
If that's the case and the market for Fedotenko is reasonably priced and he's not looking for a contract that expires on his 40th birthday, I think it would be good business for the Rangers to re-sign Fedotenko.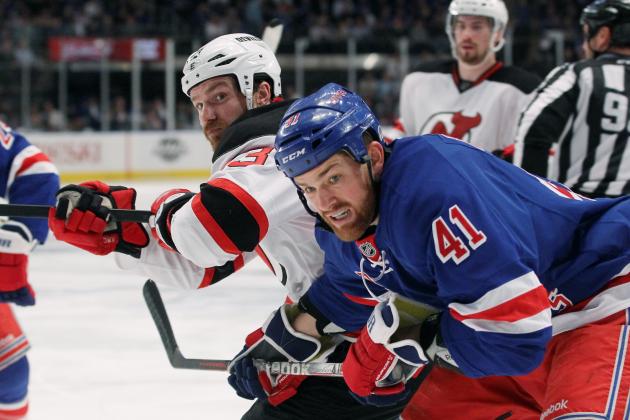 Bruce Bennett/Getty Images

Out of the five players discussed, Stu Bickel is the third defensemen.
This is no coincidence. As stated before, the Rangers were over-reliant on too few defensemen during the playoffs.
Stu Bickel actually filled in for Prust as a forward when he was suspended in Game 4 against New Jersey.
Despite Bickel's average ice time decreasing in the playoffs, he showed great flexibility to be able to play forward in such an important game. That also shows the trust Tortorella has in him.
The Rangers have a great nucleus of young and talented defenders, but they just need more of them.
At 6'4" and 207 pounds, Bickel has the size and flexibility to add value to the Rangers next season.
As a 25-year old unrestricted free agent, he will most likely test the waters but maybe the faith Torts has in him means Bickel is most comfortable staying in New York.
Of course, if Bickel can't find a deal, he can always rekindle his acting career.
The Rangers were two wins away from the Stanley Cup Finals. Hopefully, re-signing these five players will make next season not only great, but historic.