NBA Playoffs 2012: Los Angeles Lakers Post-Mortem
May 29, 2012

Ronald Martinez/Getty Images
It's taken me days to come to terms with the end of the Lakers season—mostly because it also has the feel of the end of an era. I didn't want to see that truth in print staring back at me.  
For the second year in a row, the Lakers have been dispatched in the second round. That is not what this organization is all about. Changes are coming. Mitch Kupchak said so, point blank.
And if the shot of him in the stands that TNT's cameras caught in the final game is any indication, everyone not named Kobe Bryant is in play.  
Pau Gasol is probably going to get traded. I won't be surprised if the Lakers amnesty Steve Blake, as there is no reason to keep him with Ramon Sessions now in the fold. Defensively, they are a wash. However, Sessions is younger, faster and willing to shoot the ball. Blake's hesitation to shoot when he is wide open is a liability.
We'll see what happens with Jordan Hill, whose hustle was a nice surprise towards the end of the year. 
I'm sure the Lakers will pick up Bynum's option for at least the next year. After that, who knows?
I think Bynum wants to be "The Man." Unfortunately for him, that job is currently held by No. 24. And Bynum did himself no favors with his petulance and his "I'll play when I want to" attitude. Plus, it's really never a good idea to blow off a meeting with the GM.  
I think Bynum thinks he is golden because he is perceived to enjoy Jim Buss's favor. But I'll go out on a limb and guess that the franchise is more important to the Buss family than a young, immature center, especially when you consider that he already has seven years in the league.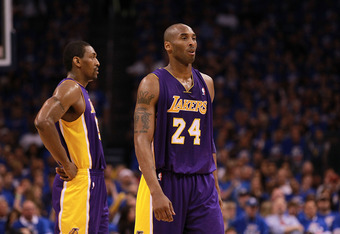 Ronald Martinez/Getty Images
Bynum really blew his chance to show that he could step up when he showed a terrible lack of effort during Kobe's flu game. In spite of being terribly sick, Kobe came to play and Bynum didn't have his back.
That, in a nutshell, is why Kobe is still the leader of this team.
Don't listen to anybody who says: Trade Kobe. NOT. HAPPENING.  Not only is his contract prohibitively expensive, Kobe has an iron-clad no-trade clause. And he already made it clear that he plans on finishing out his career in the purple and gold.
I'll bet the Lakers keep Metta World Peace, not only because I doubt anyone will pick up his contract, but because RonRon was one of the few Lakers that consistently gave effort game in and game out. Plus, the Lakers need his physicality going forward. I'm not excusing the "elbow of doom," but they need somebody able to battle opponents' young, aggressive players.  
I am baffled by Matt Barnes' falloff in the playoffs. I have to believe that his ankle was much worse than anyone was letting on. 
I have nothing to say about the rest of the bench. They showed a shocking lack of production.
I will, however, give a pass to the two rookies, Darius Morris and Andrew Goudelock. I didn't see enough of Morris to form an opinion and I believe the Lakers coaches made a terrible error in not giving Goudelock more playing time throughout the season.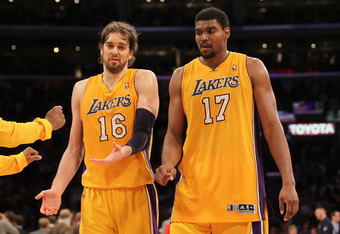 Stephen Dunn/Getty Images
The Lakers desperately needed someone besides the big three to manufacture points, and Goudelock can shoot. He needs to spend the whole summer in the gym working on his game. And come next fall, he needs to see major minutes. He's young, motivated and relatively inexpensive; he should be playing. 
So back to the "end of an era" thoughts.  
The Lakers are no longer the top dog in the Western Conference. They're old, slow and lack depth. They need youth, speed, physicality and sharp shooting in order to stop the contenders in the conference that currently sit above them.  
A more creative coaching staff could perhaps have camouflaged some of those deficiencies, and we saw, especially in the Denver series, how a lack of coaching creativity and hesitance to make adjustments hurt the Lakers. They were lucky to survive that series, because George Karl outcoached Mike Brown.
I always say that teams need to build for who they are likely to see in June. Denver, OKC and the Clippers are not going anywhere, and they all share the same characteristics: speed, youth, shooting and quality point guard play. The Lakers just do not have an answer for that as presently constructed. 
So change is coming. Mike Brown will get one more year to try to figure this out. I'm not on board with him as the long-term coaching answer, but in fairness, the lockout-shortened preseason and upheaval of personnel did limit his options.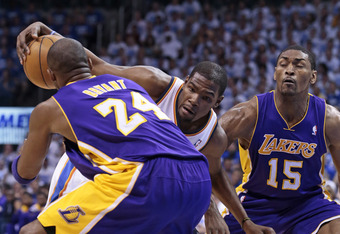 Brett Deering/Getty Images
What I will not give him is a pass for is the "you're replacing a legend" apologists. Brown knew the expectations full well when he accepted the job. I understand that he wanted to install his own Lakers offense, but I personally think that it was mistake to completely eliminate the triangle offense.
I would have liked to see a blend of old and new, particularly because Brown's traditional point guard-driven offense exposed the Lakers' weakness at that position. In Phil Jackson's triangle, the point guard is not so pivotal.
In the end, I keep coming back to the aborted Chris Paul trade. The effects of David Stern's action had a far-reaching ripple effect not only this season, but inevitably going forward. I just don't think the Lakers ever recovered mentally. 
Pau Gasol never seemed at peace this season. Lamar Odom (a critical bench player) was shipped to Dallas, where he sulked his season away. The chemistry of the team hasn't been right all year. 
Unless things change drastically, I fear next year will only be a repeat of the last two: good, but not elite; playoff-bound, but not championship-caliber.
It's going to be difficult to turn this around. The Lakers are hamstrung by salary cap issues, some huge contracts, no high draft picks and the new CBA, which is very punitive toward big-money teams like the Lakers. Mitch Kupchak has his work cut out for him.  
Lakers fans, cross your fingers that he can work some magic. And then we all have to hope that David Stern doesn't blow up all his efforts again in the name of "basketball reasons."
Otherwise, it's going to be a long disappointing season next year too.