NBA Playoffs 2012: Spurs and Celtics Prove Basketball Can Be an Old Man's Game
May 29, 2012

Ronald Martinez/Getty Images
Older is better.
It's true in several facets of everyday life and in these NBA Playoffs. Following this wild and woolly, abbreviated season, it's true in basketball.
What the San Antonio Spurs and the Boston Celtics have accomplished up to this point is, at the very least, slightly startling. Here are two of the oldest teams in the NBA, both featuring long-tenured stars with abundant miles on their respective odometers, each just a series win away from the Finals.
Both teams are making the idea that there's such a thing as being "too old," look foolish.
The Spurs, who came into this season having lost in the first round of the Western Conference playoffs twice in the last three years and hadn't been to the Conference Finals since 2008, are three wins away from a chance to play for their fifth title since 1999.
Along the way, they've vaporized younger, more agile-looking teams like the Utah Jazz and Los Angeles Clippers. They've won 18 straight games (including nine in these playoffs) with two of their top three players, and three members of their regular rotation at age 33 or older.
Now locked up in a western conference finals matchup against a team looking to become the next version of San Antonio in the Oklahoma City Thunder, the Spurs used their experience, guile and mettle to rally against then outlast their younger, fresher opponent in Game 1 on Sunday night, adding another chapter to the tome they've been writing as an organization for 13 years.
The Celtics aren't in as good shape as the Spurs. They've been playing .500 ball since Game 5 of their first round series against Atlanta and look less and less likely to get the opportunity to play for their 18th banner seemingly every time out.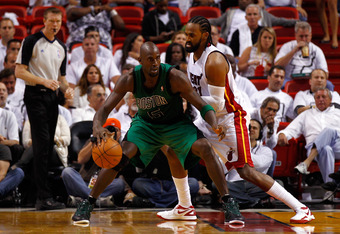 Mike Ehrmann/Getty Images
Injuries have decimated this team to the point that Ray Allen, one of three veteran, sure-fire Hall of Famers, who is also known for being one of the greatest shooters of all time, can barely get enough lift from the free throw line and looks painfully limited on both ends.
Still, the C's have gotten this far. And they've beaten two significantly younger, arguably more talented teams in the Hawks and Sixers to do so.
Thanks to their collective years of experience, particularly in the postseason, the Celtics possess an inordinate amount of mental toughness. They keep coming back, especially when they put themselves in unenviable positions.
Even when it looked like they had nothing left in the second quarter of Monday night's game 1 loss in Miami, they scored 35 points and flummoxed the younger, stronger, faster Heat on the heels of a putrid, 11-point first frame.
The Celts, running on fumes, disappeared in the second half of Game 1 and lost pretty badly. But that second quarter represented what's been a hallmark of this team not just this season, but for multiple years now.
Knock them down and they'll get right back up. That's age, heart and experience.
Both of these two teams have the hearts of champions. Both feature younger, incredibly dynamic floor generals. Both are led by one of the top coaches in the league.
They may not both go any further than where they are now. OKC and Miami are the future of the league and it stands to reason that both will win at least one title when this era is all said and done.
But don't count either the Spurs or the Celts out yet. They may be old, but that just means their really, really stubborn, too.