Eli Manning: Will He Have a Worse 2012 Than Tony Romo?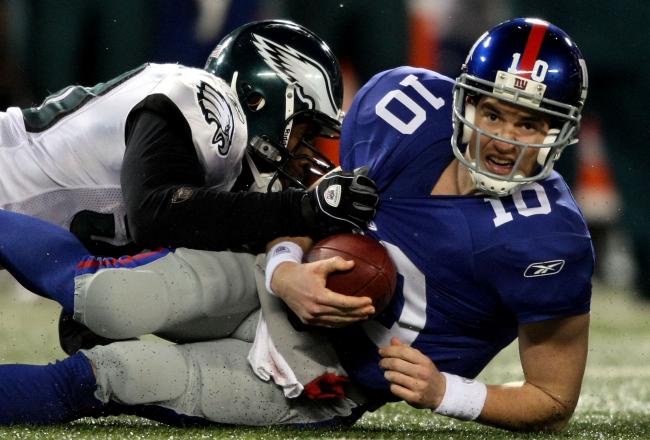 Rough Times Ahead?
Nick Laham/Getty Images
Eli Manning is an elite quarterback, but he may be headed for a fall in 2012. Tony Romo, meanwhile may enjoy a far better year.
Manning has proved his worth with the one stat that matters most. And it's two.
As in two Super Bowl victories. In addition to that, he has a number of other stats that look pretty impressive.
According to Pro Football Focus, Eli Manning is the top NFL quarterback under pressure. PFF defines pressure as an oncoming pass rush. Their overall ranking on this measure doesn't penalize for dropped passes, which is good, because Manning's receivers dropped 11 passes in 2011 when he was under pressure.
PFF also has their own quarterback rating, which takes into account throw aways, spikes, dropped passes and yards in the air. Based upon this rating, Eli is one of the top-rated passers, with a rating of 91.8.
In addition, Manning is a good deep passer. His 43 completions on deep balls in 2011 were better than any other quarterback.
What's more, Manning accomplished all of this while facing more pressure than any other elite QB in 2011. Manning was under pressure on 38.9% of his passes.
And yet, there are number of reasons to suspect that Tony Romo will actually have a better year in 2012.
Here are a few: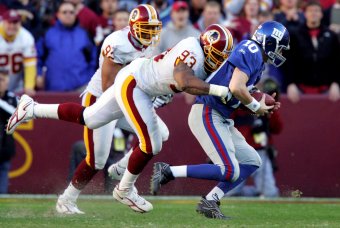 Manning: Swept by Redskins in 2011
Jim McIsaac/Getty Images
The fact that Manning was under pressure more than any other top quarterback in 2011, speaks to the weakness of the Giants offensive line.
While 2011 was kind to Manning, it's asking an awful lot to expect him to repeat that performance in 2012, given the improvements the opposition is making on defense.
The Giant's took two offensive tackles in the fourth and fifth round of the draft, but that's a bit late to be taking tackles that could help right away. So the offensive line doesn't look like it will be improving much any time soon.
The odds then, favor a down year for Manning, as he must face Dallas' drastically improved secondary and Philadelphia's already dangerous defensive front that now features Fletcher Cox. And there is the Redskins defense, which swept Manning last year.
Other indications that Romo will have a better year:
Romo has seven TD's and four interceptions when under pressure. Manning has seven TD's as well, but seven interceptions to go along with them.
Manning threw 16 picks last year and a whopping 25 picks the year before. Romo threw 10 picks last year and 7 the year before.
Romo is the second best deep passer in the league. Second only to Aaron Rodgers. He also has more deep-pass TD's than Manning, despite making 48 fewer attempts.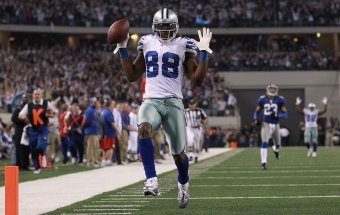 Dez Loves the Deep Ball
Ronald Martinez/Getty Images
Romo only threw two interceptions on deep balls in 2011, compared to Manning, who threw seven.
While the Giants have done little to solve their problems on the offensive line, Dallas has done a great deal. They signed two veteran guards in the off season and brought in Bill Callahan, one of the most respected line coaches and offensive coordinators in the NFL.
Callahan has set rushing and/or passing records at nearly every stop he has made.
He set franchise records in both rushing and passing while at the Raiders, set rushing records while at the Jets and set several offensive records while head coach for Nebraska.
Add to this the fact that Dallas found a steal in the third round of the 2011 draft in DeMarco Murray, a running back that the Giants passed on three times before Dallas selected him.
During the stretch from his first start up to the point when he broke his ankle against the Giants, Murray was the most productive back in the NFL.
Murray's big play ability will take pressure off of Romo and set up the play action pass.
Manning is great quarterback and he clearly leads Romo in the most important statistic: Super Bowl victories, but due to the Giant's unwillingness to fix their offensive line, Romo will likely enjoy a better year in 2012.
This article is
What is the duplicate article?
Why is this article offensive?
Where is this article plagiarized from?
Why is this article poorly edited?

New York Giants: Like this team?