WWE: Monday Night Raw Is Just as Good Without John Cena
May 29, 2012

After the obligatory shout out to the troops for Memorial Day, we were "treated" to a recap of the John Cena/John Laurinaitis/Big Show drama.
During the opening live segment, Cena was one of the many superstars The Big Show named when he went through the list of peers he felt had betrayed him.
Towards the end of the show, we watched a pre-recorded message from the leader of the Cenation addressing the holiday.
Whenever the announcers on Raw say that a wrestler isn't here for the evening, you never have to believe them. So whether or not they brought up Cena's absence from the show, I still assumed he'd make an appearance during the last segment to help Brodus Clay keep his undefeated streak in tact.
When Raw was over and I realized Cena really hadn't shown his face, a smile grew on mine. But not for the reason you might think.
Sure, I was (and still am, for the most part) a Cena hater. I respect the man as much as anyone else in the business, but I love to hate the character.
The Miz defeating John Cena at WrestleMania 27 will probably go down as my all-time favorite live WrestleMania moment (I've attended every year since WrestleMania 23 in Detroit). The Rock defeating Cena at this year's WrestleMania is probably my third.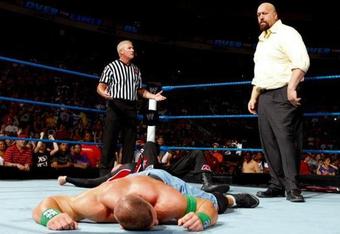 But I'm mostly over that now. He's not hogging the title scene anymore, and his character has allowed for guys like Big Johnny and the Big Show to get over as much-needed heels. He lost to The Rock, was "injured" by Lesnar and then lost to an executive: the Super-Cena is dead.
So if I don't hate Cena the way I once did, then why the smile about his absence from Raw?
It's because WWE is at a place where they don't need Cena, and they proved it on Monday. The WWE is so stacked that they can run their flagship show without their go-to man, and everything feels just fine.
You don't even have to look at Raw to see that. Let's look at Over the Limit. If you take away the Cena/Laurinaitis match, you still had two matches that could headline any pay-per-view: CM Punk vs. Daniel Bryan for the WWE Championship, and Sheamus/Del Rio/Orton/Jericho for the World Heavyweight Championship. Both matches delivered at a level that would have ended any major WWE PPV with the proper amount of gusto.
WWE is no longer dependent on John Cena.
Even if Cena was injured for WrestleMania 29, it would go down without a hitch. With names like The Rock, Brock Lesnar, CM Punk, Daniel Bryan, Sheamus, Alberto Del Rio and Randy Orton already on board—plus rumors of Steve Austin making a return, plus an assumed Undertaker match, plus the possibility of other superstars finally reaching (or returning to) the top—Cena could go without a single mention at WrestleMania 29, and it would still have just as much potential as any WrestleMania in history.
John Cena, you will always be a priceless asset to the WWE, but as a fan, it feels good to know we'll be fine without you.