MLB Trade Speculation: Every MLB Team's Biggest Need Heading into June
With the versatility of Kevin Youkilis, several teams could be in the hunt for his services.
Rob Carr/Getty Images
As the 2012 MLB season approaches the end of its second month, a wide variety of circumstances and events have occurred that has caused both surprises and disappointment.
Between season-ending injuries, poor performances and hot starts, the standings feature some teams that normally wouldn't be seen at the top. Conversely, teams looking up from down below in some cases are not used to the view, either.
Only one of last year's division winners (Texas Rangers) can be seen at the top of the standings as of Tuesday night's games, and three of last year's playoff teams (Tigers, Brewers, Diamondbacks) are currently under .500.
So, just what can we gather from the first two months? Glaring holes, that's what.
Bleacher Report will take a look at each team's most glaring need headed into the month of June, with possible solutions for each team. For teams not in contention, we'll explore options other than trades.
Arizona Diamondbacks: Everyday Third Baseman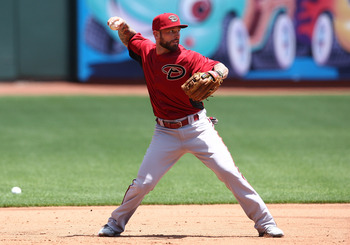 Ryan Roberts has been the main guy at third for the D-Backs, but his .227/.288/.328 slash line doesn't exactly inspire confidence.
Tony Medina/Getty Images
The Arizona Diamondbacks have employed five men at third base this season—Ryan Roberts, Cody Ransom, Josh Bell, John McDonald and Geoff Blum—combining for a .221/.287/.370 slash line, not numbers that are needed at a power position.
Yes, the D-Backs need to get both Ian Kennedy and J.J. Putz back on track, but neither of them are going anywhere, and both could easily bounce back. The same can't be said about third base.
Possible Solutions
Kevin Youkilis: Youkilis is healthy once again and back in the Red Sox lineup. With the emergence of Will Middlebrooks at third, Youkilis could be a prime target for several teams.
Ty Wigginton: If the Philadelphia Phillies are in selling mode, could Ty Wigginton be made available? Currently hitting .256 with four HR and 22 RBI in part-time duty, Wigginton could provide a nice lift.
Atlanta Braves: Starting Pitching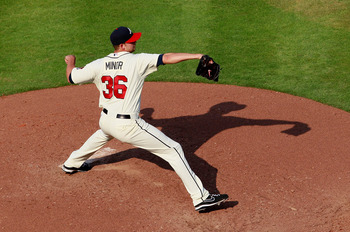 Mike Minor has been a major disappointment thus far in 2012.
Kevin C. Cox/Getty Images
Wow, what a difference ten days make. On May 20, after taking two of three games from the Tampa Bay Rays, the Braves were in first place, 1.5 games ahead of the Washington Nationals.
Now, before their Tuesday night contest against the St. Louis Cardinals, they sit in last place in the NL East, having been caught by the Philadelphia Phillies, and four games back.
What exactly happened? Well, pretty much everything when a team gets mired in a slump.
A lack of timely hitting for sure, but the starting pitching, thought to be a strength at the beginning of the season, has been the real bugaboo for this Braves' team. After Tommy Hanson's Memorial Day stinker against the Cardinals, the Braves' rotation has a 4.33 ERA, fourth-worst in the National League.
One of the Braves' bright young prospects, Mike Minor, is clearly struggling with a 2-5 record and 6.98 ERA. Manager Fredi Gonzalez has been patient, but that patience will eventually wear thin.
The Braves have a great stable of young arms almost ready to make an impact, but GM Frank Wren could very well opt to turn to a veteran starter that can help out immediately.
Possible Solutions
Jonathan Sanchez: Despite a rough start to the 2012 season (1-2, 6.75 ERA), Sanchez could be benefited with a return to the National League. Currently on the disabled list with a biceps issue, Sanchez is scheduled to make a rehab start today with Triple-A Omaha and should be back to full health.
Jason Vargas: With the young stable of arms in the Seattle Mariners' organization, could Vargas be made available? Vargas has pitched well thus far (5-4, 3.39 ERA in 11 starts) and is a relatively inexpensive option ($4.85 million this year).
Baltimore Orioles: Starting Pitching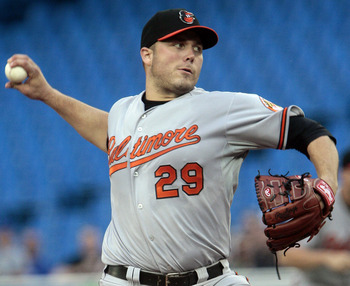 With Tommy Hunter's shaky outing in Toronto on Monday, starting pitching remains a concern for the O's.
Abelimages/Getty Images
With a record of 29-20, the Baltimore Orioles are sitting atop the ever-competitive AL East, tied with the Tampa Bay Rays entering action on Tuesday night.
While the O's have been supported by the second-best bullpen in baseball (2.33 cumulative ERA), the starting rotation has been decent but not great. Its collective 4.33 ERA is good for ninth in the American League, but recently chinks in the armor have emerged.
While Jason Hammel (6-1, 2.78 ERA) and Wei-Yin Chen (4-1, 3.39 ERA) have been outstanding, the other three—Jake Arrieta, Brian Matusz and Tommy Hunter—have floundered.
Collectively the three have combined for an 8-13 record and 5.09 ERA. GM Dan Duquette would no doubt love to make changes, but he doesn't have any internal options at this point.
Possible Solutions
Joe Saunders: If the Arizona Diamondbacks continue flailing away in the NL West, GM Kevin Towers could make Saunders available. Saunders was brought back on a one-year deal, essentially serving as a bridge to the great stable of young pitchers in the D-Back's system, so he's clearly not a part of their future.
Boston Red Sox: Back-End Starters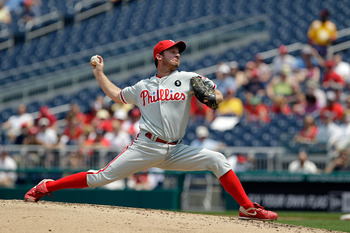 Rob Carr/Getty Images
It would have sounded really repetitious if I used the term starting pitching for a third consecutive team.
But there is definitely a pattern developing here: Contending teams—and even teams assumed to be out of it—need starting pitching.
For the Boston Red Sox, No. 3 starter Clay Buchholz has been an enigma all season long, and No. 4 starter Daniel Bard has been decent at times. One can't help but feel that Bard is misplaced where he is and belongs back where he started—in the back end of the bullpen.
Possible Solutions
Daisuke Matsuzaka: Yes, I know, Dice-K is already on the team, but his return would be in lieu of a trade or free-agent acquisition if he proves to be effective after Tommy John surgery. There is no current timetable for Matsuzaka's return.
Randy Wolf: Wolf could very well be made available by Brewers GM Doug Melvin if Milwaukee continues sliding in the standings. However, there have been no rumors at all to that effect.
Wolf is owed $9.5 million this year with a $10 million option for next option for next season. Wolf has never pitched in the American League—not sure if that's in his favor or not.
Chicago Cubs: An Effective Closer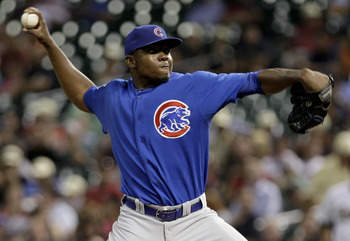 You can now add Rafael Dolis' name to the list of failed closers in Chicago.
Thomas B. Shea/Getty Images
The Chicago Cubs have now officially removed two closers from their role—Carlos Marmol and Rafael Dolis.
Dolis was removed on Sunday by manager Dale Sveum after four consecutive outings in which Dolis threw more balls than strikes.
On May 4, Sveum had fired Marmol as the closer after he watched Marmol blow a three-run lead the night before to the Cincinnati Reds.
There's a chance that Marmol could regain the role after spending time on the disabled list with a strained hamstring, but Sveum has indicated for now that James Russell and Shawn Camp will be given opportunities to close games.
Possible Solutions
Neither Camp or Russell have vast experience in closing, and Marmol could regain the role if only to increase his trade value. Considering the Cubs' current record (16-32) and the likelihood that they're not going anywhere, answers will likely come from within.
Chicago White Sox: Upgrade at Third Base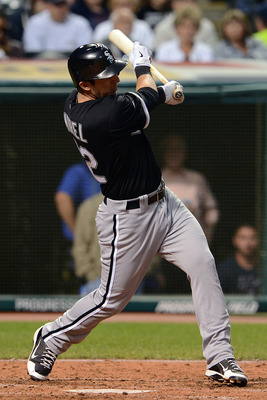 White Sox third baseman Brent Morel is starting a rehab assignment this week, but will he return new and improved?
Jason Miller/Getty Images
Chicago White Sox third baseman Brent Morel was already suffering through a miserable season when he was placed on the disabled list on May 22 for a lower back condition, retroactive to May 18.
Morel has been taking grounders and will likely start a rehab assignment at Triple-A Charlotte on Tuesday or Wednesday. Morel could be back in the lineup as early as next week.
However, will a new Brent Morel emerge from rehab? Because the old one just wasn't very good.
Morel was hitting .177 with no homers and just five RBI at the time of his injury. It's entirely possible his back was the cause of his slow start, so only time will tell.
Orlando Hudson was signed as a replacement, but considering his woeful offensive production over the last two years or so, he's not really a viable everyday option.
Possible Solutions
Kevin Youkilis: Very doubtful, but one never knows, does one?
Chase Headley: Will a purge be coming in San Diego, and could Headley be one of the casualties?
Cincinnati Reds: Outfield Depth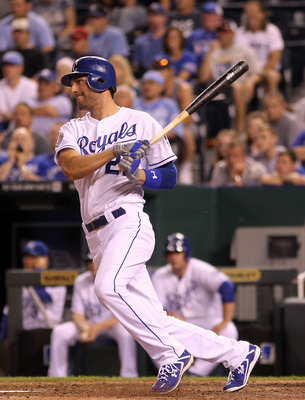 Jeff Francoeur's production would be a nice bonus in Cincinnati.
Jamie Squire/Getty Images
The Cincinnati Reds sit at the top of the NL Central standings, just a half-game ahead of the St. Louis Cardinals. Certainly a nice turnaround thus far from a disappointing effort in the 2011 season.
The Reds have surged lately, getting quality starting pitching, outstanding relief help and consistent production from their infield and from behind the plate. However, the outfield remains inconsistent at best.
Drew Stubbs and Jay Bruce can be offensive forces at times, but can also be liabilities at others, putting up big strikeout numbers during the down times. Ryan Ludwick is hitting just .208, and Chris Heisey has just one homer with 11 RBI, not the optimum production needed from the corners.
Possible Solutions
Carlos Quentin: Now that San Diego Padres outfielder Carlos Quentin is finally healthy, what are the chances he stays there? He's already making $7 million and eligible for free agency next season, so the Padres could try to move him. In addition, with the ownership situation still in flux, signing Quentin is a long shot as long as current ownership is in place.
Jeff Francoeur: The Royals are likely to be sellers, and Francoeur will draw interest. While no rumors have been circulated regarding Francoeur, is anyone's job in Kansas City ever really safe?
Cleveland Indians: Productive First Baseman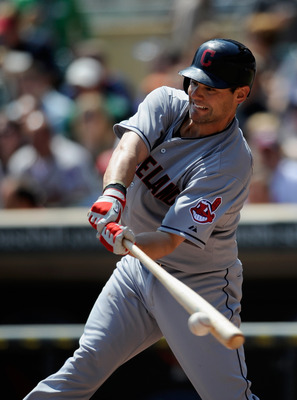 Hannah Foslien/Getty Images
With a .220/.298/.327 slash line in 42 games with only three HR and 16 RBI, Casey Kotchman has not provided much more offense for the Cleveland Indians at first base than what Matt LaPorta gave them last year, which wasn't much either.
At 27-21 and holding a slim half-game lead over the Chicago White Sox in the AL Central, the Tribe needs a whole lot more production from that position, and Kotchman just hasn't been, nor is he, the answer.
Possible Solutions
Kevin Youkilis: Again, Youk's name is in play here. He is a former Gold Glove Award winner there and, when healthy, can produce a whole heckuva lot more than Kotchman could ever even dream about.
Adam Lind: Lind was sent down to Triple-A two weeks to work out his hitting woes. Currently hitting .300 with a .447 OBP and three homers at Triple-A Las Vegas, Lind does seem to be working through it. However, GM Alex Anthopoulos isn't averse to shipping struggling stars out of town (Aaron Hill) if he can get value in return.
Colorado Rockies: Blow Up Pitching Staff and Start over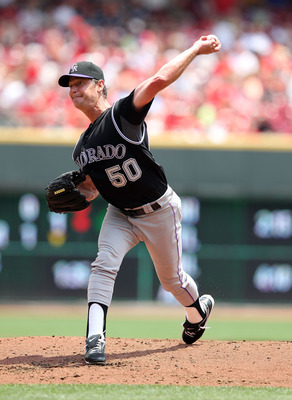 Old man Jamie Moyer leads the Rockies' starters with two wins. Sorry, but that's pretty sad.
Andy Lyons/Getty Images
The Colorado Rockies feature a starting rotation that is easily the worst in the National League. In fact, its collective ERA is 5.80, well over a run worse than the runner-up Atlanta Braves.
General manager Dan O'Dowd went with the quantity over quality approach this offseason, bringing in an abundance of hurlers (Tyler Chatwood, Jamie Moyer, Jeremy Guthrie, Guillermo Moscoso) who have combined to bring nothing to the table whatsoever.
Since O'Dowd likely won't be fired for ineptitude, the Rockies clearly need to re-think what kind of production they need to get from their starters, because quality production seems highly unlikely with the group currently in place.
Possible Solutions
Short of spending hundreds of millions in the possible acquisitions of pitchers like Matt Garza, Cole Hamels and Zack Greinke, which has a zero probability, it may be time to give it to the kids (Christian Friedrich, Drew Pomeranz, Chatwood, Alex White).
Let them run with it and gain some experience. They can't possibly do much worse than what's been provided thus far.
Detroit Tigers: Find a Second Baseman, Any Second Baseman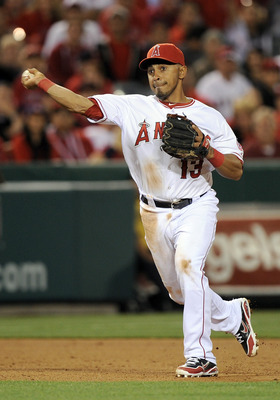 Harry How/Getty Images
The Detroit Tigers have used a collection of four second basemen (Ryan Raburn, Ramon Santiago, Danny Worth, Brandon Inge) who have combined to hit .177 with two HR and 10 RBI.
No, that's not a typo.
Doesn't take a rocket scientist to figure out what the Tigers need here.
Possible Solutions
Maicer Izturis: In the last year of his contract with the Los Angeles Angels, Izturis is a far-sight better than any option that Tigers manager Jim Leyland has at his disposal right now. A .274 career average and a solid glove would do the Tigers just fine.
Houston Astros: It's All About Rebuilding, Baby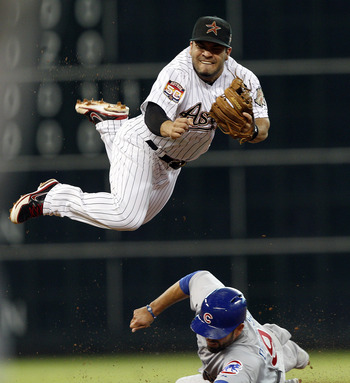 Jose Altuve is just one of the youngsters who will help lead the Astros into the future.
Bob Levey/Getty Images
With a new owner, a new general manager and a whole bunch of new kids on the block, the Houston Astros are clearly in rebuild mode and surprisingly are hanging tough thus far, just five games under .500 entering play on Tuesday night.
GM Jeff Luhnow has already made it clear that the Astros intend to build through the draft, and that he has an all-in approach on scouting and player development. If anything, the Astros will be unloading veterans and reloading via the draft, which Luhnow is well-versed in, having handled those duties with great results while with the Cardinals.
Possible Solution
The solution here is to wait and let Luhnow's approach and plan take effect.
Kansas City Royals: Wait for Young Pitching to Mature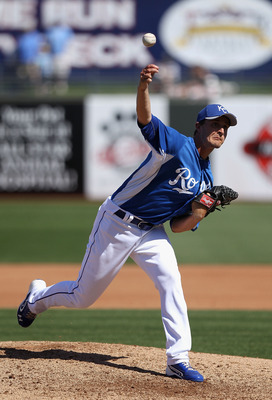 Jake Odorizzi could make an impact with the Royals later this season.
Christian Petersen/Getty Images
The Kansas City Royals are likely headed down that path again—a path that has become all too familiar to Royals' fans—the path to mediocrity.
Their journey down that path has been led by their starting rotation, with a collective ERA of 5.23 that is second-to-last in the American League. If not for the total putridity of the Minnesota Twins, the Royals would win the prize.
GM Dayton Moore tried with an upgrade, acquiring Jonathan Sanchez from the San Francisco Giants. However, Sanchez can barely last five innings when healthy, with a 6.75 ERA and 1.855 WHIP.
Possible Solutions
Two solutions will work here—good health and maturity of youngsters. Both Danny Duffy and John Lamb succumbed to the dreaded Tommy John surgery: Duffy is out until next year; Lamb could be ready by mid-June, but won't be major-league ready.
The Royals also have Jake Odorizzi and Mike Montgomery, who could be called upon to contribute at the major league level this year, but not in time to turn around the struggling fortunes of the team.
Los Angeles Angels: Bullpen Help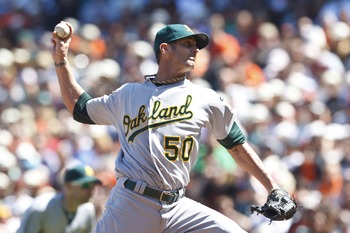 Grant Balfour could be an excellent option to help bolster the Angels' bullpen.
Jason O. Watson/Getty Images
The Los Angeles Angels are finally starting to heat up, winning seven in a row before Tuesday night's contest with the New York Yankees to climb back to .500 for the first time since the fourth game of the season.
Albert Pujols is finally showing signs of life, and Mike Trout and Mark Trumbo have both come up huge over the past several weeks.
The starting rotation has been the best in the American League with a 3.36 ERA, and although the loss of Jered Weaver to a lower back injury hurts, fortunately the injury showed just a strain, and Weaver hopes to return soon after he's eligible on June 12.
Which leaves the bullpen. Although ranked seventh in the AL with a 3.67 ERA, there have been shaky moments, and manager Mike Scioscia has been using a combination of Scott Downs and the recently acquired Ernesto Frieri to close. Veteran LaTroy Hawkins is also out for at least another month with a broken right pinkie finger.
Possible Solutions
Angels GM Jerry DiPoto is said to be targeting relievers, and names that have been thrown out there are Grant Balfour (A's), Brett Myers (Astros) and Matt Lindstrom and Kevin Gregg (Orioles). Lindstrom and Gregg may be off the table with the O's hot start, but Balfour might be a great add given his setup experience.
Los Angeles Dodgers: Starting Rotation Depth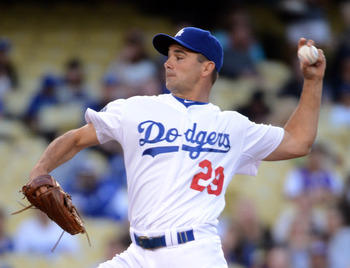 Ted Lilly's injury hurts, but there's no panic in DodgerTown quite yet.
Harry How/Getty Images
The Los Angeles Dodgers continue to be the best team in the majors at 32-16, and sensational center fielder Matt Kemp is back after missing 14 games with a hamstring injury.
However, small chinks in the armor are appearing. Starter Ted Lilly, off to a terrific start at 5-1 with a 3.14 ERA, was placed on the disabled list with shoulder inflammation. Nathan Eovaldi was called up from Double-A Chattanooga to start for Lilly on Tuesday.
Lilly is eligible to return on June 8, but his return is uncertain. The entire starting rotation has been solid all year, so any injury is a blow at this point.
Possible Solutions
The Dodgers haven't been specifically tied to anyone except Roy Oswalt, who signed on Tuesday with the Texas Rangers. GM Ned Colletti will likely have financial flexibility in going after depth for his rotation, but they're not pushing the panic button quite yet.
Miami Marlins: Center Fielder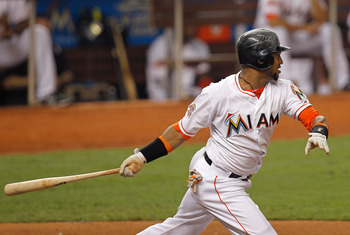 Sarah Glenn/Getty Images
With speedy center fielder Emilio Bonifacio on the shelf for about six weeks following thumb surgery, the Miami Marlins are scouring the market for a replacement.
According to Ken Rosenthal of FOX Sports, the Marlins are actively looking to replace Bonifacio, who was leading the league with 20 stolen bases and sported a .351 OBP from the top of the order.
The problem is, there aren't many available options. The Marlins may have to get creative in order to fill Bonifacio's shoes.
Possible Solutions
Denard Span: Span could be made available by Twins interim GM Terry Ryan, but it will be costly to the Marlins, who can't afford to give up much from the farm system, given the fact that it's ranked the third-worst in baseball according to ESPN.
Milwaukee Brewers: Anyone with a Pulse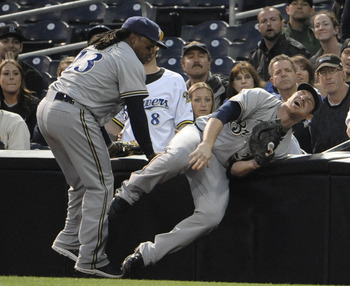 Denis Poroy/Getty Images
For the Milwaukee Brewers, losing both first baseman Mat Gamel and shortstop Alex Gonzalez within a matter of days put a serous damper on any hopes of repeating as NL Central Division champs.
Combined with the earlier loss of starting pitcher Chris Narveson, the Brewers were clearly snake-bit. Now comes the news that catcher Jonathan Lucroy, enjoying a career year with a .345 average, five HR and 30 RBI, is likely out for at least six weeks after breaking his hand in a freak hotel room accident.
Not to mention the fact that Travis Ishikawa, Cesar Izturis and Marco Estrada are all on the disabled list as well.
Possible Solutions
Um, anyone with a pulse?
Seriously, at this point, the Brewers are likely to become sellers. Wily Peralta and Michael Fiers are expected to get long looks, with Fiers getting his first major league start on Tuesday night against the Los Angeles Dodgers.
The ultimate solution at this point could be—wait 'til next year.
Minnesota Twins: Too Numerous to Mention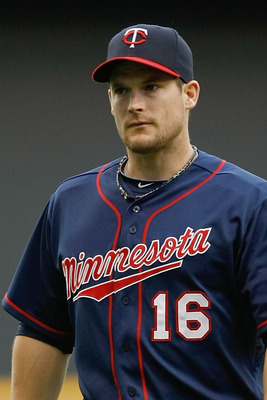 Will Josh Willingham still be with Minnesota in late July?
Scott Boehm/Getty Images
A better question for the Minnesota Twins at this point might be—where don't they need help?
The starting rotation is a mess—their collective 6.46 ERA is by far the worst in the majors. The bullpen is a bit better, with a 3.86 ERA, good for 10th in the American League.
Offensively the Twins are challenged as well—last in the AL in homers, 10th in both batting average and runs scored. The offense isn't nearly consistent enough to make up for the truly awful pitching.
Interim GM Terry Ryan may be wondering he even bothered coming back.
Possible Solutions
There won't be any solutions this year. In fact, according to Ken Rosenthal of FOX Sports, several players could be trade candidates, including Justin Morneau, Denard Span, Carl Pavano and Matt Capps. Don't be surprised if Ryan receives calls on outfielder Josh Willingham as well.
The 2013 version of the Twins could look vastly different from the squad currently seen on the diamond. And considering their current record, that's not necessarily a bad thing.
New York Mets: Pitching on Both Ends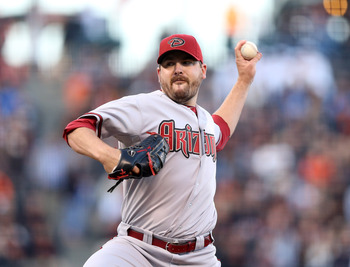 Could Diamondbacks starter Joe Saunders end up being a Met?
Ezra Shaw/Getty Images
The surprising New York Mets are right in the thick of things in the NL East, just 1.5 games behind the Washington Nationals as of Tuesday. And they're doing it with a pitching staff that is ranked 14th in the National League with a 4.42 ERA.
Pitching upgrades for both the rotation and bullpen are needed if the Mets want to continue to contend. Bobby Parnell and Tim Byrdak have both been solid in the 'pen, but the consistency stops there.
Johan Santana and R.A. Dickey have been terrific in the rotation as well, but depth is clearly an issue on both ends.
Possible Solutions
Brandon Lyon: Lyon has been terrific this season for the Houston Astros, posting a 1.40 ERA in 20 appearances. Adding Lyon would certainly help solidify the bullpen.
Ryan Dempster: Dempster has veto rights to any trade, and he denied reports he had sold his house in Chicago. Not sure if he'd be willing to take a chance on New York, but his veteran presence would certainly be welcomed.
Joe Saunders: Saunders would be a great fit at Citi Field and would come relatively cheap as well.
New York Yankees: Rotation Depth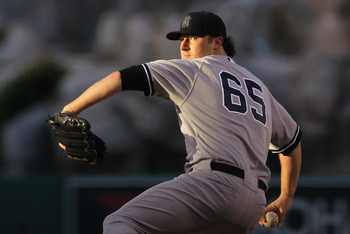 Is Phil Hughes better suited for the bullpen?
Jeff Gross/Getty Images
With Phil Hughes' ongoing struggles in the rotation (4-5, 5.64 ERA in 10 starts) for the New York Yankees, coupled with Ivan Nova's sophomore year struggles as well (5.46 ERA), rotation depth certainly wouldn't be a bad thing to look for.
Fortunately, the offense has made up for some of the deficiencies seen from the above starters, but the offense won't be there all the time to mask their struggles.
Possible Solutions
Matt Garza: Obviously a long shot, especially considering the Cubs' willingness to work out a long-term extension.
Ryan Dempster: If not Garza, will Dempster approve a trade to the Bronx?
Wandy Rodriguez: A 2.49 ERA in 11 starts, along with a possible Astros' firesale could make Wandy available to the Yankees.
Oakland Athletics: A New Stadium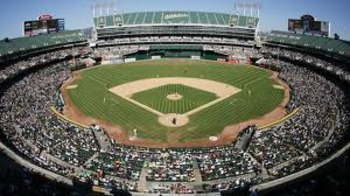 Photo courtesy dailyfantasysports.net
With a record of 22-27, the Oakland Athletics likely won't be contention in the American League. And quite honestly, the only thing that's going to help Oakland at this point, or at any point for that matter, is a new stadium in a new city.
Barely drawing 20,000 fans per game, the A's are almost destined for futility as long as they remain at Oakland-Alameda County Stadium, or o.CO stadium, or O.co stadium, whatever it's called now.
A's owner Lew Wolff simply won't spend any money on upgrading his team until the stadium issue is resolved.
Philadelphia Phillies: The Return of Howard and Utley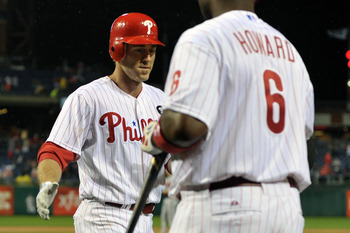 Drew Hallowell/Getty Images
The right side of the infield for the Philadelphia Phillies has seen several different faces this season, and none of them are the faces that Philly fans want to see.
Nothing against Freddy Galvis, John Mayberry, Ty Wigginton and Laynce Nix, but Ryan Howard and Chase Utley are indeed sorely missed.
Utley has been taking infield practice with the team for almost two weeks, but his ailing left knee still hasn't progressed enough at this point to warrant a minor league rehab. His timetable remains uncertain.
Howard, who tore his Achilles heel during the last at-bat of last year's NLDS against the St. Louis Cardinals, has participated in simulated games at the team's spring training complex in Florida, but no timetable has been set for his rehab, either.
It's looking like at least late June/early July for both Howard and Utley, and hopefully by that time it won't be too late for the last-place Phillies.
No other trade or acquisition would work nearly as well.
Pittsburgh Pirates: Long-Term Answer at Shortstop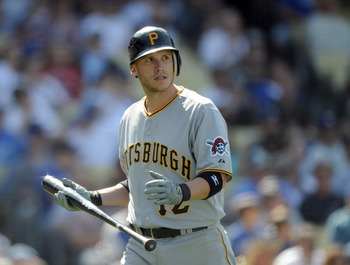 Harry How/Getty Images
The Pittsburgh Pirates have been pretty awful at the plate this year, with the exception of center fielder Andrew McCutchen. With a league-worst .221 batting average and averaging just three runs a game, holes can be found all over the lineup, but the most glaring is at shortstop.
Clint Barmes, brought in on a two-year, $10.5 million contract, has been abysmal, hitting just .170 with two homers and seven RBI. That experiment hasn't quite worked out.
Possible Solutions
Since the Pirates don't have a top-tier shortstop even close to ready in their system, other options will need to be explored. Continuing to pick up low-ceiling guys like Barmes simply won't work.
San Diego Padres: Anyone Who Can Hit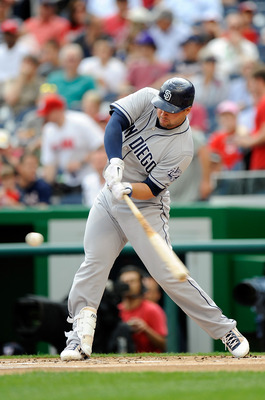 Yonder Alonso leads the Padres with a .292 average.
Greg Fiume/Getty Images
If it weren't for first baseman Yonder Alonso and third baseman Chase Headley, the San Diego Padres would be completely punchless and dead last in just about every meaningful offensive category.
The problem for San Diego is that the prospects they have in their system, ranked tops in the majors by ESPN, aren't quite yet ready to contribute at the major league level.
Jedd Gyorko is getting there, currently at Triple-A Tucson, and Rymer Liriano is still developing at the Advanced Single-A level, as is Cory Spangenberg.
Carlos Quentin returned to the lineup on Monday and had an immediate impact with an RBI double in his first at-bat. If the Padres decide to extend him long-term, he'll certainly have an impact on the impotent offense.
Don't look for upgrades outside the system, however. With the ownership situation still in flux, reinforcements will have to come from within—for now.
San Francisco Giants: Second Base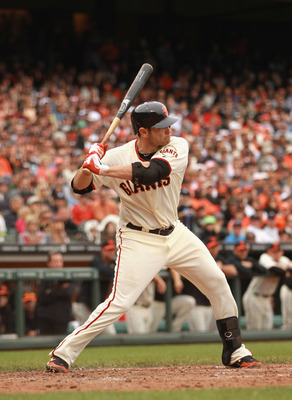 Ideally, the return of Freddy Sanchez would provide a lift for the Giants.
Ezra Shaw/Getty Images
The San Francisco Giants have used a combination of Emmanuel Burriss, Ryan Theriot, Charlie Culberson and Joaquin Arias at second base during Freddy Sanchez's absence, and the foursome has combined for an impotent .215 slugging percentage, by far the worst in the majors at that position.
Sanchez, who originally suffered a ruptured labrum in his right shoulder, is now dealing with back pain. He recently receiving a second epidural shot to relieve pain in his lower back. His return to the lineup is uncertain.
Possible Solutions
Maicer Izturis: The long-time Angel brings a .274 career average to the table, certainly more productive than what the above foursome has contributed.
Kelly Johnson: Could Johnson be had if Toronto is out of contention by late July?
Seattle Mariners: Outfield Help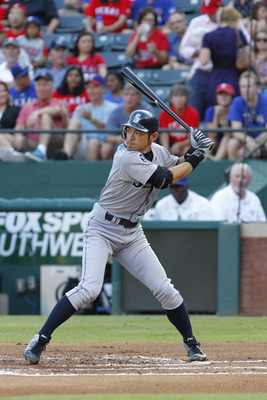 Ichiro leads all Mariners' hitters with just a .271 average.
Rick Yeatts/Getty Images
The combination of Michael Saunders, Chone Figgins, Mike Carp and Casper Wells has been woefully inept for the Seattle Mariners thus far in 2012.
An outfield that at the beginning of the season was supposed to consist of Chone Figgins, Franklin Gutierrez and Ichiro Suzuki has become a patchwork design with the exception of Ichiro in right. Thus far, none of the combinations have been working right for manager Eric Wedge.
Possible Solutions
Not much help for Wedge in the minor league system right now, at least not with anyone ready to step up. Wedge will likely continue different combinations in left field and use Saunders in center until Gutierrez returns from the disabled list. Help likely is not coming until next season.
St. Louis Cardinals: Veteran Bullpen Help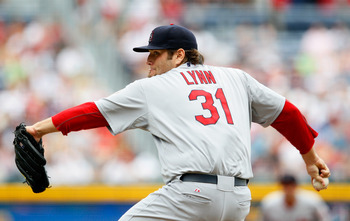 Lynn's move to the rotation taxed the Cards' bullpen.
Kevin C. Cox/Getty Images
The St. Louis Cardinals have been beset by injuries in recent weeks, with Allen Craig, Jon Jay and Lance Berkman all on the disabled list.
Craig and Jay should be returning shortly, so the Cards' offense, currently ranked first in the majors in runs scored and batting average, should return to some sense of normalcy.
However, the bullpen has been a bit of a concern. Its collective 4.09 ERA is 11th in the NL, and while former reliever Lance Lynn is thriving as a starter, his absence from the 'pen is noticeable.
Possible Solutions
GM John Mozeliak would do well to go out and find a solid veteran reliever to help stabilize the bullpen.
Grant Balfour, Brandon Lyon, maybe Craig Breslow or Brad Ziegler from the D-Backs if they're selling come late July—all could serve the Cards' bullpen well.
Tampa Bay Rays: A Backtstop Bat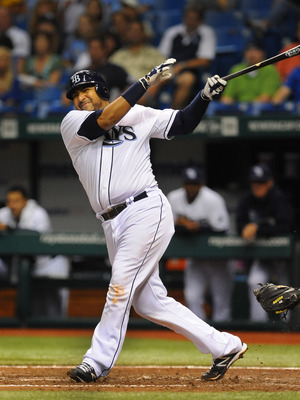 Jose Molina is hitting just .175 for the Rays this season.
Al Messerschmidt/Getty Images
The Tampa Bay Rays continue to fight atop the American League East, dead even with the Baltimore Orioles. The offense has seen some nice contributions from guys who were awful last year, including Sean Rodriguez and Elliot Johnson.
However, behind the plate has been a black hole for the Rays. Jose Molina and Chris Giminez have combined to hit .177 with 2 HR and 10 RBI, an automatic out at the bottom of the lineup for manager Joe Maddon.
Possible Solutions
Not many out there unless GM Andrew Friedman gets creative with a deal involving Tampa Bay's great stable of pitching. Possibly J.P. Arencibia if prospect Travis D'Arnaud continues tearing up Triple-A ball?
Texas Rangers: None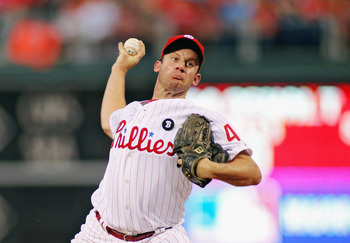 Len Redkoles/Getty Images
With the signing of starting pitcher Roy Oswalt on Tuesday, the Texas Rangers were proactive in taking care of a need that arose with the elbow injury to Neftali Feliz.
At 31-19, the Rangers are cruising, enjoying a 5.5 game lead over the Los Angeles Angels in the NL West.
However, it will take Oswalt a while to get ready, and with Feliz shut down for at least a month, Oswalt's signing doesn't necessarily as a panacea for the rotation—at least not yet.
Toronto Blue Jays: Bench Strength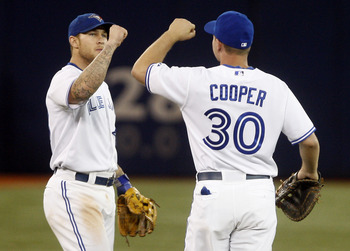 David Cooper is getting his chance to shine with Lind figuring things out in Triple-A.
Abelimages/Getty Images
When the Toronto Blue Jays outrighted first baseman Adam Lind to Las Vegas, they called up prospect David Cooper to replace Lind.
While it's way too early to judge Cooper at this point, Lind's demotion, along with an injury that sent Ben Francisco to the disabled list, brought out one glaring hole—depth.
The Blue Jays just don't have much in the way of quality on their bench right now that can help out and make an impact. Rajai Davis, Jeff Mathis and Omar Vizquel are hitting a combined .209 with four HR and 15 RBI.
Possible Solutions
Getting Lind back to '09 form would be a huge help, but that's a stretch. If Lind does figure out his swing, Cooper could be a nice option as depth for first base and designated hitter.
Washington Nationals: Bullpen Depth
Jose Mijares
Kyle Rivas/Getty Images
The Washington Nationals starting rotation has been sensation all season long, leading the National League with a collective 2.90 ERA.
The bullpen has also been solid, posting a 3.22 ERA, good for fifth in the NL. But that hasn't stopped the Nats from seeking a veteran arm anyway.
ESPN's Buster Olney tweeted a couple of days ago that the Nats will give up demoted starter John Lannan in order to acquire that arm.
Possible Solutions
Jose Mijares: This could be a marriage made in heaven. The Royals need a starter, and Mijares has been solid all season with a 2.61 ERA.
Matt Albers: The Sox have to move someone when Daisuke Matsuzaka returns from the DL, and Lannan would add depth to the Sox rotation.
Juan Cruz: Cruz has been lights out in Pittsburgh with a 1.45 ERA in 20 appearances.
Doug Mead is a featured columnist with Bleacher Report. His work has been featured on the Seattle Post-Intelligencer, SF Gate, CBS Sports, the Los Angeles Times and the Houston Chronicle. Follow Doug on Twitter, @Sports_A_Holic.
Keep Reading