Spotlighting the Cincinnati Bengals' CB Position Heading into the 2012 Season
May 29, 2012

Larry French/Getty Images
Generally, the Cincinnati Bengals keep six cornerbacks on their 53-man roster; right now, the team currently has eight with whom they are working, six being current or former first-round picks.
That means the Bengals have themselves the kind of problem that would make most other teams jealous. That also means that the battle for roster spots and starting jobs at cornerback this summer will be particularly fierce in Cincinnati.
Currently on the roster are 2012 first-round pick Dre Kirkpatrick, fellow rookie Shaun Prater, and veterans Adam Jones, Nate Clements, Jason Allen, Terence Newman, Leon Hall and Brandon Ghee. 
Only Clements, Jones Hall and Ghee are holdovers from last season—the other two veterans were brought on this offseason as free agents. 
In 2011, the Bengals fielded a top-10 secondary, allowing just over 211 passing yards per game on average. With the boost they've gotten both via the draft and free agency, their ability to defend the pass should be as strong or stronger this season.
Let's take a quick look at each of the eight cornerbacks on the Bengals' roster and where they may contribute this season.
Nate Clements
Nate Clements had the most tackles last year of any Bengals cornerback, notching a total of 55. He also had two interceptions, one sack and two forced fumbles.
Though he was quite productive last year, the glut of talent at the position combined with the fact they took Kirkpatrick in the first round puts Clements at risk of being released this summer—he's owed $5.5 million this year—and it doesn't help that he has been held out of OTAs with an abdominal strain.
If Clements stays, then he'll certainly have a chance to compete for a starting spot, especially with that salary. He'd also provide veteran mentorship for the rookie Kirkpatrick.
Dre Kirkpatrick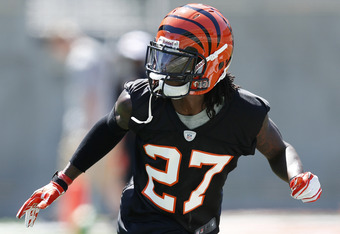 Joe Robbins/Getty Images
The Bengals certainly needed to grab an elite corner with one of their two first-round draft picks this year, and that's just what they did in taking Dre Kirkpatrick. Kirkpatrick comes from the vaunted Alabama defense but still has some rough edges that need ironed out over the summer.
Kirkpatrick is currently not participating in OTAs while he deals with a minor groin issue. His first-round talent isn't overblown however, and he'll likely end up being the heir to former Bengals corner Johnathan Joseph, whom the team lost in free agency last year. 
Adam Jones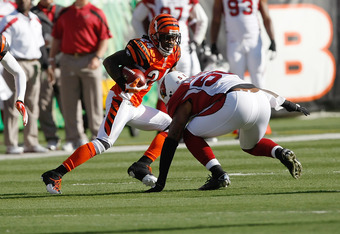 Scott Boehm/Getty Images
Adam Jones was re-signed this offseason as a way for the Bengals to have guaranteed depth at the cornerback position. Though Jones has both durability issues and a litany of off-field problems, he performed well when he had to take over for Leon Hall last season when Hall torn his Achilles tendon. 
Even if Jones doesn't earn himself a starting job, he'll still be on the field situationally for the Bengals this year.
Leon Hall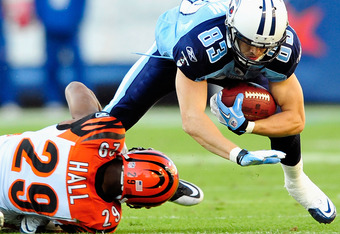 Grant Halverson/Getty Images
Leon Hall was a starter, but his torn Achilles tendon is still healing and he has yet to be medically cleared to participate in OTAs. At some point, he may be able to work with his team, but he still has at least three more months' worth of recovery left before that time comes.
As such, Hall likely won't take the field in Week 1, but his job security isn't presently in jeopardy.
Terence Newman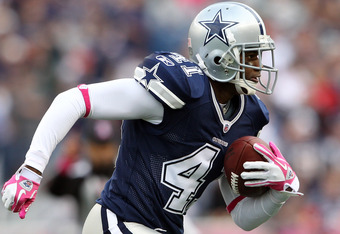 Elsa/Getty Images
Former Cowboys corner Terence Newman was brought on by the Bengals as a free-agent acquisition this spring, again to provide depth as well as compete for one of the two starting spots. Newman has been considered a bit of a disappointment—but his 53 total tackles and four interceptions last season for Dallas are certainly not all that bad.
With a number of corners currently sitting due to a myriad of injuries during OTAs, Newman has been able to get additional reps. That should help him out when the battle for starting jobs—and roster spots—begins in earnest later in the summer.
Jason Allen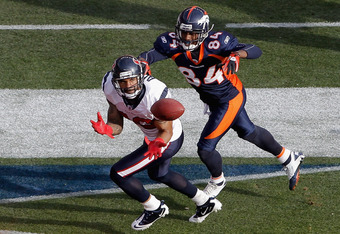 Justin Edmonds/Getty Images
Jason Allen is yet another Bengals corner who comes in with a first-round pedigree. Allen again benefits from the number of corners currently sitting out OTAs, which gives him a leg up to learn his new defense and compete for playing time.
At the very least, Allen will provide beneficial depth, but he'll have to shine come camp in order to stay on the roster.
Brandon Ghee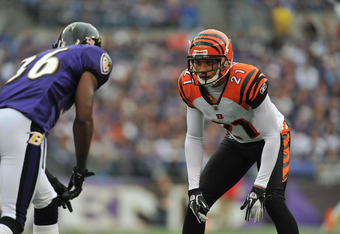 Larry French/Getty Images
Brandon Ghee is entering his third season with the Bengals and won't likely end up one of the two starting corners—in the last two years, he has had just 10 tackles in 13 games.
He's one of the three (including Allen and Newman) who are healthy enough to participate in this week's OTAs, but he could end up one of the odd men out when it comes time for decisions to be made.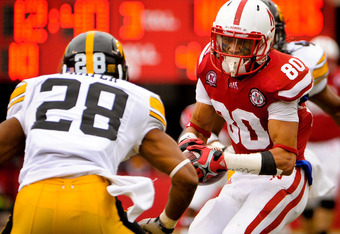 Eric Francis/Getty Images
Shaun Prater
Shaun Prater was a fifth-round pick this season and hasn't been able to participate in OTAs, but he wasn't likely to be in the mix in the starting competition this year anyway. Prater should develop into a starter at some point—Iowa is known for producing talented members of the secondary—but this year, look for him to contribute most on special teams.
There's also a chance, albeit slim, that he could also be used as a safety, especially considering the Bengals need a bit more depth at that position.