NBA Free Agents 2012: Latest Buzz Around NBA's Top Offensive Targets
May 29, 2012

Harry How/Getty Images
This year's NBA free-agent crop may not contain any notable stars outside of Deron Williams, but many established scorers will enter the open market this summer.
With many quality scorers hitting the final year of their contract, this year's free-agency period looks to be a busy one. Some of these players could be on the move in hopes of becoming a top scoring option for a new club. 
Eric Gordon
The New Orleans Hornets face a disastrous scenario if Eric Gordon, the shooting guard they traded Chris Paul to obtain, leaves after playing only nine games.
Gordon, who missed the majority of this season due to a knee injury, will become one of the most sought-after players of this year's free-agent class as a restricted free agent. Perhaps one the game's best young shooting guards, the 23-year-old averaged 22.3 points per game in the 2010-11 season and 20.6 points during his brief stint with the Hornets this year.
Sam Amick of SI.com wrote that the Hornets general manager Dell Demps expressed a desire to retain Gordon with a long-term deal.
We want him here for the long term; we're looking forward to signing him this summer. We think he is a big-time player who can score, and we're thrilled to have him. He's a big part of our plans for the future.
Gordon also spoke fondly of his year in New Orleans in Amick's article. "Overall, it's better than what people probably would think if they hadn't lived here. It's been enjoyable," Gordon said.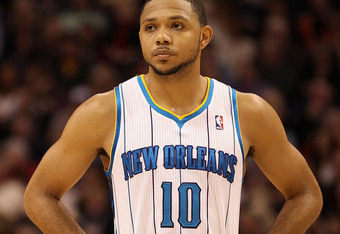 Christian Petersen/Getty Images
While Gordon staying with the Hornets appears like a solid bet, a desperate team (the Phoenix Suns if they lose Steve Nash or the Brooklyn Nets if they lose Williams) could jump out and offer him a huge contract that the Hornets fail to match.
After winning the NBA Finals last year, the Dallas Mavericks let Tyson Chandler and J.J. Barea sign elsewhere despite playing pivotal roles in the team's championship run. This year, Jason Terry could be the next player to leave Dallas as it tries to land Deron Williams.
Averaging 16.1 points per game in his career, Terry sparked the Mavericks' offense off the bench for eight years. Has the 34-year-old guard's stay in Dallas come to an end?
Jeff Caplan of ESPN Dallas noted that Terry's future with the team depends on the Mavericks' ability to sign Williams this offseason.
It seems his best chance of returning to the Mavs for a ninth season would, ironically, be a worst-case situation for Dallas, meaning whiffing on Deron Williams in July. If Williams joins his hometown Mavericks on a max deal, then there simply won't be room to squeeze in Terry and a price he'll command.
During the season, Terry addressed the possibility of joining LeBron James and Dwyane Wade in Miami, who could use another scorer off the bench to lessen the load of their superstars. According to Matt Brooks of the Washington Post, Terry said the Heat need a veteran scorer that "they know they can count on."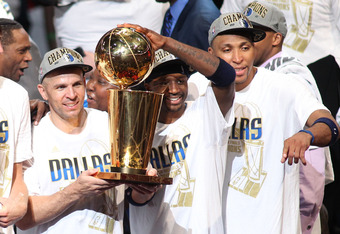 Marc Serota/Getty Images
Although Terry could feel loyalty to a Dallas organization that led him to a title, he also could resent them for allowing Chandler to leave and looking to this free agency instead of a title defense.
Jamal Crawford
According to a Sporting News report, Jamal Crawford is expected to opt out of his final year with Portland, where he would have made $5.2 million.
Another veteran scorer who could boost the team's offensive production as a sixth man, Crawford averaged 14.0 points per game last year with the Portland Trail Blazers. With Steve Nash likely on his way out of Phoenix, the Suns could add Crawford to their club.
Hoopsworld reported that a source from the team stated that, "Aside from Steve [Nash], [Crawford's] high, if not the top free agent priority on their list."
Although the 32-year-old's field-goal percentage has dipped in each of the past three seasons, Crawford could add some much-needed offense to a team such as the Suns, Nets or Minnesota Timberwolves.
Kris Humphries
More recognized for his brief marriage to Kim Kardashian, Kris Humphries has quietly morphed into a proficient starting power forward.
Humphries' point totals continue to increase as he receives more playing time with the Nets. Finally granted a starting role during the 2011-12 season, Humphries averaged 13.8 points per game on 48.1 percent shooting and 11.0 rebounds. With a smooth midrange jumper and passable post moves, Humphries can develop into a consistent 15-point-per-game scorer.
According to John Mitchell of the Philadelphia Inquirer, the 76ers could pursue Humphries if they use their amnesty clause to release Elton Brand.
The Sixers will almost certainly have their name mentioned in connection with Humphries because, if Brand comes off the books, they'll have plenty of cash below salary cap, which should be in the range of $58 million when it is determined later this summer.
The Nets signed Humphries to a one-year contract last year with no competition from other teams, but they will need to open up their checkbooks this time if they want to retain him.