Mike Tomlin vs. John Harbaugh: Which Coach Has More Pressure to Perform in 2012?
May 29, 2012

Jared Wickerham/Getty Images
The NFL is a what-have-you-done-for-me-lately league, so success one season doesn't necessarily guarantee any player or coach is safe in the next. A winning team cannot rest on their laurels the following season and hope that yet again, a playoff appearance and a 12-4 record will be easy or guaranteed.
That's why both Pittsburgh Steelers head coach Mike Tomlin and Baltimore Ravens head coach John Harbaugh are under immense pressure to lead their respective teams to success this season, even though they've been perennial playoff contenders.
Tomlin will find himself under greater pressure than Harbaugh this season; the Steelers released a number of veterans to solve their salary cap problems and fired offensive coordinator Bruce Arians, hiring Todd Haley as his replacement.
Justin K. Aller/Getty Images
That's a lot of change for a franchise that's known for its stability and continuity. However, things like "stability" and "continuity" are hard commodities to retain in the constantly-changing NFL.
Much scrutiny will be paid to both the Steelers and Tomlin this season as we see how well the team can handle things being so drastically different.
Change has also befallen the Ravens this offseason.
They traded out defensive coordinator Chuck Pagano for Dean Pees, lost a number of free agents including offensive guard Ben Grubbs, linebacker Jarret Johnson and special teams contributors Haruki Nakamura and Tom Zbikowski, and now, reigning Defensive Player of the Year Terrell Suggs could potentially miss the entire season after tearing his Achilles' tendon.
While it can seem at first blush that because of these changes, both the Steelers and Ravens could have a setback in 2012, both teams are rife with so much talent that the losses can easily be mitigated, as long as Harbaugh and Tomlin make the right decisions.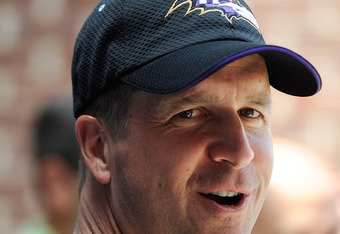 Patrick McDermott/Getty Images
The main reason why Tomlin is under greater pressure this year lies in the Haley hire. While many fans were through with Arians, the Steelers still managed to consistently reach the playoffs and have winning records with him designing the plays.
So if things weren't broken, why did the Steelers feel their offense needs fixing? It makes sense to question the change even if it is for the best—Haley will make the Steelers' offense more multidimensional (Arians' conservative play-calling required the Steelers to evolve at some point).
Though the Steelers have long been a defensive powerhouse, the team's offense really came into its own under Arians. Once known as a bruising, run-based team, they've become one of the better passing offenses in the league.
How Haley manages the balance between the run and the pass and how much he keeps quarterback Ben Roethlisberger in the pocket has yet to be seen. But too many tweaks could damage a process that has worked well in the past.
There's also the issue of Haley's well-known temper. Though Haley's style of constructing offenses might be of benefit to the Steelers, there's also the possibility that his coaching methods might turn off his players as well as Tomlin.
The expectation for teams like the Steelers and Ravens is that they just keep winning, so every season that they do, the following one brings that much more pressure with it.
That's not to say that if the Steelers and Ravens fail to meet their ever-high expectations this year that either Tomlin or Harbaugh will find themselves on the hot seat—it's going to take more than one season of stumbling for that to happen to either team.
But pressure is ever-present in the NFL, especially for coaches of consistently winning teams.
Both the Ravens and Steelers have undergone some serious and significant offseason changes, but because the Steelers have been the most drastic on both sides of the ball, this will be a higher-pressure year for Tomlin than it is for Harbaugh.