NBA Draft 2012: 7 College Studs Who Will Be Surprise Lottery Picks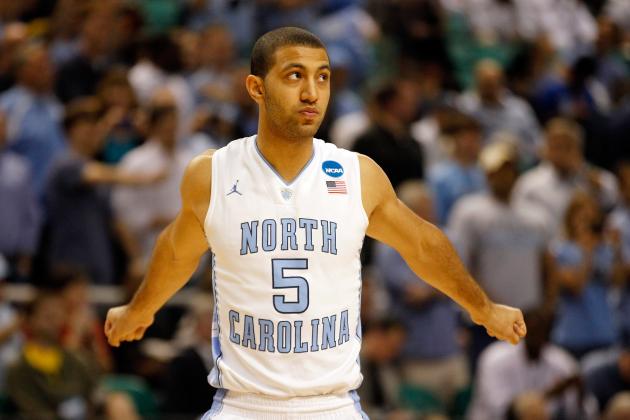 Streeter Lecka/Getty Images

The 2012 NBA draft lottery is taking place this Wednesday night, and the way the ping pong balls fall will determine where the lottery teams select in this year's draft.
The top end of this year's class is stacked after a number of freshman and sophomore studs decided to forgo their college eligibility in favor of pursuing their NBA dream. This means that the lottery portion of the draft will feature many familiar names of college stars—your Anthony Davis' and Harrison Barnes' of the world.
That being said there are always plenty of familiar and unfamiliar names that sneak into the lottery consideration because a team fell in love with a particular player's athletic potential or they're reaching to fill a particular roster need.
So, here are seven surprising names you could hear called in the lottery portion of the draft this June.
Begin Slideshow

»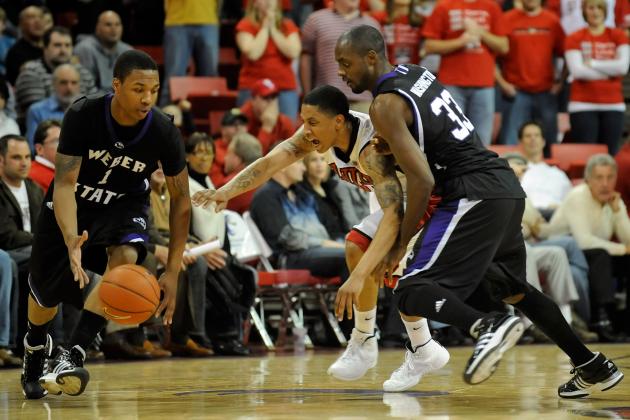 Ethan Miller/Getty Images

Point guards are at a premium in today's NBA game. There are only a small number of top flight point guards, and it seems that all of the most successful NBA teams have a great one—the Thunder's Russell Westbrook, the Spurs' Tony Parker and Boston's Rajon Rondo.
That is why a player like Damian Lillard, from a small school like Weber State, could very well be a lottery pick this coming June.
Lillard is not your prototypical pass happy point guard—he looks to score and averaged 24.5 points a game his junior year. He has the quickness off the dribble to get to the rim at will, a solid mid-range game and is a quickly improving shooter from the outside.
He is also a bigger guard at 6'3", and that size helps him out at the defensive end of the floor where he is tenacious. He should be able to step in right away and guard the best point guards in the league.
However, despite his score-first attitude, he also takes care of the basketball. Actually, he had the best turnover ratio of any draft eligible point guard in this year's class at .12 turnovers per possession.
His scoring ability and ability to take care of the ball could very well force a lottery team to take a chance on this talented small school guard.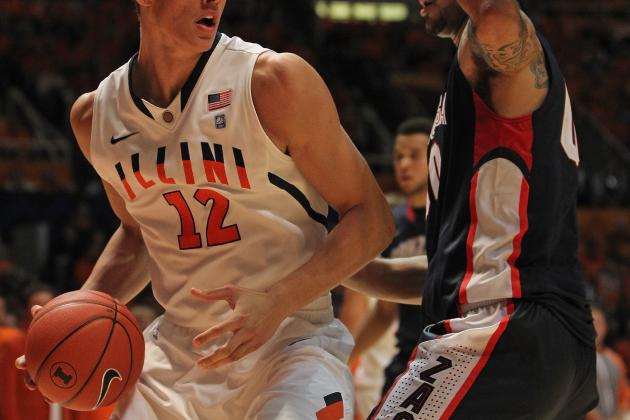 Jonathan Daniel/Getty Images

If point guards are highly sought after in today's NBA, true centers are almost like the Holy Grail for NBA GMs—they are hard to find and rarely pan out.
However, if you can find a Dwight Howard or Andrew Bynum it can set your franchise up for success for years. This is why you often see teams draft seven-footers in the first round of the draft whose names make many people say "who?"
Illinois' Meyers Leonard is a prime candidate to be one of those centers in this year's lottery. He declared for this year's draft after a breakout sophomore campaign in which he averaged 13.6 points and 8.2 rebounds a game.
These are solid numbers, and Leonard has the prototypical size that scouts look for in centers. He is a legitimate seven-feet with a long wingspan. However, like most college players his size, he has a lot of work to do on his offensive skill set, especially in the low post where he looked a bit mechanical with his moves during the season.
But, in spite of the polish needed for his game, his size and potential could cause a team in need of a center to reach and select him in the lottery.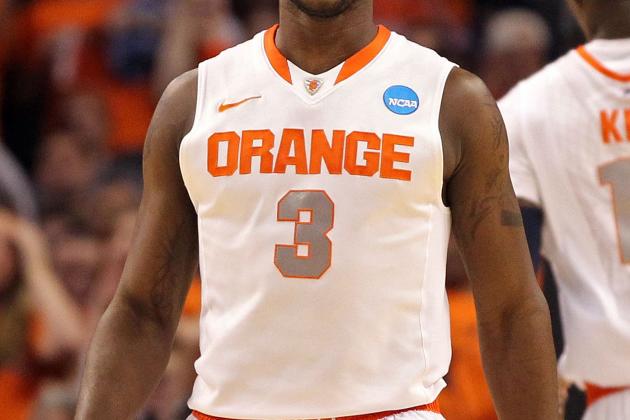 Jim Rogash/Getty Images

Dion Waiters is an intriguing prospect. He's one of those combo guards at the NBA level, who is not quite a point guard but isn't exactly big enough to play the two.
But one thing is for sure—Waiters can play. He performed at a high level, on the biggest stage, at Syracuse this season, and was one of the biggest reasons the Orange were a No. 1 seed in this year's NCAA tournament. He came off the bench as the team's sixth man and provided a tremendous offensive spark.
Waiters has excellent quickness and a big, strong body on his 6'3" frame. He plays great defense and is aggressive on that end of the floor in creating turnovers.
On the offensive end, Waiters is an excellent ball handler and has shown the ability to weave his way to the basket at will. He is also very effective in transition, where he excelled at pushing the ball up the court and getting to the basket to score or create opportunities for his teammates. However, Waiters' jump shot needs some work, and he also struggled to perform on the offensive end against top competition.
Waiters has a ton of potential though, and his ability to push the ball up the floor and defensive prowess could cause a lottery team to take a chance on him.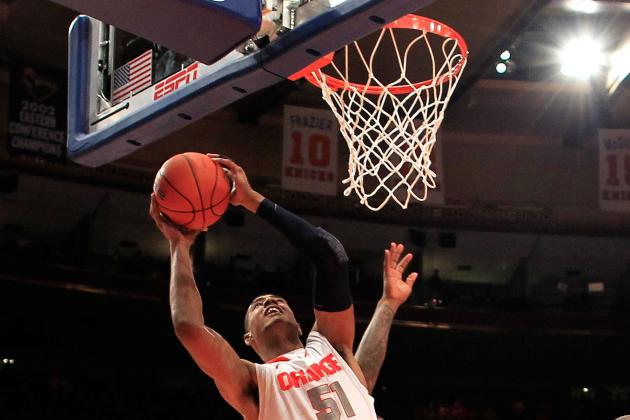 Chris Trotman/Getty Images

The Orange has another star sophomore that has the potential to be a surprise lottery pick this year in Fab Melo.
Melo is a true seven-footer who has the ability to change games defensively with his length and shot-blocking ability. He was the centerpiece of the Orange's zone this season, and when he was suspended for the NCAA tournament Syracuse really missed his defensive presence.
As good as Melo is as a shot-blocker, he is still very raw in many areas of the game, especially on the offensive end of the floor. His post moves need a ton of work, and he also needs to get in better shape, so he can stay on the floor for longer than five minute bursts.
He also needs to work on his rebounding ability because for someone with his height and 250-pound frame he should be a dominant rebounder, instead of being just good. Often he was caught out of position and relied too heavily on his athletic abilities instead of technique to hit the boards.
But the Brazilian is one of the most athletically gifted players in this draft class, and for that reason alone a team could reach and select him in the lottery portion of the 2012 draft.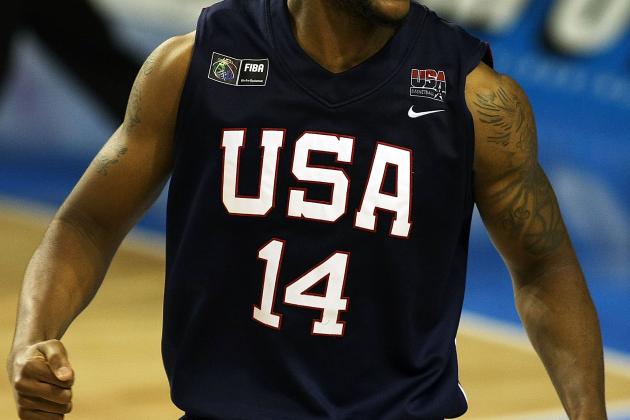 Hannah Johnston/Getty Images

Continuing with the trend of size greatly increasing a player's draft value, we reach Mississippi State's Arnett Moultrie.
He is a talented and athletic power forward who has excellent size at 6'10", 220 pounds—not to mention he has the ability to jump out of the gym with his athleticism. He utilized his skill set well at Mississippi State, where he averaged a career high 16.4 points and 10.4 rebounds during his junior season, both team highs.
Moultrie is at his best when he uses his athletic ability to score off the ball on cuts and put back rebounds, and his spring board leaps made him an ally-oop machine. He still needs work on his back to the basket game, as his post moves were quite ineffective, at times, during his collegiate career.
Despite the polish needed on his back to the basket game, a team like the Houston Rockets in the back of the lottery could easily take a flier on this athletic specimen in hopes that he develops and turns into a star.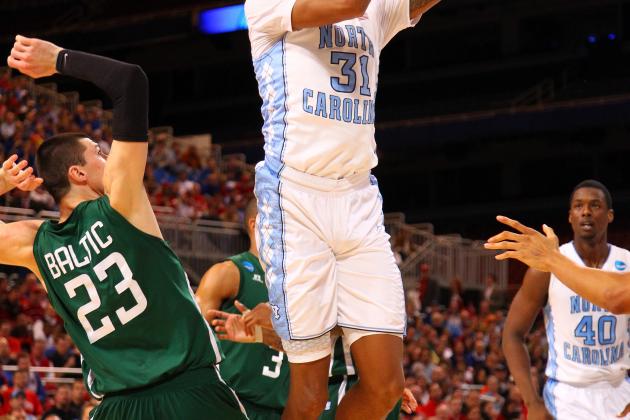 Dilip Vishwanat/Getty Images

As I've said over and over, NBA teams love players with size and when scouts see a big man with talent from a top notch school like North Carolina, there is no doubt that he will garner lottery consideration
John Henson spent three very productive seasons at North Carolina and was the defensive anchor of a team that was a No.1 seed in the NCAA tournament this past season. Henson's game improved every year during his time in Chapel Hill, and during his junior season he put up excellent numbers, averaging 13.7 points and 9.9 rebounds a game.
Henson is an excellent defender and rebounder giving trouble to even the best players in the ACC due to his size and shot blocking ability.
On the offensive end of the floor, Henson is still raw. He has a lot of work to do on his back to the basket moves and ability to step outside and hit mid-range shots.
However, he has the potential and athletic ability to be an excellent offensive player in the future, which is why you will see a lottery team jump at the chance to select him this year's draft, on his potential alone.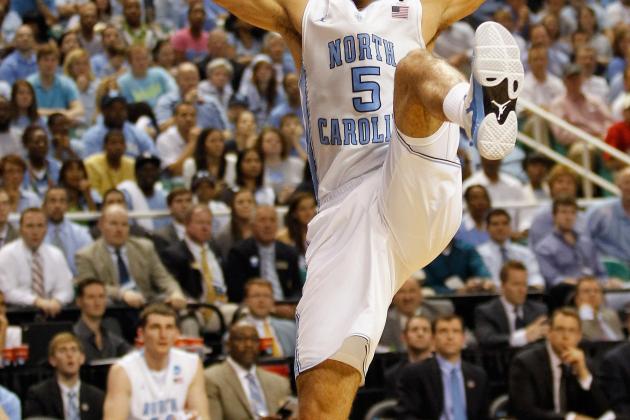 Streeter Lecka/Getty Images

Kendall Marshall was the player that made the North Carolina offense go in 2012. When he was forced out of the NCAA tournament due to injury, the Tar Heels struggled.
Marshall is a player that can effectively run any system. He makes the right passes, plays excellent defense, can drive into the lane and find the open man with ease and is a leader that any coach would love to have. North Carolina missed those aspects of his game after his injury, and it's those qualities that will make him a first round pick come June.
Sure, Marshall's game needs some work. He isn't a great jump shooter and failed to keep teams honest with his lack of an outside touch. He also isn't the quickest or most athletic player in the world. These are traits that limit his ceiling as an NBA player and the reason why many draft experts have him as a late first round pick.
But, real floor generals are rare and are of the up most importance in today's game. Because of that it would be no surprise to see Marshall's name called in the lottery of the upcoming draft.