NBA Draft Lottery 2012: How Order Will Affect Top Prospects
May 30, 2012

Kevin C. Cox/Getty Images
Heading up to the 2012 NBA Draft Lottery on May 30, only Kentucky's Anthony Davis won't be affected by the way the ping-pong balls bounce as no matter who lands the the top pick in the draft, Davis is a lock to be the No. 1 overall pick in June's draft.
For the rest of the top prospects in the draft, the order can impact their potential landing spots greatly, as numerous players can be selected anywhere between No. 2 and No. 7.
With that being said, here's a look at the prospects who could be affected the most.
Thomas Robinson, Kansas
Robinson is likely to be a top three pick, as long as teams like Charlotte, Washington, New Jersey pick in the top three or if Sacramento or New Orleans land at the top of the draft.
With his non-stop motor, high-character and potential production level, any of those teams would quickly jump on the Kansas product.
But there are teams that may not have as much interest in Robinson, which could cause him to slide.
Cleveland invested the No. 4 pick a season ago on Tristan Thompson, and the Toronto Raptors already have Andrea Bargnani and Jonas Valanciunas in place, so they may look to fill other needs instead. If they end up with the second and third picks, it could cause Robinson to slide out of the top three.
Michael Kidd-Gilchrist, Kentucky
As sure as I am about Davis being selected No. 1 overall, I'm almost that sure that Kidd-Gilchrist will be drafted in the top four picks of the draft.
Almost every team will jump at the chance to grab MKG's athletic ability and defensive prowess, but the ideal situation is going to a team without a small forward in place already.
Washington used a high pick on Jan Vesely and Portland will likely look to bring back Nicolas Batum, but other than those two teams, Kidd-Gilchrist shouldn't be impacted too much by the lottery.
Bradley Beal, Florida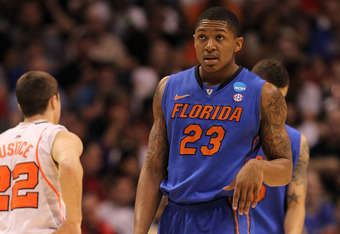 Jamie Squire/Getty Images
Beal is the top guard prospect in the draft and could go as high as No. 2 if teams such as the Bobcats, Wizards, Cavaliers, Nets, Raptors are fortunate enough to move up in the lottery.
However he could slide if New Orleans moves up to No. 2 as they will hope to bring Eric Gordon back. Another team that has a good chance to move up is the Sacramento Kings, and they almost certainly would pass on Beal as well.
Andre Drummond, Connecticut
Drummond provides the dilemma of do teams go with the NBA-ready big man such as Robinson or the not so NBA-ready guy with enormous potential such as Drummond?
There are teams that could reach for Drummond as high as between the second and fourth pick in the draft mostly because they are desperate for an impact low-post talent. Those teams include: the Bobcats, Cavaliers, Hornets, Kings, Bucks and Blazers.
However there are teams that will stay away from Drummond at all costs, either because they don't have a need or because they want to stay away from any potential problems that could come from selecting Drummond. That list of teams should include: the Wizards, Nets, Warriors, Suns and Raptors.
Harrison Barnes, North Carolina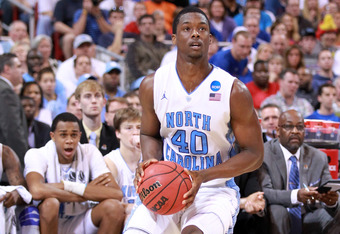 Andy Lyons/Getty Images
Teams in need of scoring from the wing will certainly be taking a look at Barnes even after his struggles during the NCAA Tournament.
If the Warriors or Raptors, both in need of a productive small forward, move into the top three, I wouldn't be surprised if they reached on Barnes that high. In addition, the Cavs, Hornets, Pistons, Bucks and Suns could all have interest.
The only teams in the lottery that I see passing on Barnes are the Wizards, Blazers and Nets, as Brooklyn likely wouldn't use a top three pick on him.