5 Reasons Why Miami Has Survived Their Nightmare Start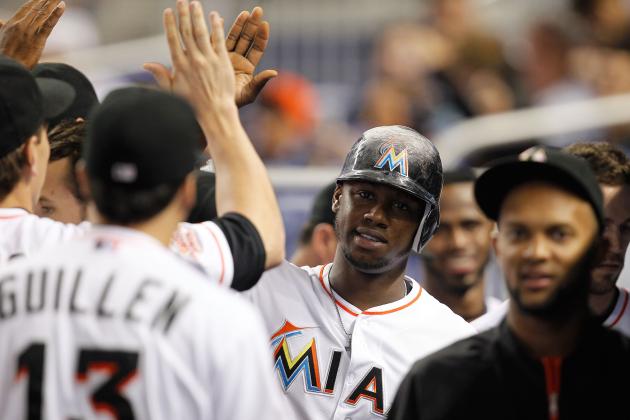 Sarah Glenn/Getty Images

The Marlins organization faced many obstacles when they re-branded themselves this past offseason. The new team colors, ballpark, manager and free-agent signees were to complete the transformation as the team entered the Miami Marlins era.
Expectations with their new acquisitions were high, but things didn't go according to plan from the start.
The Marlins were embarrassed in front of a national audience on Opening Day against the Cardinals. Manager Ozzie Guillen found himself in a public relations nightmare following his Fidel Castro quotes.
The team also witnessed slow starts from John Johnson, Heath Bell and Jose Reyes who were all very highly touted coming into the season.
Now the team is just a game and a half out of first place and a league best 20-8 record in May.
Here are five main reasons how the Marlins have survived their nightmare start.
Begin Slideshow

»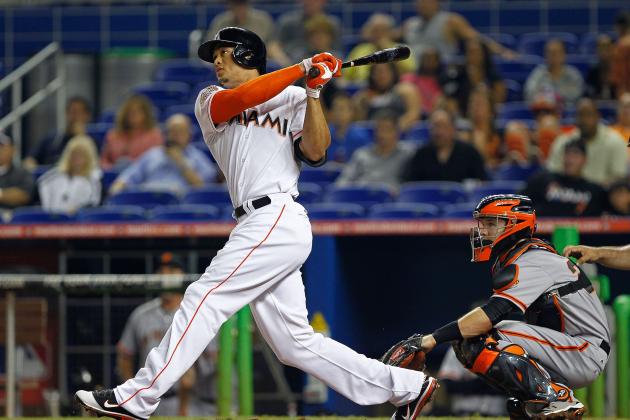 Mike Ehrmann/Getty Images

What is there left to say about the monster month of May that the Marlins' power-hitter Giancarlo Stanton just had?
Stanton has hit .333 while totaling 11 HR and 28 RBI in this month alone and has almost single-handedly led the Marlins charge to first place. He struggled in the beginning of the season, which led many to believe that injuries would plague his production for the entire year.
Giancarlo is proving at such a young age to be one of baseball's biggest up-and-coming stars. He's on pace to eclipse 40 HR and 120 RBI if he continues his offensive dominance.
There are few players in the league who can hit the ball as far as Stanton does, and he's only going to get better.
Of Stanton's 11 HR so far, eight have been for over 400 feet including a 462-foot shot that nearly broke the new Marlins scoreboard in deep left field at the new ballpark.
Jason Miller/Getty Images

Ozzie Guillen has gotten himself in a fair share amount of trouble since he first became a big league manager in 2003.
In perhaps his biggest mistake to date, Guillen offended plenty of his new fan base and was suspended five games right as the season took off.
After returning from suspension, Guillen has been able to rebound and gain control of his team as they have steadily climbed up the NL East standings.
Ozzie has faced his share of obstacles, ranging from believing in and helping rectify Carlos Zambrano's career to also finding a way to ensure Jose Reyes and Hanley Ramirez could co-exist.
Guillen also sent a message out when the team demoted All-Star 1B Gaby Sanchez to the minors. Ozzie has made the necessary adjustments since that move with shifting Logan Morrison over to 1B fill the void in Gaby's absence.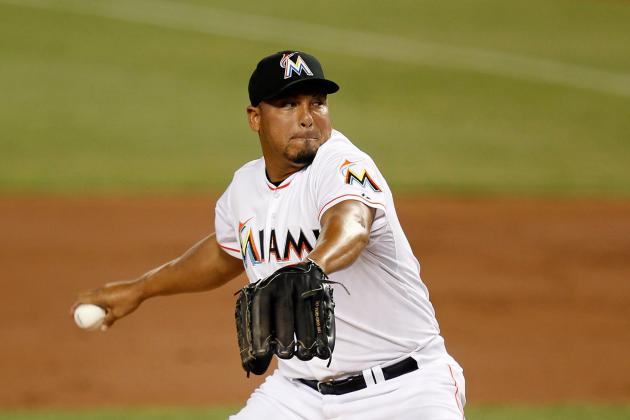 Sarah Glenn/Getty Images

There is no other way to describe how the Marlins' pitching staff has performed this season.
Even when Miami's ace Josh Johnson struggled earlier on, Mark Buehrle, Ricky Nolasco, Anibal Sanchez, Carlos Zambrano and the rest of the Marlins' pitching staff has stepped up.
Carlos Zambrano has revamped his career with the support of the Marlins and Ricky Nolasco broke the organization's all-time wins record.
Any time that your pitching staff has five quality pitchers, you have to feel good about your chances for success.
Things only can get better when your most dominating and skilled pitcher has the worst stats of all your starters.
With only a 2-3 record and a 4.87 ERA, expect for Josh Johnson to turn it around quickly.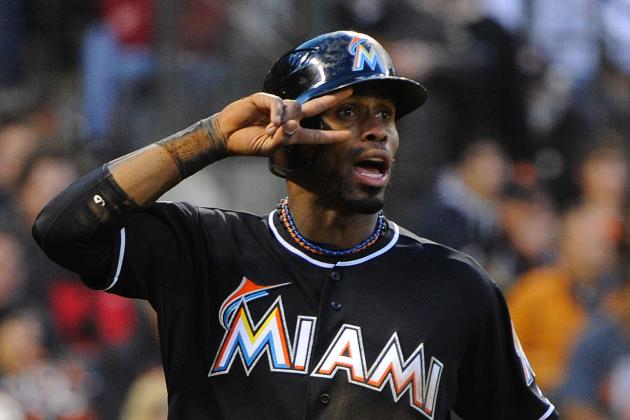 Thearon W. Henderson/Getty Images

All of the preseason hype that surrounded the acquisition of new Marlins SS Jose Reyes and how he could co-exist with former SS Hanley Ramirez can be put to rest.
Not only have the two been able to showcase their friendliness on the field, but Hanley Ramirez is putting up tremendous numbers that could turn out to be a career year for him. Ramirez is also proving that he has adjusted well to his new position at 3B.
Jose Reyes is riding a 10 game hitting streak while he continues to raise his average after struggling a bit to start off the year.
The two have also helped start the "Lo Viste" salute which has caught some attention. In a recent article by Joe Capozzi of The Palm Beach Post, Jose Reyes was quoted in saying, "We just do it to keep loose."
As long as the two are having fun, the Marlins can laugh at the skeptics who thought the two could never play on the same team.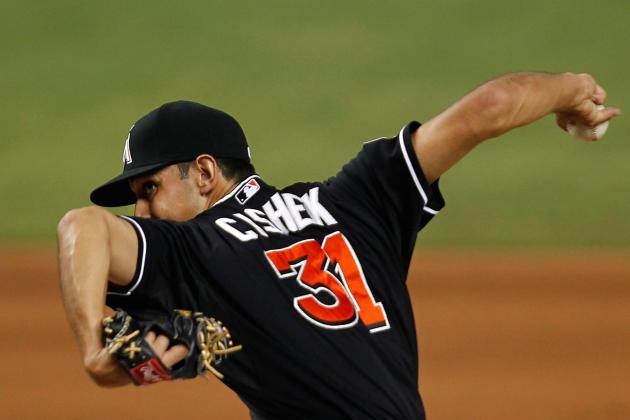 Sarah Glenn/Getty Images

Heath Bell started the season off dreadfully and still continues to find his groove with his new team.
Even with his doubts, the rest of the bullpen have stepped up in any way possible.
Randy Choate, Steve Cishek and Edward Mujica have done a great job with filling in when it matters. Choate has a 0.56 ERA in 11 IP with 11 HLD while Cishek has a 1.23 ERA and a 22/10 strikeout to walk ratio.
One of the main factors in the Marlins' late season success will be if Heath Bell can make a turnaround and live up to his expectations as a closer.
If he continues to struggle, Ozzie Guillen will have no problem replacing him if it produces wins.
Don't overlook the return of Juan Carlos Oviedo—aka Leo Nunez—who returned to the United States this week and now faces an eight week suspension. His reemergence back into the Marlins' bullpen might be needed if Bell continues to struggle.