Matt Forte and RBs with the Biggest Question Marks for 2012 Season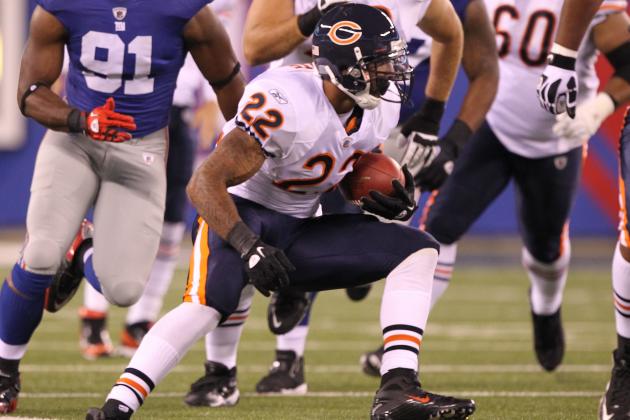 Al Bello/Getty Images

Chicago Bears running back Matt Forte leads a crop of NFL running backs that will enter the 2012 season with serious question marks.
While Forte has contractual and injury issues (or non-issues) surrounding his 2012 season, the rest of the players on the list have an assortment of worries about their upcoming campaigns. Those worries include returns from season-ending injuries, arrests and younger players on the roster.
In the following slides, we'll break down some of the NFL running backs with the biggest question marks clouding their futures for next season.
Begin Slideshow

»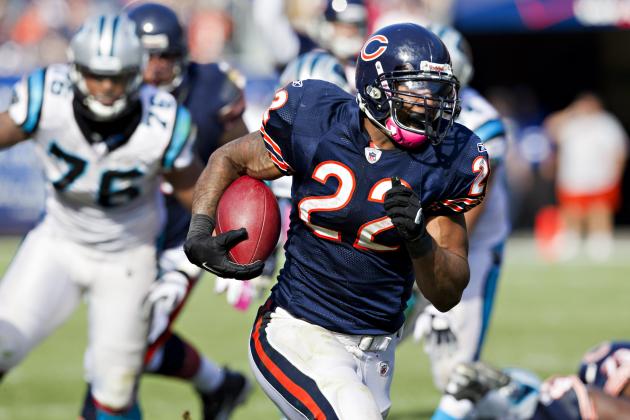 Wesley Hitt/Getty Images

There was always a puncher's chance that the negotiations between the Chicago Bears and running back Matt Forte would get ugly before any real progress was made. As we quickly approach the month of June, it appears as if the ugly is winning the day and will continue to through the summer.
While Forte has clamored for a new deal since last season, the Bears have done little to appease him. 2011 came and passed without much in terms of negotiations, and Chicago then slapped the franchise tag on Forte once it became blatantly obvious that a new deal was far off.
New Bears GM Phil Emery gave himself a backup plan soon after, signing Michael Bush away from the Oakland Raiders as a fail-safe both in terms of leverage in talks with Forte and on-field in case Forte's grumblings lead to a holdout in-season.
Then came this past weekend, when David Haugh of the Chicago Tribune reported that the Bears may be reluctant to give Forte a multi-year deal because of worries with his knees. Forte had problems at Tulane and missed the final quarter of the 2011 season because of lower-half injuries.
To answer those claims, Forte posted a video of himself pulling a 100-pound sled up a hill on Twitter and also writing, "100lbs sled up hill i think my knee will be ok."
Healthy knee or not, the strained relationship between player and team leaves reason to be concerned about Forte's 2012 season. He has over $7 million reasons—his franchise tag value in 2012—to play all 16 games next season, but this contract situation is a dark cloud hovering over both sides.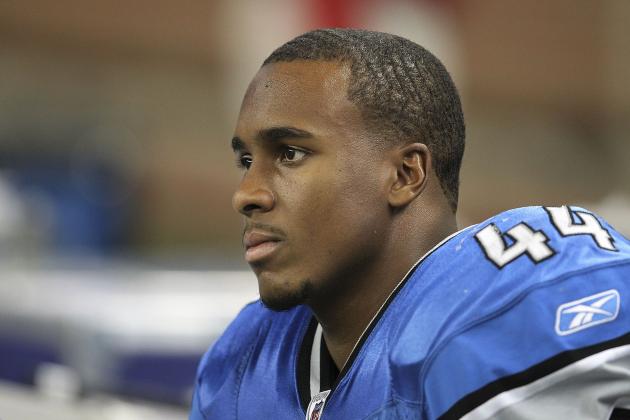 Leon Halip/Getty Images

You wouldn't assume the running back position would be a question mark for a team that has invested a first- and a second-round pick over the last three NFL drafts. But in Detroit, the question marks run rampant around Jahvid Best (2010 first-rounder) and Mikel Leshoure (2011 second-rounder).
Best played in 15 games his rookie season but was limited to just six last season after his third concussion in three seasons put his NFL career in doubt. But Best is back with the Lions for 2012—symptom free—and Dave Birkett of the Detroit Free Press reports Best has been a full participant at the Detroit's organized team activities (OTAs) so far this offseason.
However, concussions are one of the most unpredictable injuries in the game, and another head-related trauma could be the end for Best. His NFL career will walk a tight rope over the next 12-24 months.
Best's injury woes wouldn't have been as big a problem if Leshoure had not blown out his Achilles before his rookie season even began in 2011. After missing all of last season, LeShoure was then busted twice for marjiuana possession this offseason.
According to Chris McCosky of the Detroit News, Leshoure is likely to see a two-game ban for the offseason double arrest.
If healthy and out of trouble, Best and Leshoure give the Lions a young and talented one-two punch at running back. But until there's confidence that the two can stay on the field and out of the papers, there's question marks in Detroit.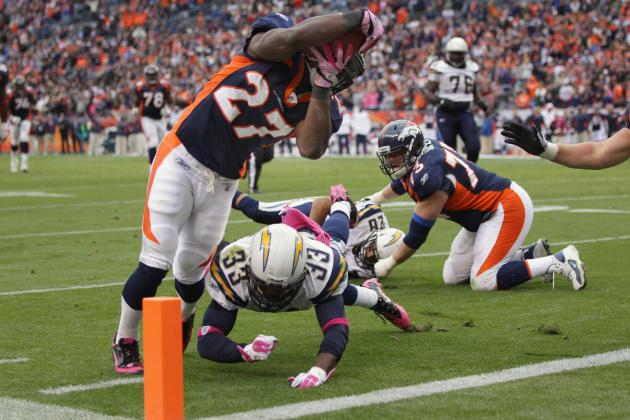 Doug Pensinger/Getty Images

A first-round pick in 2009, Knowshon Moreno has witnessed his NFL career spiral out of control over the last 12 months.
The addition of Willis McGahee as a free agent helped decrease his work load in Denver for the second straight season, and a torn ACL in late November cost him a majority of the Broncos' run towards the AFC West title in 2011.
Still in recovery from his ACL surgery, Moreno was then arrested for a DUI in early February.
Now, according to Lindsey Jones of the Denver Post via Rotoworld.com, Moreno may be "fighting for a roster spot" with the Broncos this offseason.
McGahee remains as the team's starter at running back, and 2012 third-round pick Ronnie Hillman could push for the second-string carries. That leaves a wounded Moreno as a shaky third stringer, especially considering the team is moving towards a more passing-orientated offense with Peyton Manning in town.
If Moreno lacks any burst this summer, the Broncos could decide to part ways. He has questions abound to answer this offseason.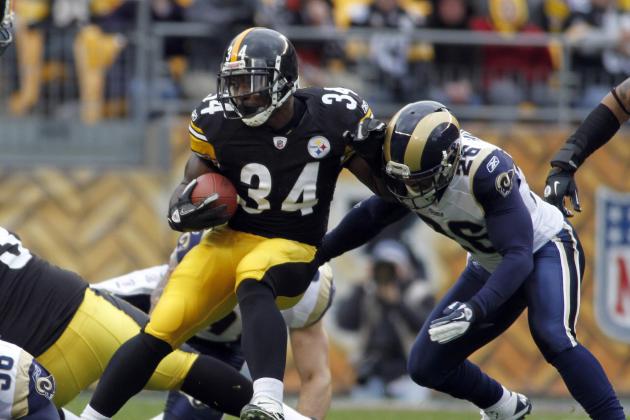 Justin K. Aller/Getty Images

Rashard Mendenhall likely couldn't have picked a worse time to suffer a catastrophic injury if he had tried.
Leading into a contract year—his first as an professional—Mendenhall tore up his knee during an early January game to end his 2011 season. With questions about the health of his recovering ACL still lingering, Mendenhall isn't going to get any kind of contract security from the Steelers this offseason.
In fact, there's still question about when Mendenhall's 2012 season will even begin.
While Pittsburgh expects Mendenhall to play at some time next season, there's a good chance the 24-year-old back lands on the physically unable to perform (PUP) list to start 2012. If that's the case, Mendenhall will miss at least the team's first six games.
Still, the Steelers felt confident enough with Mendenhall's recovery to avoid making any big splashes at the position in either free agency or the draft. But there's no doubting that Mendenhall has more questions than answers about his 2012 season as it currently stands in late May.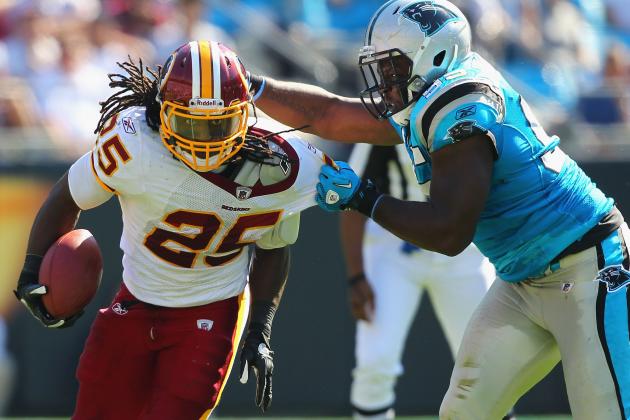 Dilip Vishwanat/Getty Images

The Redskins re-signed Tim Hightower after dealing for the 26-year-old back late last summer. But like so many others on this list, recovery from a major knee injury clouds his 2012 season, and there's also young competition on the roster that can push Hightower aside if the knee isn't 100 percent.
A strong start to last season ended when injury struck.
The former Arizona Cardinals back ran for 321 yards during the Redskins' first five games of 2011—displaying versatility as a runner, receiver and blocker—before tearing his ACL in Week 7. With the running-back door open, rookies Roy Helu and Evan Royster showed that they are capable of carrying the load.
While Hightower once had starter ability, he's likely looking at a smaller role next season.
Helu should be in line to get the most carries, but Hightower is the better all-around player on third downs. With a rookie quarterback in Robert Griffin III taking over, the Redskins need Hightower to be a factor as a pass-catcher and blocker.
But if the knee isn't right, don't be surprised if Hightower is lost in the shuffle. He'll have to answer the question marks surrounding his role early in 2012 to avoid losing most of his snaps to Helu and Royster.
Wesley Hitt/Getty Images

An undrafted free agent out of Oregon in 2010, LeGarrette Blount went over 1,000 yards for the Buccaneers in 2010 and looked ready to cement his hold on the running back position in Tampa Bay with a strong 2011.
But the consistency that Blount showed in 2010 escaped him last season, and five fumbles and his lack of a presence in the passing game put his status as the team's lead back for 2012 in jeopardy.
New head coach Greg Schiano then all but proved that Blount's hold on the starting position was over when the team drafted Boise State running back Doug Martin in the first round last month.
Now, Blount will have to answer whether or not he can play second fiddle in Tampa Bay. Martin is the kind of three-down back that is getting more and more rare in the NFL game, and it is easy to envision Schiano riding him like he once did with Ray Rice at Rutgers.
Time will tell if Blount can adjust to his new role, or if the demotion will be the beginning of his end in Tampa Bay.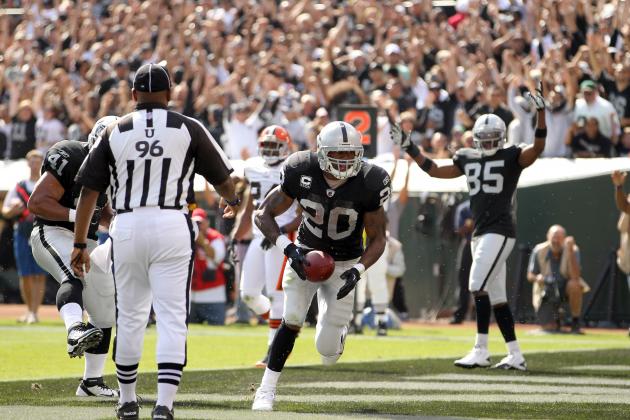 Ezra Shaw/Getty Images

When Darren McFadden is right, few backs in the game today can match the all-around running package he brings to the table every Sunday.
But throughout his NFL career, the simple fact remains that McFadden has rarely been right for extended periods of time.
He's never once played in all 16 games in a season since entering the NFL in 2008, and he missed a career-high nine games with injury in 2011.
However, Steve Corkran of the Contra Costa Times reports McFadden has been a full participant at Raiders OTAs, and the team obviously felt comfortable with his recovery considering they let trusted backup Michael Bush walk in free agency.
The Raiders are going to lean on the 24-year-old McFadden more than ever in 2012, but he'll have plenty of question marks about his health to answer next season.