Indiana Pacers: Possible Trades Involving Danny Granger
May 30, 2012

Jonathan Daniel/Getty Images
To quote Fantasy Focus, one of my favorite podcasts,: "The hate has gone too far" on Danny Granger. 
It seems that most Pacers fans have forgotten that Danny Granger is about the only Pacer (along with the retired Jeff Foster) that has been worth cheering for between about 2006 and 2010.
Danny won the Most Improved Player award and was selected to the All-Star team during the 2008-09 NBA season, and perhaps more importantly, stuck with the Pacers franchise through the rough years.
Now, it seems everybody is calling to trade him immediately.
I can't say I agree with that; however, I can't say I disagree with it either. 
I am a big Granger supporter. 
You get what you get with Danny.  Pacers fans know that.  Not many people who watched the Pacers all year expected Danny to score 25 a game against the Heat.  That is not who he is on this current Pacers team. 
He will play above-average defense, throw up a couple of dumb shots early in the shot clock, miss some wide-open looks, make a circus shot or two and end up with 10-20 points each night.
That's essentially what you get with Danny Granger. 
Do I think the Pacers could take the next step with Granger as their leading scorer? 
Possibly. 
But I think it may be easier with someone else to help the ball movement and balance the scoring attack the Pacers have implemented. 
These are the three possible trades that work in ESPN's NBA Trade Machine.  This doesn't mean the trades are realistic and that either team would agree, it only means they are possible under the super confusing CBA.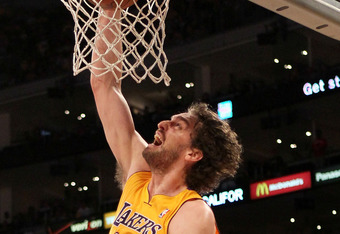 Stephen Dunn/Getty Images
1. Danny Granger and Darren Collison to Houston for Kyle Lowery and Kevin Martin.
This would dramatically change the look of both teams. 
It would change the Pacers starting back court to Lowery and Martin.  Martin is a guy who can create his own shot in the fourth quarter, which is what the Pacers have been lacking the the last two post-seasons.  Lowery shined this season in Houston and has been rumored to be unhappy.
The Rockets would be getting back a starting point guard in Collison and Granger, who could mesh nicely with Luis Scola and Chandler Parsons.
According to John Hollinger's analysis, this would increase the Pacers win total by three, and not effect the Rockets win total.
2. Danny Granger and Jeff Pendergraph to Los Angeles for Pau Gasol.
All signs point to Pau Gasol leaving L.A. 
Some destinations mentioned have been Orlando or Brooklyn.  I don't think those are good fits for Gasol.  If he went to Orlando, that would mean Howard would be in L.A., and if Deron Williams doesn't resign in Brooklyn, that means both options leave Gasol as the face of the franchise. 
Not the thing you want with Gasol at this point in his career.
Pau Gasol would fit in nicely in Indiana. 
He would either start alongside David West, possibly starting instead of Hibbert, or be an effective sixth man. 
Remember, this is 2012, James Harden is a sixth man. If he doesn't need to start, Gasol doesn't need to start.  Indiana's front court would immediately be the best in the NBA.
For the Lakers, Granger is a player that could be very effective.  He would be a nice addition alongside Kobe.  Granger can create his own shot at times but is better when others are creating.  Kobe has no issues with the ball in his hands. 
Granger would be the best wing player to play with Kobe in L.A. since Kobe has been there.
Jeff Pendergraph was a nice energy guy for the Pacers off the bench but doesn't appear to be any kind of game changer.  He has to be included in this trade to work financially.
3. Danny Granger to Los Angeles Clippers, Josh Smith to the Pacers and Eric Bledsoe and Caron Butler to Atlanta.
This is a three-team trade involving four players. 
According to Hollinger's Trade Machine analysis, the big winner of this is the Clippers.  With Granger, they would have a nice "Big Three" of their own with Chris Paul, Blake Griffin and Danny Granger. 
The Pacers would add more front court depth to go along with David West and possibly Roy Hibbert.  Smith and Hibbert or West on the floor at the same time would be extremely tough to handle.
The Hawks are the losers in this trade, but they would be getting a up-and-coming star in Eric Bledsoe who handled himself very well in the playoffs this year and a proven player in Caron Butler who could ease some of the perimeter scoring pressure on Joe Johnson.
Should the Pacers trade Granger? 
Hard to say. 
But it seems that have some options and flexibility.  One thing is for sure, this should be a very interesting off-season in Indianapolis.