UEFA Champions League: The Top 10 Upsets Ever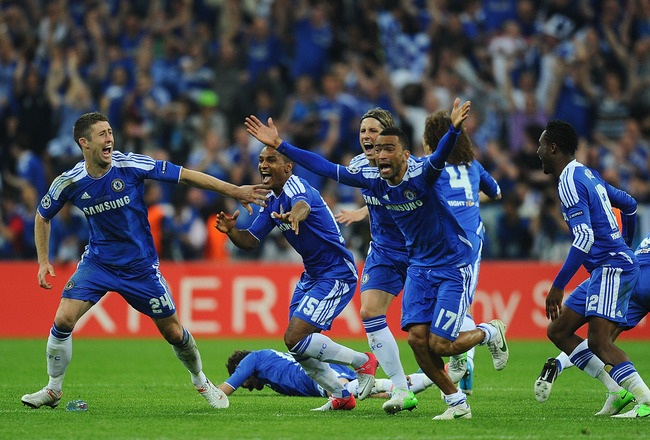 Chelsea Celebrate as Didier Drogba Scores The Historic Winning Penalty In The 2012 UEFA Champions League Final v. Bayern Munich
Mike Hewitt/Getty Images
In the 19 seasons of the UEFA Champions League, there have been many historic upsets—the most recent being Chelsea's completely unexpected win over Bayern Munich.
Since the tournament evolved to give more unrecognised teams a chance, underdog victories in Europe's most lucrative and prestigious cup competition have become increasingly commonplace, with the likes of AS Monaco, Deportivo La Coruna, Rubin Kazan, APOEL Nicosia, etc, able to make a name for themselves.
But aside from the smaller teams beating the bigger teams, upsets even happen between giants of European football—with the pressure of the tournament making each game unpredictable, and in the case of teams like Chelsea, allowing clubs to come back from the brink and snatch the most unlikeliest of wins from the jaws of defeat.
And so, here are the best underdog victories in UEFA Champions League history.
10. FC Barcelona 1-2 Rubin Kazan
On October 20 2009, unknown Rubin Kazan announced themselves to the world after going to the Camp Nou slaughterhouse and defying all the odds to return unscathed.
The Russians beat defending champions FC Barcelona 2-1 in the Group F game, despite Barca virtually fielding their strongest line-up—with Lionel Messi, Zlatan Ibrahimovic, Andres Iniesta, Yaya Toure, Xavi, Gerard Pique, Dani Alves, Eric Abidal and Victor Valdes all starting for Barca.
Aleksandr Ryazantsev gave the visitors a shock lead after just two minutes, with his stunning 30-yard strike leaving goalkeeper Valdes with no chance.
Ibrahimovic equalised for Barca just after halftime, and despite the hosts brutally asserting their dominance over their inferior counterparts, it was Rubin Kazan who retook the lead, with Gokdeniz Karadeniz coolly slotting past Valdes to stun the Camp Nou crowd, and the watching world.
Before the game, Rubin Kazan were 22/1 to win.
9. FC Basel 2-1 Manchester United
FC Basel made it into the Champions League round of 16 for only the second time in their history with a stunning 2-1 home win over Manchester United.
It was a result which saw three-time European champions United crash out of the competition at the group stage for only the third time in 17 years.
Needing only a point to knock out Basel and secure their passage into the last 16 from Group C in this season's tournament, the Red Devils were the overwhelming favourites and going into the game seemed much more likely to win.
But it all went downhill after Marco Streller put the hosts ahead on nine minutes.
United captain Nemanja Vidic went off injured soon after, and the visitors were ultimately made to pay for their wasted chances going forward and vulnerability on the counter-attack, with Alexander Frei putting Basel 2-0 up and out of reach in the 84th minute.
Phil Jones put United back in it at 2-1, but it was too little too late for the world football superpower, with Basel securing the most unfancied home win in their history.
8. Chelsea 4-1 Napoli AET
After losing the first leg 3-1 and seeing their manager Andre Villas-Boas sacked, nobody was backing Chelsea to defy the odds and beat Napoli by three goals at Stamford Bridge to make into the quarterfinals of this season's UEFA Champions League.
However, that's exactly what the Blues did. Goals from Didier Drogba and John Terry put Chelsea 2-0 up in the first half to make it almost seem like a formality.
Although when Gokhan Inler equalised, again the haters came out and dismissed Chelsea's chances, but up stepped Frank Lampard 20 minutes later to restore his side's unfancied lead before Branislav Ivanovic struck in extra-time, securing a fairytale fortune turnaround for the Blues.
7. APOEL Nicosia 1-0 Lyon (4-3 Penalties)
To put APOEL Nicosia's achievement into perspective—when they entered the competition against Albanian team KF Skënderbeu Korçë in the second qualifying round, the odds on them reaching the quarterfinals were 1000/1.
Eight months later, and their penalty shoot-out win over UEFA Champions League veterans Lyon saw APOEL progress to their first ever Champions League quarterfinal, with the furthest they've ever been previously being the group stage in 2009-10, which was the first time they'd ever been that far.
After losing the first round of 16 leg away to Lyon 1-0—thanks to an Alexandre Lacazette goal—APOEL removed the deficit just nine minutes into the second leg, with Gustavo Manduca thrusting the minnows back into the competition.
The Cypriots then admirably held their own, and took the game to their much more illustrious opponents, getting ever closer to a decisive second before eventually putting the Ligue 1 side to the sword on penalties.
APOEL won 4-3 on penalties to book their place in the quarterfinals for the first time in their history, and in doing so gave hope to smaller clubs across the world.
6. AS Monaco 3-1 Real Madrid
Despite being a team which included stars like Patrice Evra, Emmanuel Adebayor, Ludovic Giuly, Fernando Morientes, Dado Prso, Jerome Rothen, Sebastien Squillaci, Gael Givet, etc, AS Monaco created a huge upset when they beat Real Madrid 3-1 at home in the 2003-04 UEFA Champions League quarterfinal.
After losing the first leg 4-2 at the Bernabeu, nobody gave Monaco a chance, especially after they went 1-0 down—5-2 on aggregate—35 minutes into that second leg in France.
But after Raul put Real ahead, the Spaniards were made to pay for the subsequent arrogance they were showing, as Giuly gave Monaco a lifeline on the stroke of halftime.
And with Real Madrid still convinced they had the game wrapped up following the restart, it was this hubris which became their hamartia and led to their tragic downfall.
Morientes—who hilariously enough was actually on-loan at Monaco from Madrid—scored just three minutes into the second half, before adding a second 18 minutes later to seal Real's fate and send the tournament's biggest surprise package into the semifinals.
It was a result which proved to world football just how badly complacency can strike.
5. FC Barcelona 2-2 Chelsea
Chelsea had won the first leg at Stamford Bridge 1-0, and despite having already defied the odds to knock out Napoli, nobody gave the Blues a chance in their semifinal return leg of this season's Champions League away to FC Barcelona.
Even the opposition—who usually in football play up their counterparts to avoid being the subject of added motivation—were talking up their chances, saying how Chelsea would be beaten easily.
Barca boss Pep Guardiola said ahead of the return leg, "I don't have any doubt that we will be in Munich", with virtually no-one doubting his words.
And as Andres Iniesta put Barca 2-0 up on the night and 2-1 on aggregate, the game seemed a forgone conclusion, with even some of the Chelsea players clearly thinking the match was beyond their reach.
Even when Ramires levelled just before halftime, still the game seemed out of Chelsea's hands.
But after a missed Lionel Messi penalty and a Fernando Torres equaliser—which before the game was one of the most unlikeliest scenarios in world football—it was the Londoners who had shocked the world and made it through to only their second ever Champions League final.
4. Deportivo La Coruna 4-0 AC Milan
The match report in The Guardian following this epic encounter sums it up perfectly, as Michael O'Connor writes:
Deportivo La Coruña last night performed one of the greatest feats in modern European football when they destroyed AC Milan, the defending champions and tournament favourites, with a four-goal surge that defied mountainous odds.
Heading into the match at the Riazor Stadium, Deportivo had to overcome a 4-1 deficit—a task nobody thought was possible, especially against a Milan team that were expected to be the first team to win back-to-back UEFA Champions League titles.
However, goals from Walter Pandiani, Juan Carlos Valeron, Albert Luque and Fran Gonzalez sealed Milan's fate, giving Depor the biggest win in their history.
3. Bayern Munich 1-1 Chelsea (3-4 Penalties)
One of the biggest fairytale finals in Champions League history, Chelsea continued to defy the odds this season when they beat Bayern Munich—on Bayern's home ground—to win the tournament for the first time in their history.
Despite featuring twice on this list already—with nobody giving them a chance against Napoli or FC Barcelona—still Chelsea were the big underdogs for this match, with most failing to see past a routine Bayern win.
And what eventually made the Blues' win so remarkable was Thomas Mueller's headed goal to put Bayern Munich 1-0 up—83 minutes into the match.
At that point a Chelsea fightback seemed unthinkable, as it did in extra-time when—after Didier Drogba equalised in the 88th minute to force another 30 minutes of action—the Blues legend conceded a penalty, giving Arjen Robben the chance to restore Bayern's lead (which he subsequently squandered).
And even when it went to a penalty shoot-out a Chelsea win wasn't in the equation, with the Germans' vastly superior record with penalties and the Londoners' Moscow heartbreak four years previously seemingly ruling them out.
But again the Blues defied the odds, and having been written off all season with the expectation of ending the campaign trophyless and with only a Europa League place, the last kick of Didier Drogba's Chelsea career sealed a 4-3 win on penalties, as well as the trophy for the most prestigious club competition in the world for his team.
Dismissed all season, despite Chelsea's wealth this match is without doubt one of the biggest underdog victories in UEFA Champions League history.
2. AC Milan 3-3 Liverpool (2-3 Penalties)
The "Miracle of Istanbul", the 2005 UEFA Champions League Final between AC Milan and Liverpool will forever be remembered as one of the greatest finals in world football history.
Almost every football fan knows the tale of this final—played at the Ataturk Olympic Stadium in Istanbul—in which Milan went 3-0 up at halftime.
At that point, it was shaping up to be one of the most one-sided finals ever, with AC Milan playing some of the most beautiful football seen in a Champions League final.
The result seemed a forgone conclusion just 60 seconds into the encounter, when captain Paolo Maldini volleyed home Andrea Pirlo's free-kick cross to put Milan 1-0 up, before a Hernan Crespo brace before halftime seemingly sealed Liverpool's fate.
Even on 54 minutes when Steven Gerrard gave Liverpool a lifeline and scored to make it 3-1, the final result never seemed in doubt. But what happened next changed football history forever.
Given space on the edge of the Milan penalty area, Vladimir Smicer hit a powerful yet hopeful shot which somehow found it's way past the Italian's packed defence and in to the bottom corner past Milan goalkeeper Dida.
With the score at 3-2 and Liverpool now attacking fast and full of hope, nerves got the Milan defence as they conceded a penalty as Gennaro Gattuso fouled Gerrard in the box.
Xabi Alonso stepped up and scored the penalty, putting Liverpool back in the game at 3-3, and, far more remarkably, making AC Milan's certain Champions League win completely crumble in the space of just six minutes.
A penalty shoot-out with Jerzy Dudek's wobbly legs and famous save from Andrei Shevchenko later, and a certain AC Milan win turned into a fifth European title for Liverpool, and one of the greatest comebacks ever seen in the sport.
1. Bayern Munich 1-2 Manchester United
They didn't score the numbers of goals Liverpool did, but Manchester United's win over Bayern Munich in 1999 at the Camp Nou has to go down as the biggest underdog victory in Champions League history.
Of course, going into the game both sides were considered equal, but after Mario Basler's free-kick put Bayern ahead after six minutes, it left United with a mountain to climb.
As the game went on and still United couldn't find the net, a Bayern win was becoming increasingly likely.
And as the clock hit 90 minutes, tons of devastated United fans were pouring out of the Camp Nou while the fans from Munich just couldn't hide their delight.
Which is what makes this story one of the best in football.
With three minutes of injury-time to be played at the end of the 90, United win a corner-kick. The atmosphere is slightly nervy, but both sides think nothing will really come of it.
And as the ball from David Beckham flies over most players heads and out to Dwight Yorke who can merely to head it to a Bayern defender to clear, United's last real chance seems over.
However, the clearance ends up with Ryan Giggs on the edge of the box, and his shot back into the box is helped on and into the net by Teddy Sheringham.
With the score at 1-1 and with hope having suddenly appeared out of nowhere, United force another corner just 30 seconds after kick-off from their first goal.
And as Beckham whips the ball in again, Sheringham flicks it on for Ole Gunnar Solskjaer, who from three-yards out pokes the ball home and puts United 2-1 up, meaning the Red Devils have snatched victory from the almost certain jaws of defeat in just one minute and 18 seconds.
It was a result that changed United's philosophy forever, with the idea of expecting a win until the final whistle the club's mentality on the field of play.
Having been 1-0 down after 90 minutes, to then win the Champions League and an unprecedented treble makes this win the biggest underdog victory in the tournament's history.
Keep Reading