Celtics vs. Heat: Game 2 TV Schedule, Live Stream, Spread Info and More
May 29, 2012

Mike Ehrmann/Getty Images
Predictably, a rested Miami Heat team made things look rather easy in Game 1 against a Boston Celtics team that was fresh off an ugly seven-game series against the Philadelphia 76ers.
LeBron James and Dwyane Wade were once again big, combining for 54 points. While the Celtics need to slow down Miami's dynamic duo to have a chance in Game 2, Boston's biggest weakness all season showed up again in Game 1...scoring.
The Celtics have to find a way to shoot better than 39.5 percent from the floor. Being held under 80 points is a recipe for disaster. You won't win many games shooting 52.4 percent from the free-throw line, either.
Boston has to find a way to become more efficient offensively to have any shot at the NBA Finals. You can get away with missing open shots against the Sixers, but you can't do that against the Heat. They will make Boston pay.
For the Heat, Game 2 is simply about emulating their Game 1 performance.
Miami killed the Celtics on the glass (48-33), outscored them in the paint (42-34), doubled them up on fast-break points (10-5) and blocked 11 shots to only one from the Celtics.
NBA fans should see a better effort from the C's for the second go-around, as they attempt to adjust and avoid a 2-0 hole.
But can they steal a win in Miami, who's 33-6 at AmericanAirlines Arena (including playoffs) on the season? 
Here's a look at everything you need to know about this Eastern Conference finals tilt.
When: Wednesday, May 30 at 8:30 p.m. EDT
Where: AmericanAirlines Arena in Miami, Florida
Watch: ESPN
Live Stream: ESPN3
Betting Line: Miami (-8) via 5Dimes
Celtics Key Injuries (Per CBS Sports):
Out: Avery Bradley (Shoulder)
Heat Key Injuries (Per CBS Sports):
Out: Chris Bosh (Abdomen)
What They're Saying
As bad as the Celtics offense was on Monday, they also didn't give their usual effort on the defensive end. LeBron and company often had it easy, as noted by ESPN's Brian Windhorst:
James got anything he wanted in this one, moving through the Celtics' usually legendary defense with just average effort. Generally he got anywhere he wanted on the floor and scored with such ease that he had time to add style points. Usually against the Celtics, and it has generally been this way for years, every basket in the half-court of a playoff game seems like the product of a chess match. His 32 points on 22 shots seemed like Chutes and Ladders.
Most Important Player to Watch: Rajon Rondo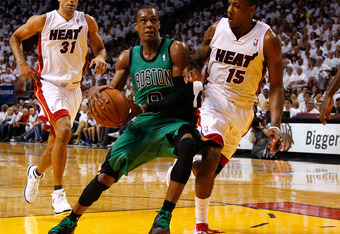 Mike Ehrmann/Getty Images
In two April wins against the Heat, Rondo ate up the Miami defense, averaging 17 points, 14.5 assists and 7.5 rebounds.
However, in Game 1, Rondo was frustrated all night. Miami head coach Erik Spoelstra kept running fresh bodies at him, including LeBron, Wade and Mario Chalmers.
Rondo turned it over four times in the first quarter and finished only 8-of-20 from the floor, with most of those misses contested drives to the basket.
Rondo has to get back to being his normal self for Boston to have any chance in Game 2.
Key Matchup: Ray Allen vs. Dwyane Wade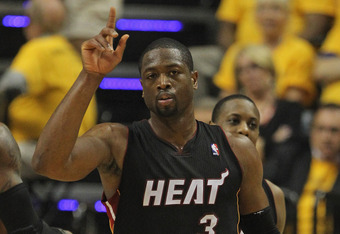 Jonathan Daniel/Getty Images
The shooting guard position used to be a strength for the Celtics—now it looks like a huge weakness with a hobbled Ray Allen.
While Wade has been on a roll the past four games, averaging 30.3 points a contest, it's been just the opposite for Allen. He had another bad game Monday night, shooting only 1-of-7 from the floor.
Allen is now shooting only 40 percent from the floor and a shocking 65 percent from the free-throw line (career 89 percent) in the playoffs. For the Celtics to have much of a chance, they have to get something from Allen.
Prediction
Heat 88, Celtics 86