Fantasy Baseball: 7 Surging Infield Hitters to Realistically Trade for Right Now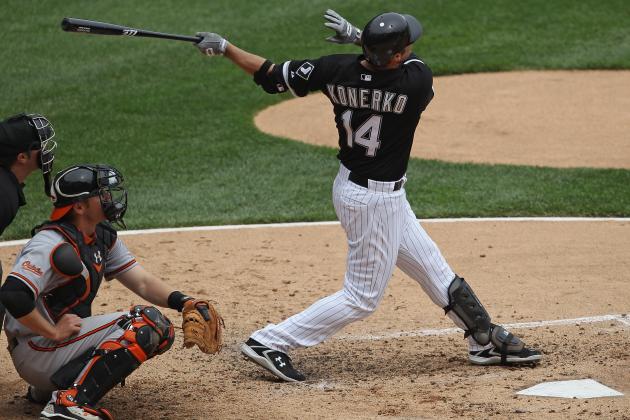 Jonathan Daniel/Getty Images
White Sox first baseman Paul Konerko (11 HR, 33 RBI, .395 batting, 1.142 OPS) is a healthy lock for another season of 30 homers and 95 RBI.
The following slideshow touts seven prominent infielders who could realistically be acquired in trade talks this week.

Some of the fantasy assets have fostered great starts to the season but are fighting reputation-based stigmas of years past.

Some players have shallow track records and could be swapped out for more established veterans (or highly touted prospects).

And some have been maddeningly inconsistent out of the gate and could be on the move...as part of a classic knee-jerk response from their jittery fantasy owners.

Enjoy the show!
Begin Slideshow

»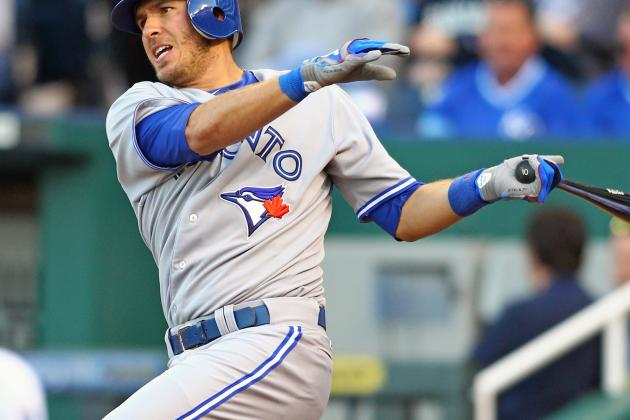 Tim Umphrey/Getty Images

2012 Stats: 9 HR, 29 RBI, 20 Runs, 1 Steal, .245 Batting

Last 30 Days: 8 HR, 19 RBI, 16 Runs, .279 Batting

Skinny: Arencibia (six HRs since May 14) may be among the 12 best catchers in fantasy right now, but that doesn't mean his current owners are feeling secure about his season-long chances for success.

For starters, Arencibia is prone to having extreme peaks and valleys as a hitter, riding a tidal wave of goodness for two weeks...before going on a three-week voyage of the damned.

It also doesn't help that Arencibia boasts a 41/4 strikeout-to-walk ratio for the season, a Grand Canyon-sized disparity that cannot be rationalized with a few endearing words about American League pitching. Bottom line: Arencibia can be a reckless free-swinger at times, which often leads to prolonged hitting funks.

There's one other factor potentially working against Arencibia: Opportunity.

The No. 1 hitting prospect in the Blue Jays' talent pipeline is catcher Travis d'Arnaud (11 HR, 31 RBI. 31 runs, .313 batting at Triple-A Las Vegas). By some accounts, d'Arnaud possesses many of the admirable hitting traits of Arencibia—but with better plate discipline and a greater skill set behind the plate.

Now, if Arencibia makes a full-time move to first base (or DH) after d'Arnaud's seemingly imminent promotion, that's great. But until that strategy gets locked down, Arencibia might be a sensible sell-high asset for his grateful owners.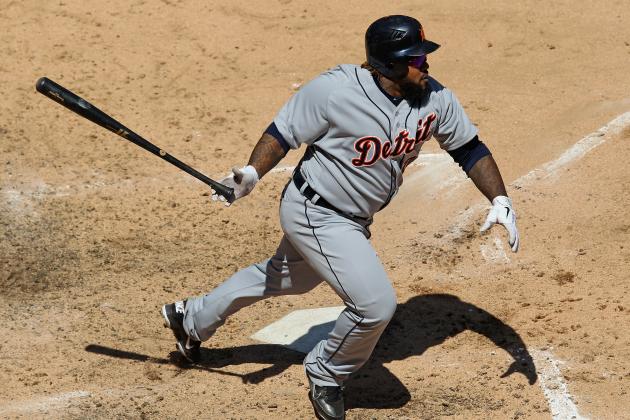 Jonathan Daniel/Getty Images

2012 Stats: 7 HR, 28 RBI, 28 Runs, 1 Steal, .315 Batting

Last 30 Days: 5 HR, 18 RBI, 16 Runs, .318 Batting

Skinny: At first blush, fantasy owners should be thrilled with Fielder's rock-solid consistency in his first season with the Tigers, particularly the .429 batting average since May 14.

But for the fantasy GM who drafted Prince among the first 18 picks in March, he/she likely targeted Fielder that high for the awesome power potential—not necessarily the high batting average.

After all, Fielder may be on his way to a career year in batting, but his on-base percentage (.377) still isn't close to his three-year average of .414 with the Brewers (2009-11).

From 2007-11, Fielder boasted per-season averages of 40 homers and 113 RBI. For 2012, he's on track for 25 homers and 92 RBI.

Of course, that wouldn't scare me off from pursuing Prince in trades. High batting and OBP marks always lead to something good.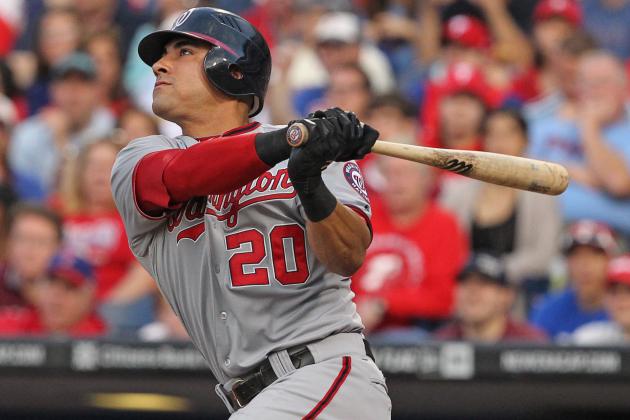 Hunter Martin/Getty Images

2012 Stats: 8 HR, 23 RBI, 27 Runs, 5 Steals, .263 Batting

Last 30 Days: 6 HR, 16 RBI, 15 Runs, 4 Steals, .273 Batting

Skinny: Since April 30, Desmond ranks first in doubles among MLB shortstops (10), third in slugging (.521), third in homers, fifth in RBI and seventh in OPS (.811).

And for power-needy fantasy owners, that should be enough motivation to forward a stealth trade offer to Desmond's caretakers.

As middle infielders go, Desmond could be an invaluable source of diverse fantasy goodness for the pennant drive.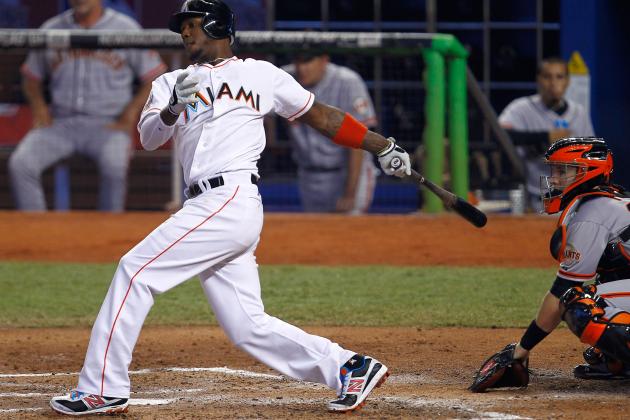 Sarah Glenn/Getty Images

2012 Stats: 7 HR, 32 RBI, 28 Runs, 9 Steals, .259 Batting

Last 30 Days: 3 HR, 19 RBI, 18 Runs, 5 Steals, .288 Batting

Skinny: It's hard to keep a healthy star down for long, and Ramirez (.368 batting since May 14) has been quietly setting the stage for a monster June-September run the last few weeks.

Yes, Giancarlo Stanton, Jose Reyes, Carlos Zambrano and Omar Infante may be garnering all the Marlins' media attention right now, for various reasons, but Ramirez may yield the greatest return of the quintet—in relation to his current trade value (noticeably lower than March).

Before the season started, expectations were sky-high that Ramirez might revolutionize the fantasy world with his SS/3B eligibility. Instead, he has merely morphed into a 2010/11 version of David Wright—someone who'll tally 22 homers, 23 steals, 97 RBI, 92 runs and hit comfortably over .275...with little fanfare and without many sustained dips in production.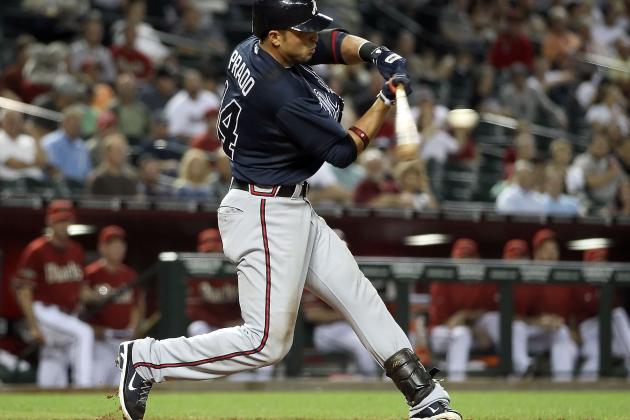 Christian Petersen/Getty Images

2012 Stats: 3 HR, 22 RBI, 30 Runs, 7 Steals, .326 Batting

Last 30 Days: 2 HR, 10 RBI, 18 Runs, 6 Steals, .322 Batting

Skinny: Prado's numbers have been stellar throughout the 2012 campaign. For the year, he has 22 RBI, 30 runs and seven steals. From a 15-day perspective, Prado is shredding opposing pitchers, batting at a .429 clip.

Which brings me to this: As an Atlanta resident and MLB Extra Innings subscriber, I didn't realize the quiet, reserved Prado was killing the ball like this, and that's a frightening concept for a Baseball-Reference nerd to accept. It should be even scarier for the Prado fantasy owner who either doesn't know about or believe in his potential for similar June-September success.

Bottom Line: Prado may never get his just due on ESPN or MLB Network—but you'd be hard-pressed to find 10 better hitters with dual-positional eligibility right now.

Use your stealth powers to acquire him, by any means necessary.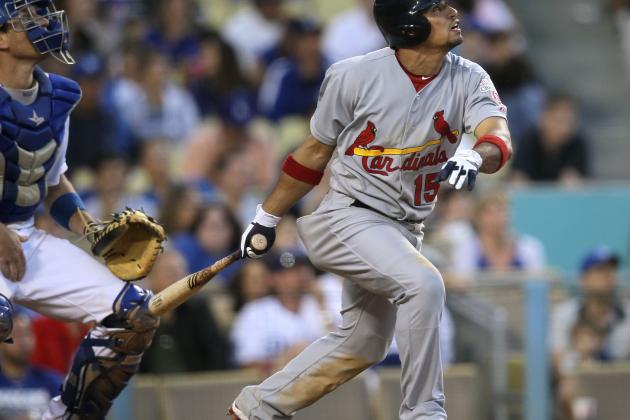 Stephen Dunn/Getty Images

2012 Stats: 4 HR, 23 RBI, 35 Runs, 8 Steals, .340 Batting

Last 30 Days: 4 HR, 15 RBI, 21 Runs, 5 Steals, .365 Batting

Skinny: Admittedly, I've been a card-carrying member of the Rafael Furcal Doubters Club for some time.

I had been skeptical about a diminutive, aging shortstop and his season-long capacity to aid a proud championship team that lost its best hitter in the offseason (Albert Pujols) and a cornerstone producer just two weeks ago (Lance Berkman).

And yet, the 34-year-old Furcal has passed the hitting tests—with flying colors—at every checkpoint this season...to the surprise of well, probably every fantasy owner who's not a Furcal relative.

So, where do we go from here?

I'm willing to bet a majority of Furcal's owners still believe he'll come back to earth before the fantasy season ends in late September. They may even point to his .236 batting average since May 14 as a motivating factor for selling high on the shortstop—as soon as possible.

My Advice: Take the bait. Take the risk that Furcal will continue to enjoy one last season of fantasy excellence.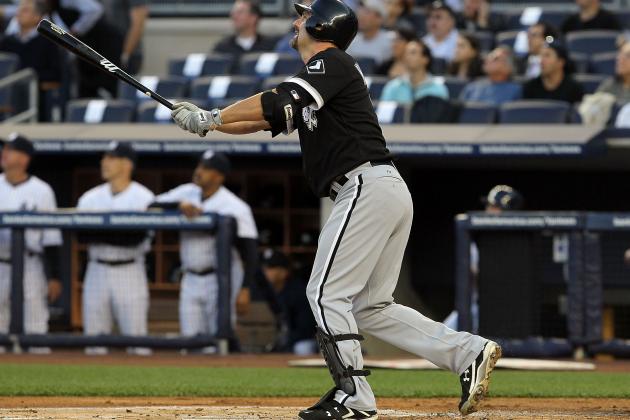 Jim McIsaac/Getty Images

2012 Stats: 11 HR, 33 RBI, 31 Runs, .395 Batting

Last 30 Days: 6 HR, 18 RBI, 18 Runs, .407 Batting

Skinny: Not only is Konerko the hottest hitter on the planet right now (.568 batting, five homers since May 14), he's also a healthy lock for 30 home runs...and an eighth season of 28-plus homers since 2004.

His early-season greatness aside, Konerko shall remain a sell-high commodity in fantasy circles, based on one unavoidable truth:

His age (36) suggests that Konerko won't be able to maintain this prodigious hitting pace once the calendar hits August and September. It also gives Doubting Thomas fantasy owners a baseless excuse to believe the slugger will melt in the Chicago summer heat, over time.

For the record, Konerko has a career homer-range of 62-70 for the months of July, August and September (at least 326 games per month), for a rough average of one homer every 4.93 games. His per-game homer average for months of April, May and June is about 1/4.78.

In other words, don't let the facts get in the way of a popular myth about Konerko's powers of sustainability.